The award-winning Agtech startup named 1 of 2 winners out of 190 global entries in the 2023 Radicle Inclusion Challenge Presented by Nutrien.
Today, agtech startup FarmSense, announces that it has been named 1 of 2 winners in the 2023 Radicle Inclusion Challenge presented by Nutrien. Winners were named at the 2023 Women in Agribusiness Summit (WIA), which was held in Nashville, TN. Winners were each awarded a $750,000 investment as part of Radicle and Nutrien's initiative to drive diversity and inclusion within the commercial agriculture sector.

Radicle Growth described the competition's focus to be on the "less than 3% of US venture capital invested in women and Black, Indigenous, and People of Color (BIPOC) entrepreneurs to help unpack insights and challenges faced by these historically underrepresented groups." [Source]
"I'm so proud of our diverse and innovative team who made this possible. FarmSense strongly believes that diversity and inclusion stand as beacons of future growth and innovation in commercial agriculture," says Dr. Leslie Hickle, co-founder and CEO. "Empowerment of historically marginalized groups will help sculpt a vibrant and robust landscape for generations to come."
The competition garnered over 190 entries from agriculture-focused startups around the globe. In addition to the $750,000 investment award, FarmSense will also gain access to valuable collaboration with senior executives at Radicle Growth and Nutrien as well as access to Radicle's company-building platform.
FarmSense's award-winning FlightSensor™ utilizes patented technology, computational entomology, artificial intelligence, machine learning, and real-time analytics to improve insect monitoring and crop management efforts. The FlightSensor is a revolutionary step forward in pest management, saving growers time, labor, money, and reducing the need for pesticide use while improving crop yield.
To learn more about FarmSense and their FlightSensor technology, visit https://www.FarmSense.io
About FarmSense: Founded in 2016, FarmSense helps farmers simplify pest management and take the guesswork out of insect monitoring. The company's patented technology, using their FlightSensor™, provides real-time insect counts and classifications, giving immediate access for farmers to make mission-critical decisions on crop and pest control.
As an award-winning startup, FarmSense has been awarded over $2 million in Small Business Innovation Research (SBIR) funding to date with potential funding expansion that would raise this total to over $4 million. Since its original launch as an incubator business at the University of California, Riverside, FarmSense has also garnered numerous media features, participated in several notable agriculture and climate-focused conferences, and received awards and grants from entities such as Microsoft, Google, US Department of Defense, Bill & Melinda Gates Foundation, National Science Foundation, US Department of Agriculture, National Institutes of Health, and more.
Featured Product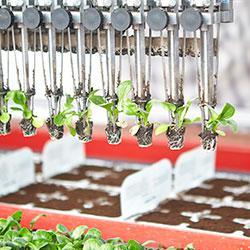 "Smart farming" is an important part of the answer to this existential question: Extremely high efficiency in food production through the targeted use of the latest technology, computer-supported and - where possible - fully automatic. Seeds are individually and precisely placed; fruits carefully picked by mechanical grippers; fertilizers and plant protection products applied in small doses and in a targeted manner. These operations require a large number of small electric motors that are both robust and powerful.