NEO devices employ the Bluetooth LE connectivity and processing power of Nordic's nRF52832 SoC
iMatrix Systems, a U.S.-based provider of Internet of Things (IoT) solutions, has launched a range of temperature and humidity sensors designed for use in food and produce storage, transport monitoring, pharmaceutical and agriculture applications. The NEO Series sensors measure temperature (between -40°C and 125°C) and relative humidity (between 0 and 100 percent), and are ideal for use in refrigeration and HVAC systems where precise control of temperature and humidity is essential for ensuring product quality and reducing energy costs.

"This series of products can quickly and accurately measure changes in temperature and humidity, making them ideal for use in dynamic refrigeration environments, like cold storage and refrigerated transportation," says Greg Phillips, CEO of iMatrix Systems. "This helps ensure that items are stored in optimal conditions, reducing spoilage and improving product quality."
The NEO Series sensors employ Nordic Semiconductor's nRF52832 SoC, its 64 MHz, 32-bit Arm® Cortex® M4 processor with floating point unit (FPU) providing ample computational resource to oversee the sensors and capture the temperature and humidity data. Using the Bluetooth® LE connectivity of the SoC's 2.4 GHz multiprotocol radio, this data is relayed to a gateway and in turn to the iMatrix Cloud platform where users can review sensor data in near real time, enabling them to take remedial action in the event temperature or humidity levels fall outside of acceptable tolerances. From the Cloud platform users can also access data analysis and visualization tools, as well as perform device registration, firmware updates and remote configuration.
The NEO Series temperature and humidity sensors can last for up to three years between battery replacements, thanks, in part, to the ultra low power characteristics of the Nordic SoC, including the 2.4 GHz radio's 5.5 mA peak RX/TX currents and fully-automatic power management system.
"Overall, the nRF52832's combination of energy efficiency, processing power, memory capacity, wireless connectivity and ease of use made it an attractive option," said Phillips. "This SoC is also supported by a comprehensive SDK [Software Development Kit] that includes drivers, libraries, and sample code to help product designers get started with software development. The SDK includes tools for debugging, profiling, and optimizing code, making it easier to develop high-quality software for the chip."
About iMatrix Systems
iMatrix Systems is an Industrial Internet of Things (IIoT) solutions provider founded in 2018 and emerged from stealth in 2021. The company's cloud platform and dedicated sensors apply to markets in healthcare, residential and commercial buildings, restaurants and hospitality, critical infrastructure, hydroponics, soil monitoring, and management. The company offers ideal solutions for the Cold Chain markets.
The company, based in Lake Tahoe, NV, has offices around the country. For more information, go to https://imatrixsys.com/.
Featured Product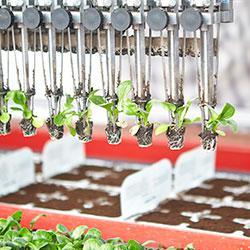 "Smart farming" is an important part of the answer to this existential question: Extremely high efficiency in food production through the targeted use of the latest technology, computer-supported and - where possible - fully automatic. Seeds are individually and precisely placed; fruits carefully picked by mechanical grippers; fertilizers and plant protection products applied in small doses and in a targeted manner. These operations require a large number of small electric motors that are both robust and powerful.