Eberhard Equipment Announces the Addition of Solectrac's Fully-Electric Tractor Line, Promising Improved Health, Noise, Environmental and Cost Benefits
SANTA ANA, CALIFORNIA (March 23, 2023) - Local tractor dealer, Eberhard Equipment, announces it has started selling the fast-growing, electric tractor brand, Solectrac. Eberhard Equipment partnered with Solectrac in response to the accelerated movement towards fully-electric solutions. This partnership will appeal to customers seeking fuel and maintenance cost savings, as well as health and environmental benefits, without sacrificing tractor power or capabilities.

Solectrac tractors are currently the only electric tractors available at local dealerships in the U.S., and Eberhard Equipment is proud to be part of Solectrac's North American dealer expansion. The all-new Solectrac e25G is a 4WD, 25 HP-category machine, ideal for hobby farms, homesteaders, golf courses, sports fields, equestrian centers, educational institutions and municipalities. The tractor accepts all standard PTO implements, and offers available options such as a front loader, backhoe attachment, cab, and three types of tires to suit a wide variety of applications. Additional models are scheduled for release later this year.
"We have a number of customers who work with livestock and horses. The lack of fumes and noise make the Solectrac a great option for them. They're finding it does everything a diesel tractor does but is safer to use around the animals or indoors," said Steve Eberhard, Owner at Eberhard Equipment. "Plus the instant torque and low operating expenses make it even more appealing."
The Solectrac e25G is powerful enough to run all day depending on usage and application. The battery charges in eight hours and can be plugged into a standard, household 120V outlet. "With no gas or oil needed, and reduced maintenance due to the lower number of moving parts, the overall operating expenses are a fraction of those of diesel tractors," Eberhard said.
"We are excited to be a part of the electric tractor revolution. Just as we have seen with the automotive industry, we are confident customers will see the considerable benefits of electric tractors," Eberhard added.
Solectrac is a subsidiary of Ideanomics (Nasdaq: IDEX), has been a Certified B Corp since 2019, and continues to maintain the highest standards of verified social and environmental performance, public transparency and legal accountability. To learn more about Solectrac, visit www.solectrac.com.
About Solectrac
Since becoming a subsidiary of Ideanomics in 2021, Solectrac has been growing fast. Throughout the United States Solectrac is adding new dealerships every month to its expanding network to provide sales and service to customers. In 2022, the company opened a new 36,000 square foot production facility in Northern California and soon added a second assembly center in North Carolina to serve east coast customers. For more information, visit www.solectrac.com.
About Ideanomics
Ideanomics is a global group with a simple mission: accelerating the commercial adoption of electric vehicles. By bringing together vehicles, charging, and financing solutions under one roof, Ideanomics is the one-stop partner needed to simplify the transition to, and operation of, any EV fleet. To keep up with Ideanomics, please follow the company on social @ideanomicshq or visit https://ideanomics.com.
Featured Product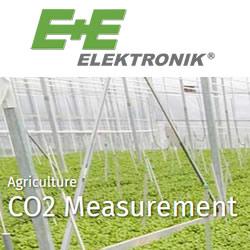 Lowering of energy costs, acceleration of growth and extension of the possible storekeeping duration can be optimised by the precise measurement of humidity, CO2-content and temperature. Optimum basic conditions for animals and plants ensure best agricultural products. As different applications demand various adopted solutions for optimization of agricultural processes, E+E Elektronik provides a broad portfolio of agricultural monitoring products