This expansion gives owners of skid steers, compact track loaders (CTL) and mini excavators the broadest offering of machine control options to date.
Topcon Positioning Systems has announced the availability of a new global navigation satellite system (GNSS) option for its MC-Mobile compact machine control solution. Rounding out the company's compact solutions portfolio, this GNSS option allows contractors to easily integrate their compact machines into fleets already powered by GNSS technology. This expansion gives owners of skid steers, compact track loaders (CTL) and mini excavators the broadest offering of machine control options to date.

"We initially built MC-Mobile with the smaller or mid-size contractor in mind," said Murray Lodge, executive vice president and general manager, Topcon. "Working with a prism pole and our 3D robotic instrument, the LN-150, users easily measure, design and build right on-site, all with one 3-in-1 solution — expanding their capabilities and growing their business. Now, this new GNSS option allows fleet managers to easily integrate compact machines into much larger, more complex workflows, with the same machine-to-machine modularity and ease-of-use that has made MC-Mobile one of our most talked-about products of the last year. Both the local positioning system (LPS) and GNSS versions are made possible thanks to the MC-X platform."
The MC-X architecture combines multiple communication technologies, such as the Sitelink3D connectivity platform, support for numerous elevation sensors, IMUs and GNSS receivers, to tailor solutions directly to a contractor's workflow — maximizing return on investment (ROI) at every phase of an operation.
The entire MC-X powered portfolio is designed to make machine control easy to use and affordable for a variety of contractors. It ties together mixed fleets of earthmoving (both full-size and compact), asphalt and concrete paving equipment, and is designed to be as flexible as it is powerful, adapting across applications and machine types, improving performance and speed for operators of all skill levels.
For more information, visit topconpositioning.com/mc-mobile, or topconpositioning.com/mc-x.
About Topcon Positioning Group
Topcon Positioning Group, always one step ahead in technology and customer benefits, is an industry leading designer, manufacturer and distributor of precision measurement and workflow solutions for the global construction, geospatial and agriculture markets. Topcon Positioning Group is headquartered in Livermore, California, U.S. (topconpositioning.com, LinkedIn, Twitter, Facebook). Its European head office is in Capelle a/d IJssel, the Netherlands. Topcon Corporation (topcon.com), founded in 1932, is traded on the Tokyo Stock Exchange (7732).
Featured Product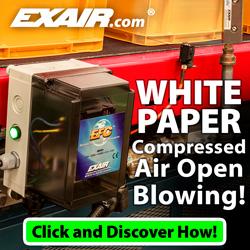 Compressed air is a limited resource that is generated in-house for the benefit of many operations within the manufacturing environment. Learn how to ensure all point of use applications are using your compressed air in the most effective and efficient way possible. Learn how much it costs to produce that compressed air and how Engineered Nozzles can help you use your air more effectively and efficiently.