ONDO just released its own Weather Station for measuring climate and soil data. The plug-n-play solution allows ONDO customers to easily collect numerous climate and soil data and instantly use it in their ONDO installations.
ONDO Smart Farming Solutions - an agritech startup providing advanced precision agriculture solutions - has just released their proprietary ONDO weather station, allowing farmers to easily collect numerous climate and soil data. Farmers who are customers of ONDO have the added benefit of being able to instantly use the data coming from the weather station in their ONDO installations. They can use the data for precise irrigation, fertigation and climate control in their greenhouses or open fields.

ONDO Weather station is a modular solution allowing customers to choose only the modules they need and calculate the final price themselves. Available modules include temperature and humidity sensor, rainfall sensor, wind speed sensor, wind direction sensor and many others. The solution comes fully assembled, along with an integrated sim card with international coverage, solar panel, GPS positioning and anti-theft alarming and many other extras, so the customer needs only to put up the weather station and start collecting the data.
With ONDO Weather, ONDO customers can choose the best time for plant fertigation and guarantee the optimal usage of soil fertigation substances. Thanks to the integration with specialized software for plant disease forecasting, they can also achieve a significant cut in plant disease fighting expenses.
Find out more at:
https://ondo.io/solutions/weather/
About ONDO:
ONDO (ondo.io) offers an innovative, digitally-controlled precision agriculture system for automated drip irrigation management and control, precise plant nutrition and climate control for various crops. ONDO can be used in greenhouses, orchards, vineyards or on the open fields, saving up to 85% of water, up to 50% of energy and up to 60% of losses caused by human error.
Featured Product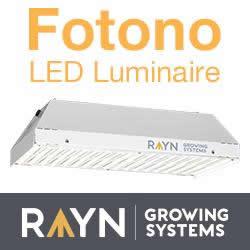 Fotono is a full spectrum LED horticultural luminaire designed to directly replace HPS lights in greenhouses. At 12 pounds, 20 inches long, and 5 inches high, Fotono's compact size makes installation simple while minimizing structural burden on greenhouses. This compact fixture packs energy-saving and yield-improving features, such as a high output, stepless dimming, advanced spectral capabilities, and more.