Here's why farmers are getting some excellent online deals...
FarmTrade.com, the first and only online exchange for crop protection products, announced a record-breaking early buying season (Dec./Jan.). FarmTrade was founded in 1998, under the name XSAg, changing its name to FarmTrade in the Summer of 2014.

"We are thrilled to announce record-breaking early-season buying with respect to total dollars traded in January and December," says Jeff Stow, President of FarmTrade LLC. "We are showing a 30% increase in both total dollar volume traded and total transactions processed. The more comfortable growers become purchasing online the higher our volume grows."
"We attribute this growth to a number of conditions," Stow continues. "Number one is our customers. We have seen tremendous growth in the total volume purchased by many of our customers, some buying nearly 100% of their crop protection needs. Further, FarmTrade.com customers are our best ambassadors. No matter what method of marketing we use, there is nothing better than hearing about us from a trusted friend.
"Secondly, we have seen dramatic price reductions in some very popular post-patent chemicals. While many see price reductions as an opportunity to increase margins, we see it as an opportunity to gain the trust of our customers. We often speak with members before they post their bid. We are very open with current pricing and work with them to maximize their savings.
Stow concludes, "My brother and I love what we do. We look forward to continued growth as we focus on one customer at a time. It is very fulfilling being in a business where you can save your customers thousands of dollars, adding to their bottom line and at the same time grow your own family-owned business."
FarmTrade, LLC, is based in Apex, NC and is the premier online crop protection marketplace. Additional information may be found at www.farmtrade.com. Inquiries may be directed to Jeff Stow at jeff@farmtrade.com or 919.439.6004.
Featured Product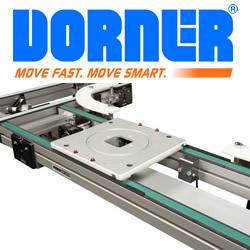 Dorner's 2200 Series Precision Move Pallet Systems are ideal for assembly automation. With features such as an innovative timing belt conveyor design and industry best pallet transfers, they get your product to the exact location, at the exact time and in the exact position it needs to be. They are now available with new options such as heavy load corner modules with 150 lb. capacity and 180 degree tight transfer corners for compact loops.