Measurement is part of a farmer's DNA. It improves plant yields, herd health, resource conservation and impacts the bottom line – from ensuring livestock reach their peak for maximum prices at auction to guarding against overgrazed pastures.
Ranch Life: Water Visibility is Critical Part 2
Article from | Freewave
Observation and measurement, especially for the stewards of our land, determines performance in many categories of a ranch's operations. In Part 1 of this series, we explored how the metrics of today and those of the original homesteaders varies in one significant way: technology.
A quick recap: The Internet of Things (of the ranch) or IoT is like having an extra set of "eyes and ears" spread across the ranch. In short, connected devices are bringing near real-time visibility into what is happening in disparate parts of the ranch.
How do all those devices spread across thousands of acres bring value? Here are five scenarios modern ranchers are using to transform their operations.
Scenario One: Instead of rolling out trucks to check water usage in stock tanks, ranchers are saving time using alerts or checking tank levels on their devices
Tank level and creek/river monitoring solutions (FreeWave Water Level Monitor) help ranchers manage water usage better. In the past, and to some effect still today, farmers and ranchers don't know how much water they use. Inexpensive and simple-to-deploy sensors in tanks, aquifers, springs, and pumps allow ranchers to know exactly what is happening with water usage and make intelligent decisions about watering pastureland and hayfields, filling tanks, and moving water. (click here for a special price offer for a limited time)
Ranchers are in the "driver's seat" (without ever leaving their chair) by setting parameters – thresholds like water levels or flow.
Technology can seem complicated to many of us sometimes, but the IoT devices we are talking about are not. Drop-in remote sensors simply plug in so ranchers can see what's happening, in near real-time, rather than driving across thousands of acres in a gator to check hundreds of troughs and water supplies. Ranchers can easily monitor water levels in tanks 24/7 without routine in-person maintenance checks. (Bonus: there are no set-up fees with our solution.)
Scenario Two: Paperwork is easier and faster using real data. Less manual inspections mean safer working conditions and less vehicle costs
A digital ranch goes beyond automatic water distribution; it also includes insight and access to data metrics to help monitor and stay within local water use regulations. Ranching operations require lots of paperwork, especially those using public lands for grazing. For irrigation systems that take water from a natural resource such as an on-farm stream or river, data helps ranchers measure water availability and flow.
By rolling out fewer trucks to check on stock tanks, there's less wear and tear on trucks and less man-hours dedicated to manual inspections.
Scenario Three: Soil moisture level monitoring improves grazing health
Not only can digital solutions enhance the quality of water production on a ranch, but they can also play a role in helping to visualize and maintain the quality of the soil for high quality grass for grazing.
Sensors determine soil moisture levels and overall health from the air. Better soil means a better ranch, and a better ranch means healthier land, livestock, and profitability. With near real-time data in hand, ranchers can make more informed decisions – just like they always have through observation and measurement – about soil behavior. For example, knowing actual soil moisture levels influence when to rotate cattle on different fields so ranchers can fertilize the land, continually giving fresh grass for the cattle to munch on.
Scenario Four: Preparing for adverse weather
A string of hot days, the possibility of wildfires, and water scarcity along the Great Plains changes the game for ranchers.
No one can control the weather, but technology can help ranchers prepare. Virtual visibility into the surrounding climate of a ranch utilizes timely data to prepare and respond to natural weather updates and climate changes like wildfires, wind erosion, or soil erosion that might threaten ranchland management. Good decision-making and preparedness reduce energy costs and environmental impact.
Scenario Five: Carbon dioxide detection is no longer a guessing game
Last, but certainly not least, carbon dioxide detection is a game-changing tool for today's rancher. With the right sensors in place, you can both manage your carbon dioxide emissions and monitor your CO2 levels to ensure better, more drought-resistant soil, which will ultimately aid in the sustainability of water conservation practices. With technology being the "ears and eyes" of the rancher, less money is spent on diesel and, as previously mentioned, wear and tear on trucks rolling out to different sites.
The Road to Lean and Mean
For those tending vast, open, and oftentimes remote expanses of land, FreeWave's simple-to-use solutions are turnkey. These modern solutions for digitalized, sustainable ranching operations are creating a generational and environmental impact. They are up and running within 10 minutes or so. Using just about any device – cell phone, tablet, laptop, or desktop computer – ranchers see a dashboard, or what we like to call a single pane of glass.
It sounds almost crazy, but FreeWave technology can work in virtually any environment, no matter how remote. Like many customers we serve, we put in our time to hone our craft: we started 30 years ago as a U.S. manufacturer of mission-critical wireless data radios operating in the harshest and most dangerous places for the military.
FreeWave has created low-cost ranch coverage solutions to monitor stock tanks, water troughs, rivers, dams and other water supplies in areas with limited or no cell coverage using a variety of solutions, including satellite, cellular, Wi-Fi, Bluetooth, and more. Contact us to learn how you can get valuable time and money back from your ranch operations.
The content & opinions in this article are the author's and do not necessarily represent the views of AgriTechTomorrow
---
Comments (0)
This post does not have any comments. Be the first to leave a comment below.
---
Post A Comment
You must be logged in before you can post a comment. Login now.
Featured Product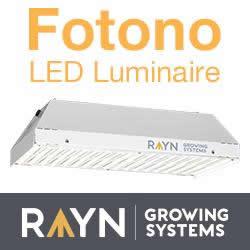 Fotono is a full spectrum LED horticultural luminaire designed to directly replace HPS lights in greenhouses. At 12 pounds, 20 inches long, and 5 inches high, Fotono's compact size makes installation simple while minimizing structural burden on greenhouses. This compact fixture packs energy-saving and yield-improving features, such as a high output, stepless dimming, advanced spectral capabilities, and more.