What has evolved is how the modern rancher observes and measures today with near real-time visibility, particularly when it comes to water management.
Ranch Life: Water Visibility is Critical Part 1
Article from | Freewave
There is no average day in the life of a rancher. Many kickstart their morning at 4 a.m., when most people are still fast asleep. After breakfast, the real work and the long day begins.
It might include mending fences, checking grass levels across thousands of acres, rotating cattle or even being called unexpectedly to tend to a neighbor's sick animal. All this is done by riding the land or rolling out trucks in hard-to-reach places with little or no cell coverage – and so much connects back to water. From land and hay operations to logging and livestock operations, water conservation touches almost every aspect of ranch performance and profitability.
Take JJ Goicoechea, for example, who travels at least 40 miles a day (one way) to check on the viability of the water on his land for the surrounding cattle and wildlife. Or Bob Skinner, who used his own funds to purchase an airplane as a means to check on his pipelines every 48 hours.
These examples, courtesy of the Public Lands Council, show observation and measurement for better on-ranch performance is nothing new for ranchers. What has evolved is how the modern rancher observes and measures today with near real-time visibility, particularly when it comes to water management.
Water Becomes a Commodity
It's no secret that water is a rancher's most valuable asset. Safe, clean, abundant water sources are necessary for the health of the herd. Water impacts the profitability of ranch operations, many of which were handed down from previous generations. There's a new challenge, though, that the men and women who homesteaded the land did not have to contend with: extreme weather and unreliability of water sources.
Case in point: 2012, when two-thirds of the lower 48 states were in a drought. Or earlier in 2022, when according to the U.S. Drought Monitor, more than 32% of western states, including Texas, Utah, Oregon, and New Mexico, were in a severe drought – the worst megadrought reported in 1,200 years, according to Scientific American.
With the unpredictability of nature and the need to conserve reliable, clean sources of water, a better, more efficient way to store and sustainably save water is surely needed.
What if You Could See the Entire Ranch on Your Device?
Just like their forefathers, a rancher's keen eye for observation and measurement serves them well. There's a gut check to making decisions, and experience guides the way. That will never change. The modern cowboy, however, is evolving in one significant way: they can now see their entire ranch operation in real-time on a connected device: cell phone, tablet, laptop or desktop computer. Here is how near real-time visibility – being able to see the different parts of a ranch without physically being there – works.
Sensor technology "carries the water" for ranchers and farmers, helping them visualize what's happening across thousands of acres without having to physically roll out trucks. These devices, or "things," then relay data back to ranchers so they can make informed decisions based on near real-time visibility. It's like having extra "eyes and ears" spread across the ranch. In short, these connected devices are the Internet of Things (of the ranch) or IoT, for short. FreeWave provides a drop-in solution – our Tank Level Monitor – that's easy to install, set-up, and manage.
For any of us, you don't know what you don't know. For ranchers, this knowledge gap comes with a price as rising fertilizer, equipment, and input costs squeeze margins. Every unexpected cost is closely watched. A dehydrated calf in peril costs more than a thousand dollars to replace. A blown tire on a truck shows up on the P&L. Man-hours spent checking water levels and the status of equipment add up.
When it comes to water consumption, IoT is making a difference. According to a research report conducted by Transforma Insights and 6GWorld, by 2030, connected devices and the information they impart will help conserve close to 230 billion cubic meters of water.
What does that even look like? Here, we turn to beer to help us out.
Considering 40 million cubic meters of water is equal to about 300 billion pints, IoT is predicted to save the same amount of beer consumed at Oktoberfest in Munich for two straight decades.
That's a lot of water saved. While 35% of those savings will come from smart water grid operations, the remaining 65% will be driven by "IoT-enabled agricultural operations like crop management and remote pest control," according to the report.
What Observing and Measuring Means Today
Connected devices save valuable time, money, and resources. They give ranchers "eyes and ears" into their entire operation and support what these stewards of our land have always done well: observation and measurement. Modern ranchers are using technology to ask – and answer – critical questions about the status of physical assets, water tank levels, water flow, weather, and soil, like:
Do the stock tanks have enough water to keep the livestock healthy?
Is there excess water in the soil that will lead to ponding?
Are we irrigating the hay fields with too much or too little water?
Are equipment like livestock trailers and tractors running smoothly?
What's the condition of remote pumps – are they working, is there a leak, is the herd getting what they need when they need it?
A long-held rule for ranchers is that they don't quit when they're tired, they quit when they're done. We aim to support ranchers in getting more of the right things done – with less water, waste, and worry.
The content & opinions in this article are the author's and do not necessarily represent the views of AgriTechTomorrow
---
Comments (0)
This post does not have any comments. Be the first to leave a comment below.
---
Post A Comment
You must be logged in before you can post a comment. Login now.
Featured Product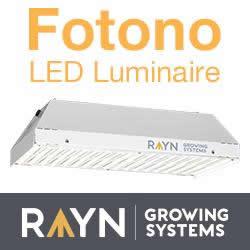 Fotono is a full spectrum LED horticultural luminaire designed to directly replace HPS lights in greenhouses. At 12 pounds, 20 inches long, and 5 inches high, Fotono's compact size makes installation simple while minimizing structural burden on greenhouses. This compact fixture packs energy-saving and yield-improving features, such as a high output, stepless dimming, advanced spectral capabilities, and more.