If you think about it, an industry that is wholly dependent on nature and the environment should look to the sun for free power. No wonder agriculture was one of the first industries to adopt solar energy.
How Farmers Harvest Their Own Power with Solar Energy
Article from Michael Swack | SolarEdge Technologies
Today's farmers aren't just harvesting crops and managing livestock, they're also becoming energy independent. If you think about it, an industry that is wholly dependent on nature and the environment should look to the sun for free power. No wonder agriculture was one of the first industries to adopt solar energy.
Economic incentives come from the promise of dramatically reduced energy expenses (electricity, diesel, etc.) as well as government subsidies, tax breaks and financing programs. Plus, there's the opportunity to curb Co2 emissions and help save the planet. According to the Solar Energy Industries Association, 9% of the entire GHG emissions in the US come from agriculture.
But that's not the only advantage of agrivoltaics.
Crops grown under the partial shade of solar modules (aka solar panels) benefit from lower soil temperature during the day and warmer soil at night. As a result, less water may be required to irrigate certain crops. Solar modules that are elevated on platforms create roofs which can provide shade for various livestock. And unused roof space on barns or other structures can be put to work generating free power to drive irrigation pumps and other critical systems.

Solar for farms is becoming increasingly popular, like this SolarEdge PV system on the Oostveen Fruit Farm in the Netherlands
What to Look for In a Solar Energy System for Your Farm
When choosing a PV system for your farm, here a few "must haves" that should be on your check list:
Ammonia Resistant
Look for inverters (the units that convert the solar DC energy to AC power) and other system components that are resistant to corrosion from ammonia gases produced by livestock. Also the equipment should be backed by long warranties so you can sleep well at night.

Maximum Power
You want a PV system that uses MLPE – Module Level Power Electronics – to extract more energy from each individual solar module. By giving you more design possibilities for your PV module array and by mitigating energy loss caused by shading, soiling, clouds, etc., a PV system with MLPE delivers more power over the system lifetime.

Visibility
You should be able to see the exact amount of energy you are producing and consuming in real time. So look for a system that includes an easy to understand dashboard that you can access from your smartphone that shows you how much clean energy you are using

Safety
Perhaps the most important feature of all. We cannot overemphasize how important it is for farms to get PV systems with a full set of the latest safety features. Fires caused by PV systems are extremely rare but to be on the safe side, look for features like automatic system shut down, arc fault detection and interruption, and remote monitoring.
Dutch Dairy Farm Chooses SolarEdge to Protect Livestock
In the Netherlands, the De Jong family maintains several agricultural businesses, including pig, calf and goat farms. For their new dairy farm in Lunteren with room for 3,800 goats, they chose a 954,955 watt capacity solar energy system powered by SolarEdge inverters and Power Optimizers. The goat farm generates about 800,000 kWh per year of sustainable energy, which is enough electricity for more than 250 households in the Netherlands. The energy that is not used by the goat farm is sold back to the grid.
The health and safety for the goats was one of the main reasons for choosing SolarEdge. According to Jan Aernoud van Eeken, CEO of the site's installer, Zonnepanelen op het dak, "By choosing materials of the very best quality, we can guarantee the safest possible installation. For example, the installation switches itself off in the event of a short circuit so that fire is prevented. We never lay loops in the cables, so that no magnetic field can develop under the roof. This way we prevent the goats from being bothered by the solar panels."
The content & opinions in this article are the author's and do not necessarily represent the views of AgriTechTomorrow
---
Comments (0)
This post does not have any comments. Be the first to leave a comment below.
---
Post A Comment
You must be logged in before you can post a comment. Login now.
Featured Product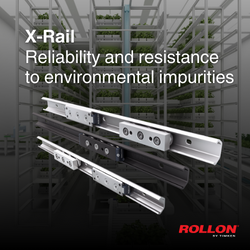 Rollon's X-Rail linear rails are a reliable solution in environments susceptible to impurities. Equipped with rolling elements with shaped and flat raceways, they are available in several versions: galvanized, nitrided or stainless-steel sheet metal. The latter version ensures total corrosion resistance, which is critical for hostile environments such as those found in vertical farming. Particularly innovative is the T + U configuration of the X-Rail linear rails, which can compensate for the parallelism errors of mounting surfaces. This simplifies installation and reduces costs.