5G speeds surpass wireline network speeds and offer latency of 1 millisecond or lower, which is advantageous for applications that require real-time feedback. 5G will facilitate an increase in the amount of data transmitted over wireless systems.
Readers Choice 2020: 5G Is Coming to Agriculture
Article from | Len Calderone
5G mobile networks are here and they will revolutionize the farming industry, which is adopting new innovations. Fifth-generation wireless or 5G is the latest version of cellular technology, engineered to significantly increase the speed and responsiveness of wireless networks. With 5G, data transmitted over wireless broadband connections can travel at multigigabit speeds. 5G speeds surpass wireline network speeds and offer latency of 1 millisecond or lower, which is advantageous for applications that require real-time feedback. 5G will facilitate an increase in the amount of data transmitted over wireless systems due to more accessible bandwidth and advanced antenna technology.
Utilizing 5G, farmers can monitor field conditions and be notified when crops need watering, pesticides, or fertilizer. Other uses in farming for 5G are the tracking of livestock, piloting agricultural drones and directing self-driving tractors. The result for agriculture is improved crop yields, better quality produce, and higher profits. Agriculture is a multibillion-dollar industry, accounting for nearly 1% of GDP in the UK, 6% in the US and 12% in Australia.
The difference between the existing 4G and the newer 5G will make connectivity between devices a lot faster, while facilitating more devices to connect to a single cell tower. The farmers, who are already using 4G will embrace 5G. 4G operates at 100 Mbps, while 5G runs at 10Gbps, a huge difference.
The UN Food and Agriculture Organization claims that farmers will have to grow 70% more food in the next 30 years just to keep up with the world's rising population. To meet this demand, farmers will have to employ the latest technology to grow more, using fewer workers.
Three years ago, RuralFirst became the first farming project (Hands-Free Hectare) to effectively plant, manage and harvest a crop without any human assistance in the field. The project is moving forward with 5G technology to increase productivity. Autonomous tractors sow the seeds, drones with sensors monitor the crops, and small robots take samples to calculate what fertilizers and pesticides need to be applied and where.
Agriculture is an industry, which is affected by small changes in temperature and moisture levels. Crop issues are only discovered when the damage has already occurred. To avoid this, transformative 5G technology is used to monitor environmental conditions, and to track, feed, monitor livestock and even milk cows without human intervention. It is also used for ploughing, sowing, feeding, health monitoring and the harvesting of crops autonomously. 4G is being used now, but 5G's high bandwidth supports a larger number of sensors, which communicate simultaneously with low latency, make it perfect for farms.
5G supports smart farming, which requires precise treatments to crops. Instead of treating an entire field the same, farmers can give each row of plants precisely what it requires. 5G is critical to this, as it supports machine to machine communications. 5G speeds-up the whole shebang, allowing machines to be controlled centrally and data to be sent in real time.
For smart farming to be successful, 5G-connected farm machinery is a necessity. Increased computing power and data collection are the driving forces behind the use of artificial intelligence. But it is necessary to get the data where it is needed for analysis. Employing 5G on farm machinery and sensors will increase the amount of data available so that AI can do what it's good at, such as spotting patterns that allow yields to be improved, as an example, giving early warnings of disease.
Autonomous drones are equipped with a weed scanner and crop sprayer. They scan the crops using AI to identify weeds. Adding deep learning techniques to a drone's camera memory helps identify concentrated areas of weeds. The drone then applies herbicides where they are needed. In addition, crops can be picked earlier or later using the analysis of the color or size of the crops.
Today's drone cameras can tell the difference between crops and weeds. The Vodafone 5G-powered system from Blue River, which is owned by John Deere uses high-resolution cameras that photograph 20 images per second. AI allows the system to recognize the variance between crops and weeds.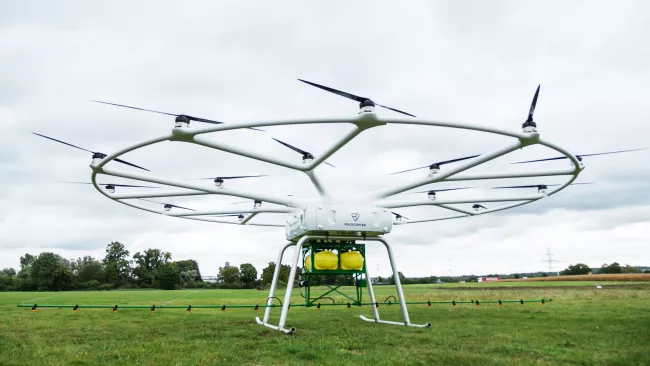 Photo: John Deere
With 5G, we will see increased innovation in the agricultural sector. Farmers need to locate and monitor costly livestock. This is extremely valuable to the cows' health, and food intake, which is communicated back to the farmer in case they have to give aid to a particular animal.. Using geolocation services, the cost of locating livestock can be reduced. This is especially important during calving season. The 'Moocall' sensor is a tail-mounted sensor by Vodafone that alerts the farmer when a calf is about to be born. Since its introduction in 2017, more than 250,000 calves have been born safely using this sensor.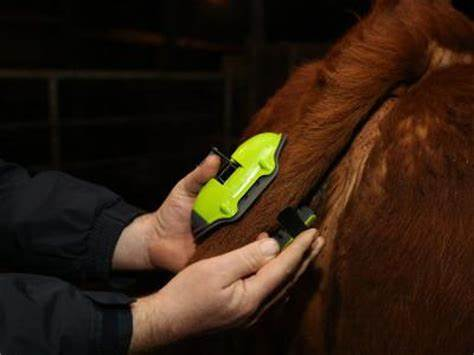 Photo: Moocall
In dry, arid areas, saving water is critical. Soil probes are buried about four feet under an irrigation line, which collect and send back data about the soil so that a farmer can track soil moisture, water patterns and salinity. The readings are analyzed by the farmer, who can then accurately manage irrigation cycles and soil nutrition. These probes can reduce water consumption by 40% with the help of 5G.
Because 5G's frequency is higher, its range is shorter, requiring additional cell towers to cover an existing network coverage area. Hiber launched the world's first ever IoT satellite network, called Hiberband, which was designed for remote areas and developing countries. The Hiberband network transfers data from modems and antennas on the ground directly to the nanosatellites and then back to the user.
Photo: Hiber IoT satellite
Smart farming isn't just a technical innovation, it is absolutely necessary to help to feed an ever-increasing population; but with the existing infrastructure, it won't be possible.
5G networks will need to increase the quality of service, and utilize emerging technologies such as network slicing at the core network. Radio/access level carriers must also work to decrease device cost, energy usage and increase dependability, coverage and spectrum proficiency.
Farmers are beginning to put into service IoT-enabled technologies. With 5G speeds and bandwidth, more agriculture uses are emerging, taking IoT to new heights. From helping with irrigation, to helping fight crop diseases, the number of possible applications of IoT technologies in agriculture are almost unlimited.
The content & opinions in this article are the author's and do not necessarily represent the views of AgriTechTomorrow
---
Comments (0)
This post does not have any comments. Be the first to leave a comment below.
---
Post A Comment
You must be logged in before you can post a comment. Login now.
Featured Product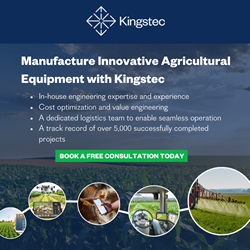 In the rapidly evolving agricultural landscape, leading AgriTech companies are increasingly leveraging the experience and expertise of strategic engineering and manufacturing partners to bring cutting-edge, cost-effective solutions to market. Kingstec is an all-in-one engineering, manufacturing, and logistics partner, with over 40 years of experience and 5,000 successfully completed projects. We can help you bring innovative, cost-optimized farm equipment, sensors, drones, components, and more to market quickly with in-house engineering and manufacturing expertise, a dedicated logistics team, and a network of world-class manufacturing and supply chain partners.