As some states start lifting COVID-19 stay-at-home restrictions, the agriculture industry continues to struggle under a largely shut-down America. The industry is experiencing losses in the billions between the dairy, meat, and produce sectors.
This is How the COVID-19 Pandemic is Impacting the Agriculture Industry
Leah Soto | Pure Greens LLC
As some states start lifting COVID-19 stay-at-home restrictions, the agriculture industry continues to struggle under a largely shut-down America. The industry is experiencing losses in the billions between the dairy, meat, and produce sectors.
A recent study, by the National Cattlemen's Beef Association, estimated that the cattle industry alone will lose a total $13.6 billion from the pandemic's effects. Even though agriculture was labelled essential and allowed to operate as usual, other restrictions have interfered with business.
The biggest concerns agriculture faces in the wake of the pandemic involve logistic issues, like transporting products and dealing with surplus goods. The U.S. trucking industry already had a shortage of drivers before the pandemic.
Now, with shut-down truck stops and changing demand in the food industry, truckers face uncertain conditions. Plus, with borders shut down and extra precautions being taken with shipped goods, farms may be facing delays in the arrival of fertilizers, seeds, and other essential tools from their North American suppliers.
Additionally, the agriculture industry is struggling to redistribute surplus goods. Changes in demand have left nearly all types of agriculture with too many products to do anything with.
For example, about half of the normal demand for dairy disappeared when schools and restaurants started to shut down.
Dairy farmers are dumping thousands of pounds of milk, while scratching their heads at what to do with the cows that are still producing it.
Plus, fruit and vegetable farms have more produce than they can deal with, because they can no longer sell to their normal customers: commercial kitchens.
In Florida, thousands of acres of fruits and veggies are plowed over or left to rot in the sun.
In California and Arizona, lettuce and other leafy green operations have been forced into similar conditions.
"The tail end of the winter vegetable season in Yuma, Arizona, was devastating for farmers who rely on food service buyers," said Cory Lunde, spokesman for Western Growers. "And now, as the production shifts back to Salinas, California, there are many farmers who have crops in the ground that will be left unharvested."
The trick is trying to redistribute this produce, but it's proving harder than most people assume. Food distributers and wholesalers are scrambling to redirect products meant for restaurants and other affected businesses to grocery stores.
But grocery stores desire different things than restaurants, making it difficult to fully solve the problem. For example, grocery stores typically prefer the more common produce, like tomatoes and lettuce, to the niche types, like microgreens and purple garlic.
Plus, repackaging is a complicated and expensive process.
Food meant for grocery stores are packaged individually, while food meant for commercial kitchens are packaged in bulk.
As a result, farmers have to question whether the extra costs will eventually yield enough cash to balance out the losses.
Plus, grocery stores already have contracts with other suppliers, making it hard for them to purchase food from new farms. Some farmers have turned to donating surplus produce to food banks, but that comes with its own set of problems.
First, food banks can only accept so much food, especially when it comes to perishable foods.
Second, harvesting food is one of the most expensive parts of farming.
Farmers have a hard time justifying spending money on harvesting food, when they're not going to be able to make up any of the costs back. While all of this sounds grim, the federal government is offering several relief programs to help the industry stay on its feet. With more and more states relaxing restrictions, things may be looking up for the industry. But we'll have to wait and see for the long-term effects to become apparent.
The content & opinions in this article are the author's and do not necessarily represent the views of AgriTechTomorrow
---
Comments (0)
This post does not have any comments. Be the first to leave a comment below.
---
Post A Comment
You must be logged in before you can post a comment. Login now.
Featured Product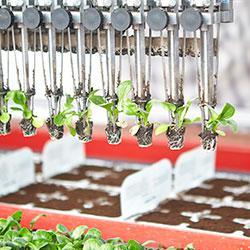 "Smart farming" is an important part of the answer to this existential question: Extremely high efficiency in food production through the targeted use of the latest technology, computer-supported and - where possible - fully automatic. Seeds are individually and precisely placed; fruits carefully picked by mechanical grippers; fertilizers and plant protection products applied in small doses and in a targeted manner. These operations require a large number of small electric motors that are both robust and powerful.