The delicacy of our food supply networks has been exposed, and now is the time to reflect on how our systems could change for the better, as well as our behaviour as consumers - demonstrated by those who have pledged to support local businesses more during this time.
Strengthening the Chain: a Push Towards Local Food Security
Article from | LettUs Grow
In recent weeks, the UK's food security has been pushing itself to the forefront of conversation and in the current climate is now a source of concern for many. The global outbreak of Covid-19 has meant that warnings about food security are suddenly coming into focus. The time has come to acknowledge that, even though agriculture accounts for 63.1% of land use in the UK, we only produce around half of the food we consume in Britain. This figure is even lower for fresh produce. More than three quarters of fruit and veg is imported.
The delicacy of our food supply networks has been exposed, and now is the time to reflect on how our systems could change for the better, as well as our behaviour as consumers - demonstrated by those who have pledged to support local businesses more during this time.
Delicate & centralised supply chains
The UK's supply chain is both delicate and complicated. In order for enough food to arrive on our shelves, there are many different stages of operation, from harvesting to transport, which must run with little interruption. Otherwise, the system can behave like a set of dominoes - if one goes down, it has a rippling effect throughout the chain.
The "just-in-time" nature of this system means that this risk is much higher. This kind of manufacturing relies on supplies being delivered to their necessary locations as they are needed, meaning there is no need to store these components. This reduces costs and keeps food prices low, but it also means there are little food reserves kept in the UK, and the chain itself is even more reliant on overseas parties.
One possible remedy to this is to take steps to decentralise food manufacturing - that is, to move away from a rigid, centralised supply chain system which sees large factories and supermarkets holding control over the market. Tesco's alone accounts for over a quarter of all UK grocery sales. By introducing more smaller scale food production and retail systems that can supply to their local area, such as local farm shops, urban farms, and Community Supported Agriculture projects, flexibility is added to the supply chain, and during times of crisis there is more wriggle room.
Supporting local
As a result of the outbreak, there have been movements calling on the UK to support local farmers and food producers, a trend that we can hope persists long after the outbreak.
However, distribution has also become an issue for UK farmers, with many needing to quickly adapt in light of restaurant and other public service closures. Many have begun to offer delivery services or drive-thru schemes in order to ensure their produce is accessible, or have made quick changes to their crop schedules based on the change in demand. This comes at a particularly difficult time for UK farmers. We are currently in the midst of the "hungry gap," a period between April and June where last year's harvests have already been picked and this season's plantings are not yet ready.
Furthermore, British farms are suffering at the hands of Covid-19, due to a lack of labour force. Last year, 98% of fruit pickers came from outside the UK, and as of March 28th, around 90,000 positions on UK farms needed to be filled, and so, this vital industry is left vulnerable during this time of crisis. If there is a silver lining to this situation, perhaps it will be a new-found respect for farmers and farm labourers, and thus a change to what farmers are paid for their produce to reflect their key work.
It is clear that we must find ways to diversify and simplify supply chains, whilst also increasing food production in a sustainable way - and the technology required to do so already exists. Controlled environment agriculture - such as indoor or greenhouse farming - has the potential to increase and stablise the amount of food being produced in the UK by operating year-round, whilst also increasing farm revenue streams. It could also provide a steadier supply of work for farm labourers, rather than relying solely on seasonal opportunities. Often, these methods of growing are also light on resources such as water, land and pesticides.
Reconnecting with food
Recently, the Guardian highlighted the implications of a food system that leaves millions in poverty, whilst others are expecting out of season produce to fill the shelves all year round. The hoards of people panic buying also suggests that consumers have a lack of understanding of where their food comes from, and how this kind of crisis may impact their ability to purchase food. As author Tim Lang points out, "we have a default position of assuming someone else will feed us," yet we must prepare for this not being a possibility. Some counties, including Russia, Kazakhstan and Vietnam are suspending exports of certain foods including rice, wheat, buckwheat, onions, carrots and potatoes.
Urban and vertical farming can play a part in addressing some of these issues. Already, there are urban farms in the UK supplying produce to their local area - if cities can begin to feed themselves, they will build resilience into the food supply network and cushion it from potential shocks in the global supply chain. The flexibility that vertical farming offers is significant. Systems can be deployed anywhere with an electricity and water supply, and can make use of derelict spaces - this is particularly useful in cities.
In a world increasingly disconnected from knowledge of how our food is produced, urban farming offers a great opportunity to bring people closer to the source of their food, and even allow them to become involved in growing it. Education is key to ensure the long term welfare and protection of our environment and there is much to be said for the importance of people knowing where their food comes from. Therefore, urban farming is just one way we can achieve steps towards connecting people with food production and inspiring our next generation of farmers.
If you want to find out more, you can listen to our Co-founder and Managing Director Charlie Guy talk about the effect of COVID-19 on our food supply chains as part of this ClearlySo webinar.
The content & opinions in this article are the author's and do not necessarily represent the views of AgriTechTomorrow
---
Comments (0)
This post does not have any comments. Be the first to leave a comment below.
---
Post A Comment
You must be logged in before you can post a comment. Login now.
Featured Product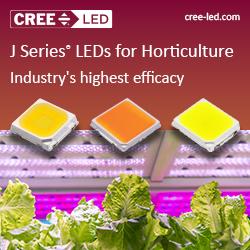 Horticulture and other forms of agricultural lighting require application-tuned ratios of spectral content, high efficacy and long lifetimes. Since these systems are designed to maximize yields for plants and animals, they require different metrics than lighting products designed around the human visual system. Cree LED delivers a wide range of spectral options and products optimized for these applications with leading efficiency and reliability.