Record number of startups apply for third year of The Pearse Lyons Accelerator.
From beef blockchain to swine sensors, The Pearse Lyons Accelerator selects startups on the cutting edge of ag-tech
Contributed by | Alltech
Reprinted from Alltech's blog:
After a record-breaking 251 startups from 53 countries applied to be part of The Pearse Lyons Accelerator, the class of 2019 has been selected to work with Alltech and Dogpatch Labs to accelerate their business development. This year's applicants have already raised over $143 million, with 135 startups disclosing funding
Now in its third year, The Pearse Lyons Accelerator was the brainchild of the late Dr. Pearse Lyons, who founded Alltech, an animal nutrition company, in the early 1980s in his garage with just $10,000.
"Through The Pearse Lyons Accelerator, we carry on my father's legacy, his entrepreneurial spirit and his desire to empower the next generation of entrepreneurs to contribute to a planet of plenty," said Dr. Mark Lyons, president and CEO of Alltech.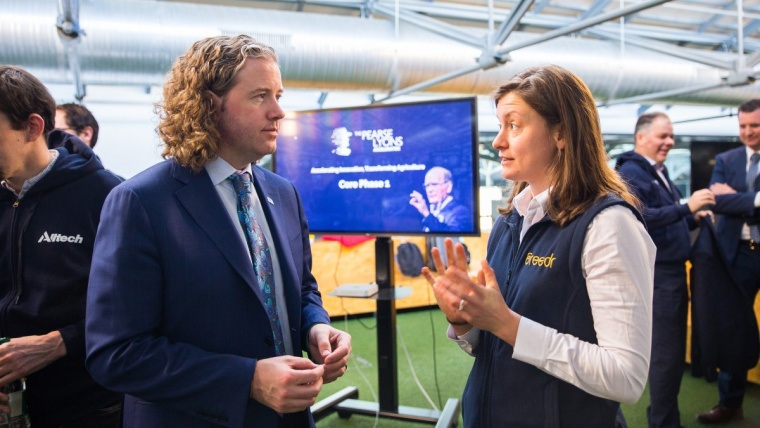 ​Co-founder of the ag-tech startup Breedr, Claire Lewis, speaks with Dr. Mark Lyons, president and CEO of Alltech, during the first day of The Pearse Lyons Accelerator 2019 program at Dogpatch Labs in Dublin, Ireland.
The participants, which hail from Canada, Ireland, Portugal, Spain, the United Kingdom and the United States, will also have the opportunity to present on the mainstage at ONE: The Alltech Ideas Conference. Now in its 35th year, the annual international conference will be held in Lexington, Kentucky, USA, from May 19–21 and will welcome more than 4,000 agriculture industry leaders from over 70 countries.
"Our class of 2019 startups focus on all aspects of agriculture, including animal welfare, meat quality, crop health and increased productivity," said Lyons. "The final group of startups reflect the full scope of Alltech's global operations, and we believe that their technologies can help make both Alltech and our customers more sustainable, profitable and innovative."
The participants represent a wide variety of transformative agricultural innovations.
"At SomaDetect, we can instantly detect every compound in raw milk with our in-line sensor," said Bethany Deshpande, CEO and co-founder of SomaDetect. "Our technology can be used to track the impact of premium nutrition on dairy cows and help detect issues like mastitis, which is a major pain point for dairy farmers. We are excited to have the opportunity to collaborate with Alltech, one of the leading animal nutrition companies in the world."
DNA sequencing startup Biome Makers from the United States, a winner of the AgFunder Innovation Awards, has also been selected to participate in the accelerator.
"We are looking forward to joining the accelerator and working with Alltech, which has a vast international network that could really help us launch our newest solution, which uses the soil microbiome as a biosensor to evaluate the real-time effect of crop inputs," said Adrian Ferraro, CEO and co-founder of Biome Makers.
"Alltech has a fantastic track record in guiding young companies to success," said Benjamina Bollag, co-founder of cell-based meat startup Higher Steaks from the U.K. "We are grateful to have been given such a unique opportunity to benefit from Alltech's combined experience in animal nutrition and crop science."
The success of the program's alumni reflects the high quality of the startups that The Pearse Lyons Accelerator has attracted to date. Since completing the accelerator, the startups have collectively raised $36 million. Two startups have made acquisitions, including AgriWebb, which raised $14 million in 2018 in a series A round of venture capital financing from Wheatsheaf Group, the investment fund of Hugh Grosvenor, Duke of Westminster. More recently, Allison Kopf, founder of Agrilyst, was named to the Forbes "30 Under 30" list in the Food & Drinks category. Similarly, Irish startup MagGrow raised €3 million in a round of funding, and the Indonesian startup eFishery closed a $3.5 million round of funding.
"Access to this global alumni network of extraordinary ag-tech entrepreneurs will be hugely beneficial for this new cohort of startups," said Patrick Walsh, founder of Dogpatch Labs.
"What makes this accelerator unique is the commitment from Alltech's leadership to actively mentor the startups," said Robbie Walker, Alltech's program director of The Pearse Lyons Accelerator. "This now includes Dr. Mark Lyons, our president and CEO, who is directly involved in the program and sees collaboration through innovation as a key growth strategy for Alltech."
The Pearse Lyons Accelerator: 2019 class
SomaDetect (Canada): In-line sensor that measures every critical indicator of dairy quality (fat, protein, somatic cell count, progesterone and antibiotics) from every cow at every milking.
Higher Steaks (United Kingdom): Using state-of-the-art cell culture techniques, a small sample of cells from an animal will be expanded by feeding these cells. When these cells have grown, they become the desired meat product.
SwineTech (United States): SwineTech is the world's leading solution to reduce piglet crushing and pre-weaning mortality, and also for monitoring sow health.
Breedr (United Kingdom): The world's first app for livestock farmers that uses shared data to optimize yield, quality and profitability.
Biome Makers (United States): Measuring crop health and functional biodiversity by using DNA sequencing and intelligent computing.
Global Resonance (United Kingdom): Bringing real-time data from the start to the end of the food supply chain directly into business systems.
FarmCloud (Portugal): Allows plug-and-play integration with climate and feeding controllers from a wide range of manufacturers.
Terra NutriTECH (Ireland): Adding precise amounts of feed supplements into the water systems on farms, reducing labor and improving returns.
FOLIUM (United Kingdom): Removal of feed bacteria via CRISPR.
InTouch (Ireland): Online feed management solution for dairy farmers.
To learn more, visit pearselyonsaccelerator.com.
The content & opinions in this article are the author's and do not necessarily represent the views of AgriTechTomorrow
---
Comments (0)
This post does not have any comments. Be the first to leave a comment below.
---
Post A Comment
You must be logged in before you can post a comment. Login now.
Featured Product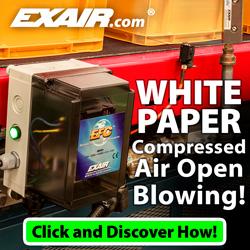 Compressed air is a limited resource that is generated in-house for the benefit of many operations within the manufacturing environment. Learn how to ensure all point of use applications are using your compressed air in the most effective and efficient way possible. Learn how much it costs to produce that compressed air and how Engineered Nozzles can help you use your air more effectively and efficiently.