Precision Agriculture: A Closer Look at Equipment for Data-Driven Farming
Modern agriculture faces numerous challenges, including a rising global population, climate change and soil degradation. Optimizing this industry is critical for the planet's future, as people depend on crops and animal products for survival.
In the 21st century, farming has become more efficient because of precision agriculture. Here's a guide on precision farming, its equipment and what professionals must consider when adopting this technology.
How Modern Farming Uses Precision Agriculture
Farming has been an essential human practice for centuries. The basic concept has remained the same over time, with farmers planting seeds and harvesting crops. However, like other sectors, agriculture has undergone significant developments over the last couple of centuries. Industrialization has advanced technology and allowed farmers to be more precise in their practices.
The digital transformation of farming is relatively new, with many agricultural professionals employing this new technology in the 1990s. While some farmers hesitate to adopt new practices, the industry has welcomed automated guidance to increase efficiency. The U.S. Department of Agriculture (USDA) says the sector has dedicated over 50% of acreage to automated guidance. These crops include corn, rice, cotton and other essential products.
Precision agriculture is critical from beginning to end when managing crops. This practice strategy lets farmers control water, fertilizer and pesticide usage and optimize their yields. One significant benefit is reducing their environmental impact, which can be extensive for some farmers. The EPA says agriculture accounts for 10% of America's greenhouse emissions, so precision farming will be critical for the industry's future.
Equipment Used in Precision Agriculture
Numerical data and information are integral for making agriculture more efficient. Precision farming relies on these five technologies for optimization and crop health.
1. Global Positioning System
Global positioning systems (GPS) were once a military technology, but now they've become a significant part of agriculture and other industries. Farmers use their GPS guidance devices to generate maps of their crops, serving as a base for their planting and fertilizing needs. Typically, agricultural professionals will mount GPS devices on their farming equipment and let these devices collect data.
Farmers can go further and use GPS guidance systems for their vehicles. These devices assist the machines in navigating the farm and increasing efficiency. For example, they help tractors drive in straight lines and improve germination rates. Therefore, the farms produce less waste.
GPS has also become essential for monitoring animal behavior. Farmers use GPS for tracking an animal's location as it roams massive properties. This technology lets farmers ensure the health and safety of their animals, considering they could escape the property or become vulnerable to theft. Animal owners also use GPS to watch their grazing habits and prevent overconsumption of an area's vegetation.
2. Drones
Another useful military device for agriculture is drone technology. Drones have become integral to precision agriculture by monitoring crop health and saving time for landowners. Farmers can capture a much larger view of their fields with drones without relying on manual inspection. Agricultural drones use artificial intelligence (AI) to detect pests and diseases, saving time and reducing losses for farmers.
The most significant use of drones may be their ability to dispense fertilizer efficiently. Crewless aircraft can target specific rows of crops with a particular spray, ensuring each section gets the nutrients it needs without using pesticides and fertilizer on the wrong plants. Also, they reduce the required human labor by doing much of the work independently, letting laborers focus on big-picture tasks.
3. Yield Monitors
Accuracy is crucial in agriculture, and farmers can increase their precision with yield monitors. These devices alert farmers how much yield comes from particular sections of cropland.
Farmers collect data from each area and compare them to isolate the overperforming and underperforming crops. With this information, they can improve their practices in the future by rotating crops, adjusting the amount of fertilizer or altering the allotted irrigation.
4. Variable-Rate Technology
Variable-rate technology (VRT) is another way farmers can optimize their pesticide and fertilizer distribution. With this technology, crop producers can vary the rate of nutrients based on the soil type, drainage, topography and other factors.
Crops are sensitive to these factors, so getting them correct is essential. VRT helps farmers lower costs, improve crop health and increase yields simultaneously. This technology relies on yield monitors and GPS devices to ensure accuracy everywhere on the farm.
5. Farm Management Software
As agriculture evolves, technology and agriculture are becoming more integrated. Farmers rely heavily on data to make decisions, and farm management software helps them visualize the information.
Farm management software is another example of AI making its way into agriculture. For example, these programs generate yield maps to visualize the data from yield monitors. They can also assist farmers by creating financial reports. Seeing the farm's profitability lets the owner make decisions regarding investment or changing agricultural practices.
Considerations for Using Precision Agriculture Equipment
While precision farming equipment is stellar, there are some considerations agriculture professionals must make before employing these devices. These three obstacles affect farmers and their ability to optimize their farmland.
1. Navigating Costs
One limitation for modern farmers is the cost of precision agriculture technology. Advanced devices like drones can be a significant investment for many, making farmers choose between renting and buying their equipment.
Buying precision farming vehicles is advantageous because the farmer has more autonomy over the machines. For example, they can modify and customize their equipment to their liking and use it on any project. While most precision equipment depreciates over time, farmers can retain some value by performing regular maintenance. Buying machines is more suitable for long-term visions.
Renting can be advantageous for those with short-term needs. Farmers renting precision equipment can use the machines for smaller projects and those without a deadline. Additionally, they'll worry less about maintenance because that responsibility belongs to the owner. Agricultural professionals renting equipment benefit from a maintained machine ready to work.
2. Technology Training
Adopting new technology can be difficult for older adults. Many farmers have worked on their family's fields for decades or centuries, with similar practices passing through each generation.
Asking these experienced professionals to change their systems rapidly can be challenging, especially considering the growing age of agricultural workers. The 2022 Census of Agriculture reports the average farm producer is about 57 years old, emphasizing the need to teach them new technology. For example, more senior farm employees could benefit from learning about electric vehicle maintenance on the farm to reduce their greenhouse gas emissions (GHGs).
3. Protecting Privacy
The digital age brings more efficiency and higher productivity. However, the benefits of technology also come with cyber threats. Farmers using precision equipment will collect data and rely on farm management software. This practice opens the door for cybercriminals who want to steal data and extort professionals in every industry. Thieves hone in on smaller organizations in agriculture, with 43% of cyber attacks affecting small businesses.
The rise of agriculture technology emphasizes sound cybersecurity practices. The Massachusetts Institute of Technology (MIT) recommends using two-factor authentication, employing password managers and applying software updates.
Driving the Future of Agriculture
Agriculture is at a crossroads in the 21st century. The industry needs to expand food production to meet demand while lowering its environmental impact, burdening farmers. Precision agriculture assists farmers by optimizing their daily operations to improve crop health, lower emissions and increase their yearly yields.
Comments (0)
This post does not have any comments. Be the first to leave a comment below.
---
Post A Comment
You must be logged in before you can post a comment. Login now.
Featured Product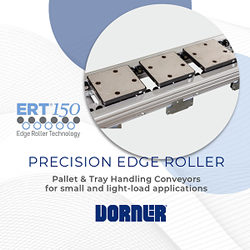 The next evolution in Dorner's Edge Roller Technology conveyor platform, the ERT®150, is ideal for small and light-load assembly automation, as well as medical and medical-device assembly application. The ERT platform is the only pallet conveyor of its kind available with an ISO Standard Class 4 rating for cleanroom applications. Earning the ISO Standard 14644-1 Class 4 rating means Dorner's ERT150 will conform and not contribute to the contamination of cleanrooms to those standards. As implied by its name, the ERT150 (Edge Roller Technology) uses rollers to move pallets through the conveyor smoothly with no friction (a byproduct often seen in belt-driven platforms). The conveyor's open design eliminates concerns of small parts or screws dropping into rollers and causing conveyor damage or jamming. The ERT150 is suited to operate in cleanroom environments requiring a pallet handling conveyor. It is capable of zoning for no or low-back pressure accumulation and is ideal for automation assembly applications within industries including medical devices, electronics, consumer goods among others.