The Growth of Vertical Growing
Vertical growing, or controlled environment agriculture (CEA), is the combination of automation technology and traditional farming. With climate volatility increasing the frequency of droughts or floods and population growth encroaching on more farmland, traditional in-ground crop farming has many challenges. By incorporating an indoor growing environment, the odds of success are much higher and can increase food security in the U.S. While increased yields and food security are benefits of indoor growing, energy and labor costs still present challenges.
Common dirtless indoor growing takes place in glass-walled greenhouses, sunless structures or hybrids of the two using some form of hydroponics, light-emitting diode (LED) lighting and advanced heating, ventilation and air conditioning (HVAC) solutions. This market segment is about 10 years old in the U.S. and has been the recipient of millions of dollars of investment. Early adopters required a huge influx of capital to support the development of growing infrastructure, farm site design and determination of optimal crops by location. They must also market their product, establish off-takers, set up distribution models and hire talented teams for both research and development (R&D) and growing product.
The Gartner Hype Cycle is often referenced as a way to represent the lifecycle stages encountered by emerging technology from initial development to adoption. As depicted by the chart below, the vertical growing market is at the end of the first phase for a new segment. Several companies have proven they can successfully grow various crops indoors with exceptional yields, but few of them are operating with a positive cash flow without continued investments. The year 2022 was a rough year for the venture capital world; many investments in the CEA market dried up, and so too did many companies. Some companies have closed their doors, many have delayed or cancelled existing projects and others have changed their business models to focus on profitability rather than expansion.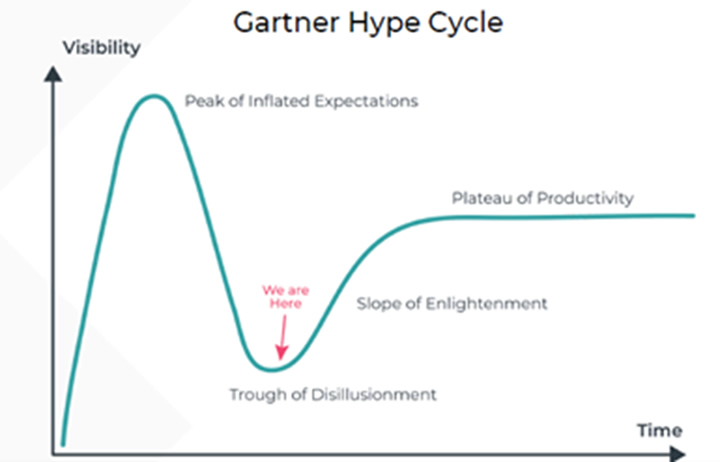 Energy solution providers can design, develop and manufacture comprehensive energy solutions to address vertical growers' immediate energy needs while keeping a focus on the future. Using a step-by-step energy guide, energy solutions providers can work with vertical growers to come up with a plan that includes simple energy conservation all the way through achieving energy independence, aligned with your financial, operational and environmental goals along the way.
Energy is the single largest cost for indoor growing and the costs continue to trend upward, so creating a plan to address energy usage is the first step. If you don't know where your energy is being consumed, adding monitoring and metering devices to your infrastructure will help find the heavy users. Energy solutions provider engineers work with vertical growers to retrofit metering into a current farm or design metering into a new farm's infrastructure. By pinpointing the cause of the usage, energy solutions providers look at energy conservation solutions to reduce the load. With the metered data, they can track any carbon reduction goals the company has established. After the waste has been eliminated or reduced, energy solutions providers look at new energy generation means like solar, wind, CHP or others. Adding a renewable source of energy can significantly lower operating costs while making your overall farm more sustainable. If resiliency is an issue or need, energy solutions providers can incorporate battery energy storage solutions or a microgrid for a state-of-the-industry solution to reach a net-zero operation.
The second largest vertical growing operating cost is labor. One advantage of indoor growing is that fewer people touch the product, therefore creating a safer product and reducing bacteria outbreaks like listeria, salmonella or norovirus. The best way to reduce both human contact and labor costs is by using automation. This approach can't be an afterthought; it needs to be a holistic approach to growing modernization planned ahead of construction.
Developing a road map that outlines your most critical areas of exposure enables:
A methodical approach to improvement while controlling costs to fit your budget.
Lower total cost of ownership (TCO) by replacing the technology that is becoming increasingly more challenging to support (acquiring spare parts, finding qualified technical personnel to assist and maintain, etc.).
Increased production efficiency and managed risk by aligning objectives with technology.
While there are some established manufacturers of equipment designed for functions like seeding, harvesting, packaging and conveyance, tying them together into an existing system can be daunting. The CEA market can benefit from a full-solution approach to system integration, combining all the required elements of vertical growing into one unified solution. Designing and engineering systems based on the growers' goals, then manufacturing them off-site, reduces build time and costs while increasing quality and safety. EnTech Solutions provides a holistic approach for vertical growers to energy design, monitoring, conservation, generation and storage increases sustainability and resilience. To learn more, and to see the Path to Smarter Energy™ process in action, visit energybyentech.com.
Paul Walker, STRATEGIC SEGMENT LEADER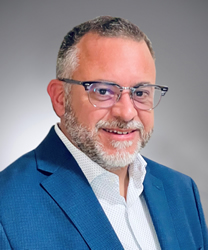 As a strategic segment leader for Faith Technologies Incorporated (FTI), the parent brand of EnTech Solutions, Paul looks to help companies establish and execute end-to-end solutions, from identifying energy goals to executing on them. He has a thorough understanding of the organization's value proposition and works closely with customers to deliver solutions that range from single locations to national accounts.
Prior to joining the organization in 2021, Paul held leadership positions focused on business development for custom engineered solutions and manufacturing excellence. He has decades of experience onboarding new technologies in multiple industries and markets. Paul holds a Bachelor of Science degree in Business Administration from the University of Wisconsin, Oshkosh.
Outside of work, Paul enjoys traveling with his wife, motorcycling, hiking and woodworking.
Comments (0)
This post does not have any comments. Be the first to leave a comment below.
---
Post A Comment
You must be logged in before you can post a comment. Login now.
Featured Product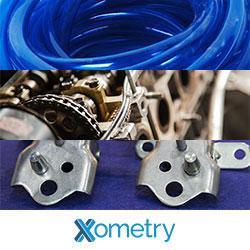 Xometry is your source for custom parts. Now, in addition to getting instant quotes on 3D Printing, CNC Machining, Sheet Metal, and Injection Molding, customers can create and send RFQs for die casting, stamping, and extrusion work to our nationwide network of pre-vetted manufacturers with just a 2D drawing. You will receive and be able to review responses from qualified shops within 7 days on an advanced web-based RFQ management platform. To learn more go directly to our site to issue and RFQ today. Stop wasting time managing RFQs through email and by phone, and start issuing RFQs at scale and in the cloud.