AeroFarms Launches 9 New Community Farms to Provide Additional 2 Tons of Fresh Food Access to 4,500+ Local Students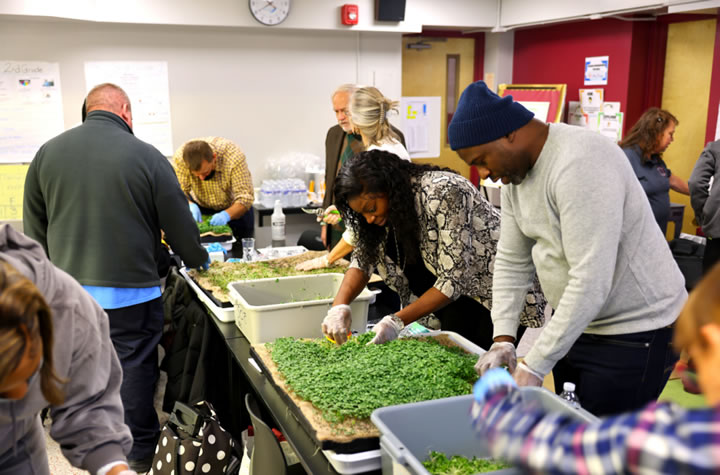 Newark, NJ – AeroFarms announced the expansion of its Community Farm program to bring year-round access to fresh and nutritious leafy greens to local settings like schools, corporate cafeterias, and community centers. This expansion of nine new farms addresses increased demand from customers for small indoor farming technology and marks the growth of AeroFarms' equipment business.
The AeroFarms Community Farm uses patented and proprietary aeroponic technology to bring the benefits of vertical farming directly to the community. The custom-built system empowers children and adults to participate in the full growing process from seed to salad, while experiencing the advantages of hyperlocal, sustainable food production and learning through science, technology, engineering, arts, and mathematics (STEAM) education. Along with the farm system, AeroFarms also provides a robust service package to Community Farm customers, which includes growing inputs like seeds and nutrients and support hours from AeroFarms' expert team of scientists and specialists.
"Following COP27 [the 27th Conference of the Parties to the United Nations Framework Convention on Climate Change] in November, the need for innovative solutions to address challenges to our climate and global food system is abundantly clear," said David Rosenberg, Co-Founder and CEO of AeroFarms. "AeroFarms is committed to furthering its mission to grow the best plants possible for the betterment of humanity and empowering the next generation of scientists and innovators. Our Community Farm offering helps us achieve this mission, while also encouraging healthy eating habits and providing food access for underserved areas."
From its large commercial farms in Newark, New Jersey, and Danville, Virginia, AeroFarms leads the way with smart, indoor vertical farming and services major retailers including Whole Foods Market, Walmart, The Fresh Market, and Ahold Delhaize, as well as food service partners like Baldor and Compass Group. AeroFarms leafy greens and microgreens are safe, nutritious, and flavorful and are grown using zero pesticides and up to 95% less water compared to a traditional field farm. As with its large commercial farms, AeroFarms' Community Farm system uses less resources to grow a higher output of leafy greens in a faster time frame, elevating agriculture for people and planet.
Building on these benefits, this month AeroFarms expanded its Community Farm program to key strategic partners in the greater Newark / New York City area. This expands on AeroFarms' early work with Philip's Academy Charter School (PACS), located in downtown Newark. AeroFarms started a partnership with PACS in 2011, where it installed a farm in the cafeteria to be used for STEAM education and supplement the school's food service offering. In 2016, Former First Lady Michelle Obama visited the PACS farm as part of a national tour to promote health and wellbeing.
This month, in partnership with the Newark Public Schools (NPS), AeroFarms completed installations throughout the Newark Public School district, including at Central High School, George Washington Carver Elementary School, Sir Isaac Newton Elementary School, Thirteenth Avenue School, and Michelle Obama Elementary School. This program is part of the district's plans to advance science, technology, engineering, arts, and mathematics (STEAM) education for students in the District.
"The district continues to prioritize the health and wellness of our Newark Community through our continued partnership with AeroFarms," said Newark Superintendent Roger León. "We are so grateful for the opportunity to provide fresh homegrown vegetables to our Newark Public School students, staff and families in our great city."
Earlier this month, AeroFarms completed a training event for teachers at Michelle Obama Elementary School. As part of the school's Giving Tuesday event, the Tuesday following Thanksgiving, the students at Michelle Obama distributed 75 containers of AeroFarms healthy greens to families in their community. The AeroFarms Community Farm at the school will help advance its mission to empower students through community, health, and wellness initiatives. London V., a second grader at Michelle Obama said, "I feel proud of myself because the plants grew that we planted and am excited to learn more about plants and eat the greens in our class."
Growing also recently began at the Community Farm located at Thirteenth Avenue School, which is partnered with the I Have a Dream Foundation – New Jersey, the local affiliate of a national nonprofit that works to close the achievement gap by providing academic enrichment, mentorship, and other support services to under-served and under-resourced communities. The farm at Thirteenth Avenue School will be used to support STEAM education and a new culinary arts program for students. This farm was made possible through a gift from Deloitte. Deloitte, which provides audit, consulting, tax, and advisory services to many of the world's most admired brands, is also dedicated to making an impact that matters by creating trust and confidence in a more equitable society. This farm is one of three AeroFarms Community Farms that Deloitte has supported to help advance themes of sustainability and equity at schools in the New York / New Jersey area. A second farm will be installed at P.S. 85 The Great Expectations School in the Bronx, in collaboration with Wellness in the Schools, a national non-profit that teaches students healthy habits to learn and live better.
"Deloitte is proud to support AeroFarms' Community Farm program," said Kwasi Mitchell, Chief Purpose Officer at Deloitte. "Our organization strives to advance sustainable and equitable solutions, and we are proud to support a program that is dedicated to advancing health equity by offering hands-on learning and healthy food-access for students in need."
Outside of the Newark Public School system, AeroFarms is also partnered with Riverdale Country School in the Bronx. Founded in 1907, Riverdale is a pre-K through grade 12 independent school committed to "creating community in order to change our world for the good." Riverdale and AeroFarms are also collaborating to develop educational resources and tools that teachers can use to integrate AeroFarms technology into the classroom.
"We are so excited about this collaboration that will allow both students and teachers to not only understand the science of growing plants, but to experience it every day at the school," said Head of Riverdale Country School Dominic Randolph. "This is what true learning is, connecting theory to practice in order to solve real-life problems. We are hopeful that we can help schools broadly to understand how AeroFarms is revolutionizing food production."
The expansion of AeroFarms' Community Farm business builds on the company's project with Jersey City and the World Economic Forum's Healthy Cities and Communities 2030 Initiative. AeroFarms is working with Jersey City to deploy vertical farms throughout the City to increase individual and community health by providing access to healthy foods.
"We are excited to bring new partners into the AeroFarms network as we expand our efforts to bring healthy food and STEAM education to communities where this can best make a positive impact," said Jason Ginsberg, AeroFarms Chief of Staff and Director of Community Farms. "This is just the beginning and we're eager to work with prospective sponsors and organizations as we further scale our Community Farm program in the United States and abroad."
Comments (0)
This post does not have any comments. Be the first to leave a comment below.
---
Post A Comment
You must be logged in before you can post a comment. Login now.
Featured Product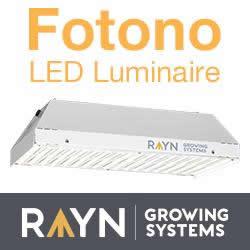 Fotono is a full spectrum LED horticultural luminaire designed to directly replace HPS lights in greenhouses. At 12 pounds, 20 inches long, and 5 inches high, Fotono's compact size makes installation simple while minimizing structural burden on greenhouses. This compact fixture packs energy-saving and yield-improving features, such as a high output, stepless dimming, advanced spectral capabilities, and more.