SVG Ventures | THRIVE Announces Agrifood Startup Finalists for its 2022 Global Impact Challenge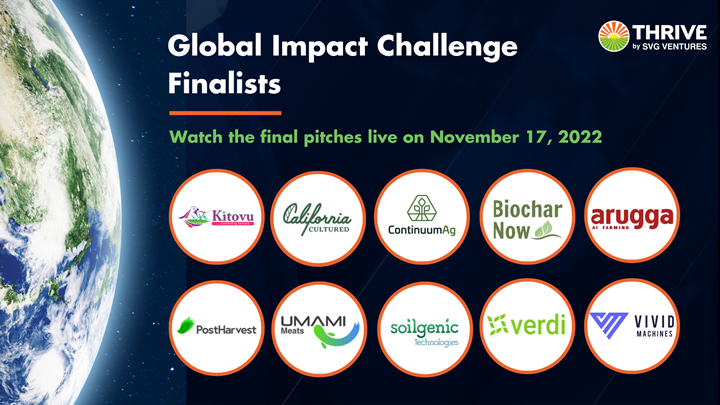 VG Ventures|THRIVE, a global agrifood investment and innovation platform, today announced 10 finalists in the 2022 THRIVE Global Impact Challenge. The challenge is a global search for the most innovative startups advancing a net-zero future for agriculture.
The 10 finalists, selected from an initial global pool of more than 500 applicants, will pitch their solutions at the conclusion of the Global Impact Summit on Nov. 17, 2022 at the San Jose McEnery Convention Center. This premier industry gathering, which is aligned with the UN's sustainable development goals and key themes of COP27, will focus on disruptive innovation and transformational solutions that have the potential for global impact.
"Our 10 finalists represent the best of agrifood entrepreneurship from around the globe," said John Hartnett, founder and CEO of SVG Ventures|THRIVE. "From Nigeria and Australia, from Israel to California, these agtech and foodtech pioneers bring to the table extraordinary ideas to tackle some of the world's most critical agricultural challenges."
The THRIVE Global Impact Challenge covers three critical initiatives.
Increasing food security
In 2021, more than 800 million people were affected by hunger globally, according to the United Nations' Food and Agriculture Organization (FAO). Today, inflation, climate change, and geopolitical conflicts are combining to drastically worsen food insecurity and malnourishment. The four finalists working to increase food security are:
Reducing and offsetting emissions
Nearly one-quarter of all global greenhouse gas emissions — more than eight billion metrics tons of CO2 equivalent — come from agriculture, forestry, and other land use, according to the EPA. The three finalists working to reduce or offset emissions are:
Soilgenic Technologies from Calgary, Canada, patented a new process for production of enhanced efficiency fertilizer additives. The process reduces nitrogen and phosphate fertilizer emissions into air and water without reducing fertilizer rates and crop yields — all at a significantly lower cost than existing technologies.
Kitovu Technology Company from Iseyin, Nigeria builds climate-smart farm- and post-harvest infrastructure for African agriculture. This enables smallholder farms to increase their productivity and incomes.
California Cultured from Sacramento, Calif., is pioneering new plant cell agtech that grows coffee and chocolate beans without the need for deforestation, slave labor, and pollution.
Soil health and biodiversity
Food systems were responsible for half of the population decline in freshwater species and a staggering 70% of the decline of land animals, according to a new report by the World Wildlife Fund. The three finalists working to improve soil health and biodiversity are:
Verdi from Vancouver, Canada, is building a climate adaptation platform for agriculture. The company is starting with tools for plant-level healthcare that enable growers to de-risk water scarcity and improve crop productivity.
Biochar Now from Berthoud, Colorado developed a process to bind toxins in a manner that makes them easier to remove from production, increasing plant yields.
ContinuumAg from Washington, Iowa provides farmers practical methods for profitably implementing regenerative practices, becoming a catalyst for sustainable agriculture.
The THRIVE Global Impact Summit features networking opportunities, rich panel discussions, and inspiring keynote speeches from prominent industry experts on disruptive innovations and globally impactful solutions. Summit partners include ICL Planet, Bayer, BASF, Driscoll's, Kubota, Alberta Innovates, Dairy Australia, Latrobe University, and Invest Alberta. To register for the Silicon Valley summit, visit the event website.
About SVG Ventures|THRIVE
SVG Ventures|THRIVE is a global agrifood investment and innovation platform. Headquartered in Silicon Valley, THRIVE is the most active agtech investor in the world — investing in, accelerating, and providing market access to more than 8,000 startups throughout more than 100 countries. THRIVE works with promising startups, leading corporations, top universities, and global growers to commercialize agtech and foodtech solutions to the biggest challenges facing agrifood. THRIVE experts, events, programs, and platforms work to foster large-scale adoption of climate-smart technologies. Learn more about the THRIVE Global Impact Summit and THRIVE events, challenges, and programs, at https://thriveagrifood.com.
Comments (0)
This post does not have any comments. Be the first to leave a comment below.
---
Post A Comment
You must be logged in before you can post a comment. Login now.
Featured Product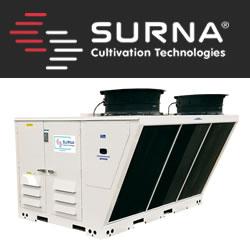 The EnviroPro Packaged DX HVACD Unit utilizes hot gas reheat to provide both cooling AND dehumidification all in one central unit. Its variable speed components allow it to make more nuanced adjustments, saving energy and avoiding temperature swings that can come from single-stage equipment. Due to its affordability, versatility, and industry-leading warranty, the EnviroPro Packaged unit is one of Surna's most popular HVAC offerings.