Q ENERGY France and its partner Aquacosy Inaugurate France's very first Hydrovoltaic Prototype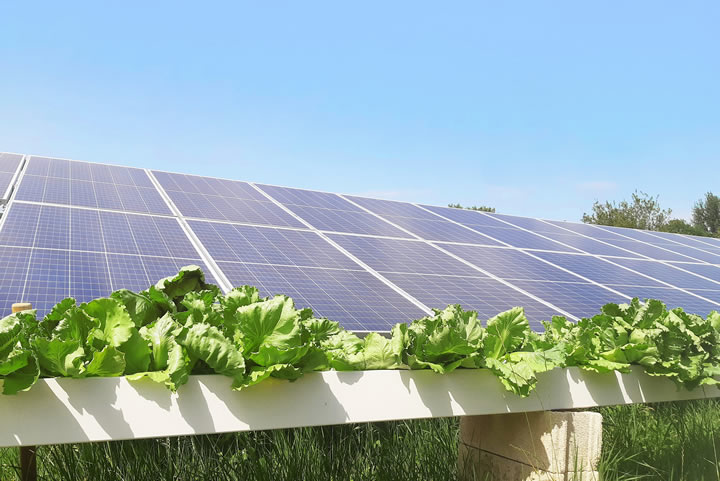 On 12th September 2022, Q ENERGY France and the start-up Aquacosy inaugurated an innovate hydrovoltaic prototype in Montauban in the Tarn et Garonne region.
Hydroponics is an above-ground horticultural system which involves growing plants, without soil, by using water-based mineral nutrient solutions.
The hydrovoltaic prototype, with an installed power of 9.3 kW, has been operational since August 2021 and covers an area of 250 m². It is equipped with a hydraulic system with two rainwater collection gutters and a tank with a pump system.
An innovative energy tool for agriculture
This totally innovative system protects crop growth from frost, heat and wind while saving invaluable water resources. It can be installed anywhere, preferably on land with very low agronomic value. It has no negative effects on the environment, and allows 100% natural, diversified and densified production to be grown using 5 to 15 times less space.
Very promising initial results
Designed according to a protocol validated by the CNRS (The French National Centre for Scientific Research), the prototype has already been in service for a year with very encouraging initial results, both in terms of agricultural yields and the extension of production seasons, thanks in particular to protection against the negative effects of wind and frost.
After these very promising results, the next step is to look for land for a larger project, to demonstrate the same benefits for wider agricultural production.
"After the inauguration of the photovoltaic hop farm prototype in the Vendée region last June, we are delighted to inaugurate this innovative second project. This is an ideal tool for territories wishing to establish a local value chain for food and for energy while creating jobs in the agricultural sector" says Céline SPITZHORN, Solar Director of Q ENERGY France.
"We are very happy to collaborate with Q ENERGY France on such an innovative project. It is important to remember that today, the food and energy sectors are major issues for our collective future. It is therefore essential to find strong, collective solutions to meet these challenges together" says Pierre AUBIGNAC, co-founder of AQUACOSY.
Comments (0)
This post does not have any comments. Be the first to leave a comment below.
---
Post A Comment
You must be logged in before you can post a comment. Login now.
Featured Product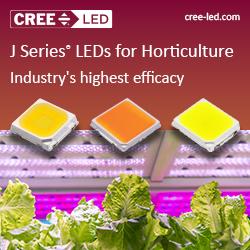 Horticulture and other forms of agricultural lighting require application-tuned ratios of spectral content, high efficacy and long lifetimes. Since these systems are designed to maximize yields for plants and animals, they require different metrics than lighting products designed around the human visual system. Cree LED delivers a wide range of spectral options and products optimized for these applications with leading efficiency and reliability.