Taylor Farms Taps Bloom Energy, Ameresco and Concept Clean Energy to Take California Fresh Vegetable Production Facility Off the Grid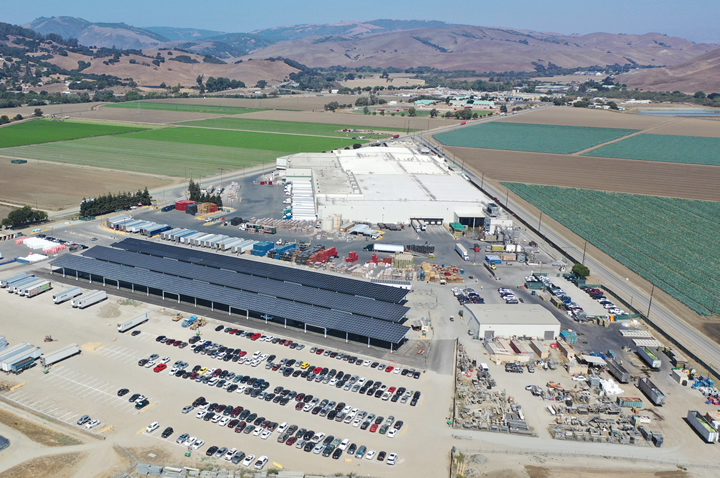 Taylor Farms, North America's largest producer of healthy fresh foods, has partnered with Bloom Energy (NYSE: BE), Ameresco, Inc. (NYSE: AMRC) and Concept Clean Energy to install a microgrid capable of taking one of their California food processing facilities completely off the traditional energy grid. The energy leaders plan to combine six megawatts (MW) of Bloom fuel cells, 2MW of solar power from Concept Clean Energy and a 2MW/4MWh battery into a microgrid that is designed to power the entire 450,000 sq. ft. facility in San Juan Bautista, California.
Taylor Farms' commitment to providing healthy fresh foods year-round to customers and consumers cannot be disrupted amid energy reliability challenges. This collaboration combines the strength of each technology – fuel cells' ability to generate resilient, always-on power, daytime power generation from solar, and energy storage benefits from batteries – to fulfill the facility's 24/7 power needs completely, independently, and cost-effectively. While microgrids are often implemented only to provide power to critical loads in the event of outages, Taylor Farms seeks to prove that companies can, with partners like Bloom Energy, Ameresco, and Concept Clean Energy, take control of all their energy needs and establish price and power predictability.
"We are looking forward to the energy stability this will provide our San Juan Bautista, California facility," said Bruce Taylor, Chairman and CEO, Taylor Farms. "Fresh food reliability is essential for our customers and it's more critical than ever to provide quality, fresh foods to North Americans."
Per the California Independent System Operator, it is estimated that the state faces an energy capacity shortfall of 1,700MW, which could be as high as 5,000MW if California is hit with multiple extreme events at the same time, such as wildfires and heat waves. With the flexibility to leverage the right technology for the right application, companies can now avoid relying on strained power grids, as Bloom Energy and Ameresco aim to provide always-on power for Taylor Farms.
"Our partnership with Taylor Farms and Ameresco is a landmark demonstration of the capabilities that innovative, clean energy companies have to provide uninterrupted low-carbon power to large-scale facilities," said Sharelynn Moore, EVP, Chief Business Development and Marketing Officer, Bloom Energy. "Our decade-long relationship with Taylor Farms is culminating in this leading application of what a microgrid can do – enabling America's largest producer of packaged produce to maintain and improve the reliability of their power."
This journey builds on Taylor Farms' relationship with Bloom Energy and is intended to allow the produce distributor to explore disconnecting from the regional power grid amid energy price escalations and reliability challenges.
"Ameresco is excited to partner with Bloom and Taylor Farms on a truly transformative project that demonstrates innovation in advanced energy technologies," said Ameresco EVP Michael Bakas. "We look forward to this project serving as a blueprint for others as the role for baseload, dispatchable alternative energy sources serve as the cornerstone for resiliency in microgrids."
"Working with Taylor Farms' leadership has inspired Concept Clean Energy to develop highly innovative and versatile solutions for solar canopies, rooftops and ground-mounted applications," said Elliot Jaramillo, CEO, Clean Concept Energy. "We're enabling Taylor Farms to achieve energy independence and realize unprecedented economic returns"
Energy solutions, including fuel cells and solar, can be integrated at scale, to provide low-carbon energy, reliability, resiliency, and immunity to challenges facing current grid operations.
At Taylor Farms, Bloom and its partners are paving the way for decarbonizing production, while showing how industries like agriculture, an important part of the California and national economies and the fifth largest source of California's greenhouse gas emissions, can reach net-zero.
For more information about Bloom Energy's microgrid capabilities and resilient clean energy platform, visit https://www.bloomenergy.com/applications/alwayson-microgrids/.
About Bloom Energy
Bloom Energy empowers businesses and communities to responsibly take charge of their energy. The company's leading solid oxide platform for distributed generation of electricity and hydrogen is changing the future of energy. Fortune 100 companies around the world turn to Bloom Energy as a trusted partner to deliver lower carbon energy today and a net-zero future. For more information, visit www.bloomenergy.com.
About Taylor Farms
Taylor Farms is a leading North American producer of salads and healthy fresh foods with production facilities across the U.S., Canada, and Mexico. Taylor Farms is grounded in a commitment to quality, assured supply, innovation, sustainability, and food safety. Taylor Farms is family owned and based in "The Salad Bowl of the World" Salinas, California. For more information, delicious recipes, and more visit www.taylorfarms.com and follow Taylor Farms on Instagram, Facebook and TikTok.
About Ameresco, Inc.
Founded in 2000, Ameresco, Inc. (NYSE:AMRC) is a leading cleantech integrator and renewable energy asset developer, owner and operator. Our comprehensive portfolio includes energy efficiency, infrastructure upgrades, asset sustainability and renewable energy solutions delivered to clients throughout North America and Europe. Ameresco's sustainability services in support of clients' pursuit of net-zero include upgrades to a facility's energy infrastructure and the development, construction, and operation of distributed energy resources. Ameresco has successfully completed energy saving, environmentally responsible projects with federal, state and local governments, healthcare and educational institutions, housing authorities, and commercial and industrial customers. With its corporate headquarters in Framingham, Massachusetts, Ameresco has more than 1,000 employees providing local expertise in the U.S., Canada, and Europe. For more information, visit www.ameresco.com.
About Concept Clean Energy
Concept Clean Energy is a leader in the field of renewable energy, primarily focused on the agricultural sector. Our team has created several proprietary solutions designed to maximize solar generation while keeping valuable land in production. These solutions allow heavy energy users, such as Taylor Farms, to produce large amounts of reliable clean power onsite, protect critical operations and ultimately achieve energy independence.
www.ConceptCleanEnergy.com
Comments (0)
This post does not have any comments. Be the first to leave a comment below.
---
Post A Comment
You must be logged in before you can post a comment. Login now.
Featured Product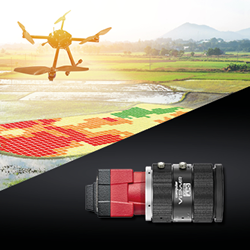 Allied Vision's compact and light weight Alvium SWIR (short wave infrared) cameras are the ideal choice to build cost-effective OEM systems used in embedded and machine vision applications. The cameras support a spectral range from 400 nm to 1700 nm at high quantum efficiencies. This allows to capture images in both the visible and SWIR spectra with a single camera and enables users to reduce overall system costs! Equipped with Sony's IMX990 and IMX991 SenSWIR InGaAs sensors, Alvium SWIR cameras deliver high image quality and frame rates. This makes them well suited for drones or handheld devices used in various industries such as, agriculture, mining, solar cell inspection or medical.