Avoid These Five Mistakes When Choosing Food-grade Conveyors, Says Ultimation Industries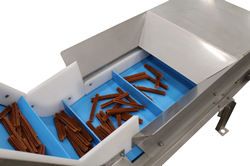 Choosing the right material handling equipment for food manufacturing, processing and packaging is critical for maintaining safety, according to Ultimation Industries, the leading direct-to-consumer conveyor manufacturer for the food processing, vertical farming, warehousing, delivery and other industries. The World Health Organization estimates 600,000 people become ill after eating contaminated food and puts primary responsibility on producers for keeping food from becoming contaminated during the production and distribution process.
"Food-grade conveyors are one of the most important parts of the food and beverage industry because they transport raw ingredients, organic materials and other consumable goods within the facility and ultimately out to the consumer," said Richard Canny, president of Ultimation Industries
Choosing the right conveyor system is a critical step in maintaining a safe food supply. Unlike regular industrial conveyors, food and washdown material handling solutions must be constructed of sanitary and hygienic materials to meet rigorous safety standards and must be easy to clean, maintain and inspect.
Here are five mistakes to avoid when choosing conveyors for food-handling applications:
Mistake #1: Assuming all stainless steel is food-grade. Just because a conveyor is made from stainless steel doesn't mean it meets food-grade requirements. SAE 304 stainless steel is the most common type of stainless steel used in the industry because it resists oxidization and corrosion, is easy to wipe clean and does not easily breed bacteria.
Mistake #2: Using food-grade stainless steel for everything. While stainless steel is the standard bearer for food-safe systems, different materials can be used safely depending upon the amount of contact the food has with a conveyor's surface. For example, food moving along a belt conveyor is always in contact with the belt so the belt material needs to meet or exceed requirements for contact with the food. Frame and guarding materials, however, can often have different requirements if they are not in direct contact with food materials. The choices between stainless steel or lower grade materials can have a large impact on the cost of a conveyor system.
Mistake #3: Selecting the wrong type of conveyor for the job. There are a variety of conveyor types for food-related applications, but the most common is the belt conveyor. Belt conveyors are used throughout processing and packaging because they offer a smooth, continuous surface and are easy to clean. But based on the application, wire mesh, troughed and roller conveyors could also be good options. Food-grade wire mesh conveyors can withstand high and low temperatures and products are less likely stick to them. Troughed conveyors keep bulk materials from spilling when conveying across long distances. Roller conveyors come in a variety of types and can be customized based on wash-down environment, specific temperatures and other variables.
Mistake #4: Choosing the wrong lubricants. Conveyors are always designed to ensure that any lubricants don't get in direct contact with your product. But motors and bearings need lubricants or they will fail. Look for lubricants that meet the appropriate National Sanitation Foundation (NSF) grade. The ISO Standard 21469 is a voluntary standard that also provides more guidance in selecting lubricants.
Mistake #5: Not considering how the conveyor system will be cleaned. Cleanability is one of the most important factors for food-grade conveyor systems. To adhere to rigorous hygienic requirements, the conveyor should be designed to reduce the number of build-up points where residue can accumulate. When choosing a system, keep in mind whether the application requires dry, wet or sanitary cleanup. This will determine the type of rollers, frames, lubricants and electrical controls that should be used for optimal safety.
"Well-designed food and sanitary conveyors are a good investment and can provide many years of reliable service," said Canny. "At Ultimation, we can help configure systems that meet safety requirements while creating lasting value."
For more information about food-safe conveyors and conveyor systems, visit https://www.ultimationinc.com/.
About Ultimation:
Ultimation Industries, LLC is the leading direct-to-consumer conveyor manufacturer serving the automotive, food processing, vertical farming, heavy equipment, warehousing, fulfillment and delivery industries. The company offers a line of proprietary automation systems and is also the largest integrator of Jervis Webb Conveyor Systems. Ultimation's e-commerce channel sells Ultimation, Interroll, Itoh Denki, Jervis Webb, and a wide range of other conveyor equipment. Ultimation was named a 2022 Michigan 50 Companies to Watch by Michigan Celebrates Small Business. In 2020, Ultimation was recognized as one of Inc.5000's fastest growing private companies in America. Visit https://www.ultimationinc.com/ for the latest product information and news about Ultimation.
Comments (0)
This post does not have any comments. Be the first to leave a comment below.
---
Post A Comment
You must be logged in before you can post a comment. Login now.
Featured Product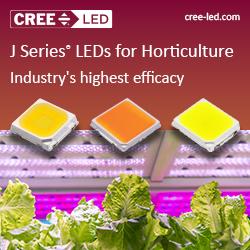 Horticulture and other forms of agricultural lighting require application-tuned ratios of spectral content, high efficacy and long lifetimes. Since these systems are designed to maximize yields for plants and animals, they require different metrics than lighting products designed around the human visual system. Cree LED delivers a wide range of spectral options and products optimized for these applications with leading efficiency and reliability.