Simply Fresh – India's Largest precision farm in the making!
Simply Fresh Private Limited was founded in 2010 by two Australia-based software
engineers, Sachin Darbarwar (CEO) and Sweta Darbarwar (CMO) who were
studying the modern Agri tech, i.e, plant-profiling, and R&D.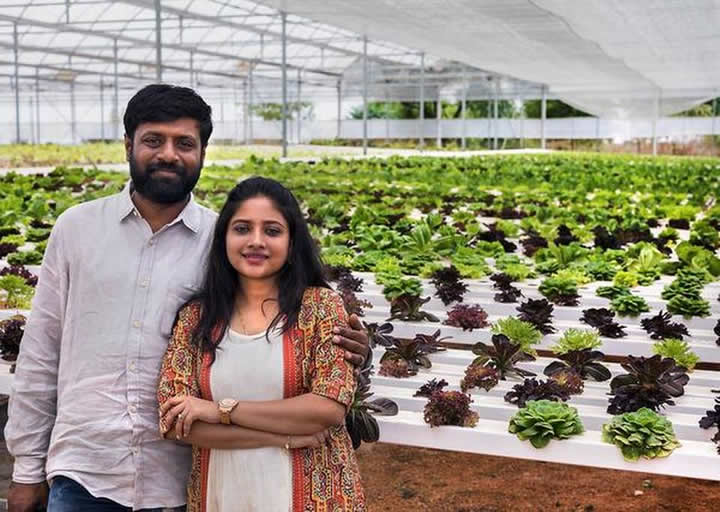 With a strong understanding of the technical processes associated with farming
techniques, the duo shifted its base to Hyderabad researching on latest techniques
that are inspired by the Australian and New Zealand farm practices.

It all started in 2013 at Shamirpet in a 9-acre farm that catered to Retail and Horeca
segments in local markets.

In 2014, Simply fresh commenced its export operations. It's then that the team
realized the demand for fresh products and the need for safe and traceable
agricultural produce.

Next in 2018, the company raised close to USD 30 million through private equity
investors. Soon after, Simplyfresh expanded its farming with a 150-acre facility in
Arjunpatla, Siddipet. Simply fresh was started with the aim of making available
nutritious food that's also free of chemicals and pesticides. Using soil-less farming
technology, the farm presents inventory readiness, consistent quality and freshness
of produce.

Simply fresh uses global technology in farming based on European standards using
precision farming techniques. The farm uses AI technology in farming for growing,
nourishing, picking and processing. Farming uses sustainable practices that don't
exhaust natural resources. Simply Fresh Farms produces a full line of Medicinal
plants and fresh produce year-round at our greenhouses located in Hyderabad. They
are a grower-owned processor adhering to industry-leading food safety and quality
standards.

With a motto Affordable Food safety, Simply Fresh's mission is to bring fresh, clean,
traceable and technologically-assisted produce through sustainable farming,
adhering to the best standards of food safety.

Their farm is digitally controlled by bit data, which determines and detects climate
conditions and requirements for the plants and alters the environment to suit their
needs. Sachin spent three years learning the process in Australia and later developing the technique.

To make sure that their customers have confidence in their vegetables or berries, each package has a QR code. When scanned, this code will showcase the whole history of the product including when the seed was sown, who harvested it, how many days it was in the system, and so on.
The final design selected for this project can produce crops cost-effectively and sustainably year-round by optimizing the growing environment by:
• Taking advantage of the natural outdoor growing environment during the late fall, winter and early spring.
• Being able to grow during the hot dry summers.
• Being able to grow during the hot and humid monsoon season when traditional cooling systems do not work efficiently.
• Growing in a completely screened environment when required.
• Using less than 5-10 kW hours of electricity per hectare per day.
• Using minimal water for cooling.
• Harvesting rainwater to ensure a continuous supply of fresh clear water.

Simply Fresh shared the most important element of the facility design is that each of the greenhouse structures is adaptable to grow nutraceuticals, vegetables, herbs, and berries so that the business is nimble and can quickly react to market changes or opportunities.

All of the greenhouses constructed are Cravo retractable peaked roof greenhouses with secondary retractable cooling curtains underneath.

All equipment is controlled by an AI-based computer system which has been specially designed to control retractable roofs.

In addition to the production greenhouses, a world-class R&D lab, tissue culture lab, and automated nursery are being constructed.

Simply Fresh have been cultivating exotic flowers, vegetables, fruits, and leaves in almost two acres of land through hydroponic farming and are now the biggest and the sole suppliers of all salad leaves, exotic berries, salad veggies, and edible flowers to almost all leading star hotels in Bengaluru, Chennai, Hyderabad, and Mumbai.
Comments (0)
This post does not have any comments. Be the first to leave a comment below.
---
Post A Comment
You must be logged in before you can post a comment. Login now.
Featured Product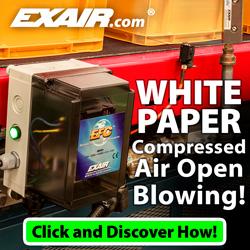 Compressed air is a limited resource that is generated in-house for the benefit of many operations within the manufacturing environment. Learn how to ensure all point of use applications are using your compressed air in the most effective and efficient way possible. Learn how much it costs to produce that compressed air and how Engineered Nozzles can help you use your air more effectively and efficiently.