TerraClear Announces $6.1M Financing Round and Leadership Additions to Automate Rock Picking in Agriculture
TerraClear Inc., a robotic ag-tech company, announced the closing of a $6.1 million funding round, bringing total capital raised to more than $13 million since inception in December 2017. Madrona Venture Group led the round with participation from existing investors. The company integrates machine vision, aerial sensing, and advanced robotics in an end-to-end solution for farmers to clear rocks from their fields. The company will use the new funds to accelerate hiring, product development, and testing.
Agri-business is a $5 trillion global industry in which automation is an increasingly critical factor. TerraClear is working at the intersection of advanced technologies and the automation needs of the industry to improve farming processes in innovative ways. Important but low skilled jobs like picking rock are prime candidates for automation. The majority of crop production is done on large-scale farms with big machines that operate fast – placing a premium on uptime. Rock removal prevents machine downtime from damage incurred when rock meets implement.
As part of the funding round, Madrona Managing Director Matt McIlwain will join TerraClear's board of directors. "Brent is a visionary leader and he and his team are drawing on their deep understanding of both the life and work of a farmer as well as expertise with robotics and software-enabled machine learning to change how fields are cleared and planted. TerraClear has brought the right team and tech together to bring an important solution for farmers closer to market."
"A primary key to successful companies is a world class team," said Brent Frei, Founder and CEO. "Nearly doubling our available cash, gives us the freedom to continue to recruit the very best people as we press for faster growth. This financing adds Matt McIlwain and his Madrona team to our board. Matt has been key in many of the most successful tech companies in Seattle, and is someone I trust implicitly to make us better. And, we add Rhodes Scholar and former Navy SEAL, Trevor Thompson, to the role of President. Trevor's wide-ranging 14-year career consists of leading world-class teams through exceptionally complex and high-stress environments."
TerraClear recently opened a lab and test facility in Grangeville, Idaho to engage with large-scale farmers on a regular basis and test their implement in field conditions. "Expanding our facilities into farm country where we have ready access to 10s of thousands of acres and dozens of innovative farmers for testing and development is very important," says Frei. The Camas Prairie is a source of much innovation in farming tech, including 95% of combine self-leveling technology.
"The market is huge and we're laser-focused on building exactly what farmers need to make their lives easier," said Frei. "At Smartsheet, we started with a clear problem in a giant market – how can we help people manage work more effectively. In many ways, the problem and market we are tackling at TerraClear is as big and even more straightforward."
About TerraClear
TerraClear Inc. is a leading provider of smart agricultural implements and is committed to improving farmers' lives by automating time-consuming work. Founded in 2017, TerraClear integrates advanced technologies such as machine vision, neural networks, and robotics with farm implements. TerraClear maintains offices in Bellevue, WA and Grangeville, ID. For more information, visit TerraClear at https://www.terraclear.com. We are hiring!
About Madrona
Madrona has been investing in early-stage technology companies in the Pacific Northwest for nearly 25 years and has been privileged to play a role in some of the region's most successful technology ventures. The firm invests predominately in seed and Series A rounds across the information technology spectrum, including cloud infrastructure, intelligent applications, digital media and advertising, ecommerce and consumer software. Madrona manages nearly $1.6 billion and was an early investor in companies such as Amazon.com, Apptio, Smartsheet, Rover.com, and Redfin. www.madrona.com
Comments (0)
This post does not have any comments. Be the first to leave a comment below.
---
Post A Comment
You must be logged in before you can post a comment. Login now.
Featured Product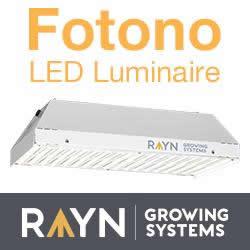 Fotono is a full spectrum LED horticultural luminaire designed to directly replace HPS lights in greenhouses. At 12 pounds, 20 inches long, and 5 inches high, Fotono's compact size makes installation simple while minimizing structural burden on greenhouses. This compact fixture packs energy-saving and yield-improving features, such as a high output, stepless dimming, advanced spectral capabilities, and more.