New Documentary Sponsored by Joyce Farms Educates Farmers on Lowering Costs and Improving Yields With Regenerative Methods
With each New Year comes a sense of renewal. Renewal of hope, renewal of goals and renewal of inspiration. For Joyce Farms and its Chief Ranching Officer Dr. Allen Williams, this New Year brings a call for farmers and ranchers to renew the land.
A Regenerative Secret, the newly released documentary sponsored by Joyce Farms, aims to build awareness for the transformative practice of regenerative agriculture, a method of farming that the company made standard practice on its farms in 2018 and hopes to see its adoption spread in 2019. The farming method relies on nature and livestock, not harsh chemicals or disruptive practices, like tilling, to manage cropland and grazing pastures. When put into practice, it results in a multitude of benefits for farmers, the environment, and the food produced.
The documentary was produced by Finian Makepeace and Kiss The Ground, a 501(c)(3) organization committed to public engagement and soil restoration, and features Dr. Williams.
Dr. Williams, a leading expert in soil health and regenerative agriculture, hosted Makepeace on a tour of his ranch in Alabama to show the benefits of high-density grazing. Williams says that the practice produces profound results that prevent overgrazing and promotes tremendous fertility and growth.
"There's a misconception that to do good for the environment you must compromise profit. Allen's model completely turns this upside down," Makepeace says in the documentary of Dr. Williams' farming practices. "He has pioneered a relatively unknown approach to ranching that's hugely profitable and efficient all while regenerating the ecosystem environment."
Through the practice of regenerative agriculture on his farm, Dr. Williams has increased cattle production fivefold in the last three years without using any imported – and costly – water, feed, fertilizer, or pesticides. "If we focus first and foremost on the soil and restoring its function and biology then everything else comes much easier," explains Dr. Williams.
With the newly released documentary, Joyce Farms and Kiss The Ground are sharing the benefits of regenerative agriculture to farmers, producers, chefs, and consumers in an effort to build awareness for the alternative farming practice and drive necessary change.
"We know the profound impact regenerative agriculture can have not just on the farmers and ranchers, their quality of life, and their ability to make a good living. We can also rebuild our ecosystem, our degrading soils, and water cycles. That's what I strive to do. That's what we live to do every day now," said Dr. Williams.
Comments (0)
This post does not have any comments. Be the first to leave a comment below.
---
Post A Comment
You must be logged in before you can post a comment. Login now.
Featured Product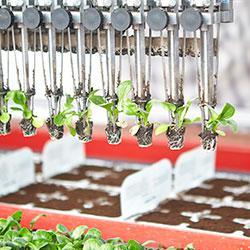 The FAULHABER Linear Actuator L series are designed to provide high performances in compact dimensions, these actuators can support large input speed, high output force and are suited for a wide range of applications like robotics, industrial machines and laboratory equipment.