"Techno Farm Keihanna", the Largest Automated Vertical Farm in the World, to Start Shipping its Products
Spread Co., Ltd. (HQ: Kyoto, Japan, CEO: Shinji Inada, Hereinafter "Spread"), which is a member of Earthside group, started shipping its products from Techno Farm Keihanna (Kizugawa, Kyoto) on November 1, 2018. Techno Farm Keihanna is the largest automated vertical farm in the world* where the automated cultivation system is capable of producing 30,000 heads of lettuce every day.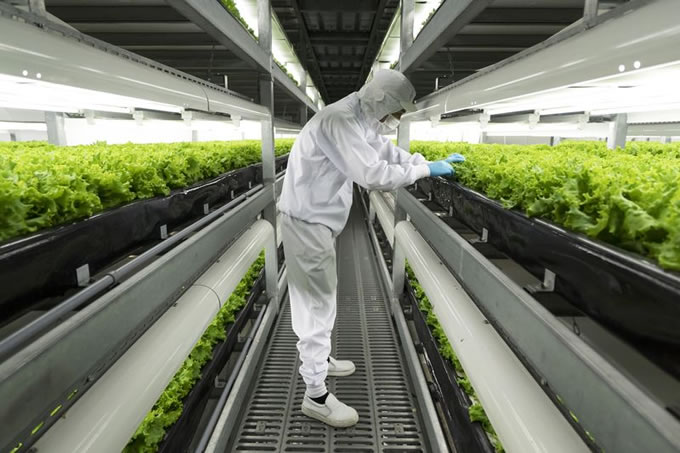 The production capacity of Techno Farm Keihanna is 30,000 heads of lettuce per day and it is approximately 1.5 times bigger than that of Kameoka Plant, Spread's existing vertical farm (Kameoka, Kyoto). Techno Farm Keihanna has introduced the latest advanced technologies such as an automated cultivation system, water recycling and environmental control technologies and specialized LED lighting customized for vertical farming. Meanwhile, the scale of the farm and stability of production have been further increased. Techno Farm Keihanna utilizes IoT/AI technologies developed by Spread to further optimize the cultivation environment through greater analysis. Alongside this, Spread will draw on research and development facilities situated inside Techno Farm Keihanna to develop new cultivation technologies.
At Techno Farm Keihanna, four kinds of leaf lettuces are produced without the use of pesticides. Spread has incorporated more rigid standards for hygiene control of the cultivation environment and aims to gain the international certification of food safety standard "FSSC22000" **. Lettuce produced in Techno Farm Keihanna is to be sold under "Vegetus", Spread's brand of vertically farmed vegetables, at supermarkets and retailers all over Japan. Spread's Techno Farm Keihanna will act as the flagship model of Techno FarmTM, the next generation agricultural production system, which Spread aims to expand to more than 100 locations through partnerships including a franchise business model.

To achieve a sustainable model for agriculture, Spread will continue to pursue further technological innovation by deepening its cooperation and collaboration in various fields.

Techno Farm™ is a next generation food production system created by Spread based on their 10 years of operating experience and technological innovation in vertical farming. Joint development with Japanese technology companies for innovations such as automated cultivation, and water recycling and environmental control technologies, specialized LED lighting, and IoT/AI will reduce environmental burden and operational costs. URL : www.technofarm.com/en
* Measured by production weight per farm area and defined as a vertical farm that implements automation for cultivation processes of leafy vegetables for shipment to general consumers (internal investigation).
** A track record of operation of the farm is a requirement to apply for this certification.

Comments (0)
This post does not have any comments. Be the first to leave a comment below.
---
Post A Comment
You must be logged in before you can post a comment. Login now.
Featured Product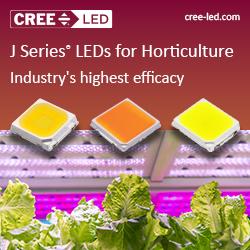 Horticulture and other forms of agricultural lighting require application-tuned ratios of spectral content, high efficacy and long lifetimes. Since these systems are designed to maximize yields for plants and animals, they require different metrics than lighting products designed around the human visual system. Cree LED delivers a wide range of spectral options and products optimized for these applications with leading efficiency and reliability.