One-Click Solution from Growerstock Set to Transform Fresh Produce Buying
Today, Growerstock announced the public launch of its innovative, time-driven trading platform for the fresh produce industry, instantly matching buyer requests with verified sellers.
According to USDA/NASS reporting, the U.S. Farming Gross Merchandise Volume (GMV) of fruits and vegetables accounts for over $100 billion annually. This massive industry relies largely on antiquated systems and time-consuming processes to buy and sell fresh produce. Developed by a team of industry experts and mobile technology innovators, Growerstock is a secure online marketplace where buyers can easily and quickly locate and purchase fresh produce in exactly the pack they require.
Growerstock significantly shrinks the time and effort devoted to sourcing, purchasing and tracking. The platform's quick hassle-free workflows, mobile apps, smart tools and services boost a buyer's productivity, enabling them to instantly notify a network of pre-approved sellers, then secure a deal in just minutes, from anywhere. By design, the Growerstock platform reduces time required for the buying and selling process, providing freedom to pursue other important tasks.
Tony Nuovo, co-founder and CEO of Growerstock, states: "While a digital marketplace isn't a new idea, our team's track record for delivering innovative solutions, combined with an intense understanding of industry challenges, has uniquely positioned us to build – from the inside out – what is simply the best fresh produce trading platform available. We are excited to have greatly improved efficiencies and enabled acceleration of fresh produce sales. Too much precious time is lost searching for buyers and sellers in an industry where commodities quickly lose nutrients, freshness and value. Growerstock is fresh off the blocks, yet private testing and reviews have been stellar and our mission is clear; we will drive efficiency through innovation so consumers everywhere can enjoy the healthiest and freshest produce available."
Growerstock's board of advisors is comprised of industry veterans who see the benefit of enhancing their existing sales process with this streamlined approach to fresh produce sales. Growerstock was featured as a 2018 Innovation Award Finalist at United Fresh's Annual Conference & Expo in Chicago.
Growerstock is available to buyers across all U.S. territories. Sellers are actively being added in key shipping points throughout the country, with preference (initially) to California, Texas and Florida.
About Growerstock
Growerstock is an innovative, time-driven trading platform for the fresh produce industry, instantly matching buyer requests with verified sellers. Follow Growerstock on Instagram (www.instagram.com/growerstock) and find more information at www.growerstock.com.
Comments (0)
This post does not have any comments. Be the first to leave a comment below.
---
Post A Comment
You must be logged in before you can post a comment. Login now.
Featured Product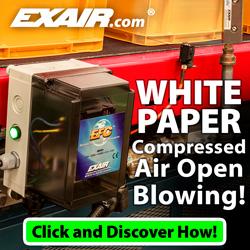 Compressed air is a limited resource that is generated in-house for the benefit of many operations within the manufacturing environment. Learn how to ensure all point of use applications are using your compressed air in the most effective and efficient way possible. Learn how much it costs to produce that compressed air and how Engineered Nozzles can help you use your air more effectively and efficiently.