Here are the 14 startups pitching at Wisconsin's AgTech Venture Day
Fourteen agricultural technology companies from across the globe will pitch their business models to investors for the 2018 AgTech Venture Day, taking place Oct. 2 in Johnson Creek. Four of those startups are Wisconsin based.
The event is hosted by Golden Angels Investors, a Brookfield-based angel network and one of the largest investment networks in the Midwest. Golden Angels will have a fund committed to the presenting companies. In 2017, Golden Angels Investors dedicated nearly $1 million for agtech startups pitching at the event.
Here are the presenting startups. You can find more about AgTech Venture Day here.
Aker Technologies: A crop diagnostics company based in Minnesota.
AmebaGone: The Madison company, a finalist for the 2018 Governor's Business Plan Contest and winner of the Life Sciences category, developed a natural alternative to antibiotics that secures crop yields for growers without chemicals and metals.
Augean Robotics: Robotics and automation company based in Philadelphia.
Cambridge Crops: Massachusetts company created a life-extending coating technology for perishable goods.
Cellulosic Sciences: Madison company developed technology for transforming lignocellulosic materials into new and more useful forms.
Farm Dog: Israel-based company operates a pest and disease management platform.
Nanopore Diagnostics: Based in St. Louis, this company is developing a field-based screening and diagnostic tool for counting microbes.
Native Traits: Michigan company developed technology to recover genetic traits from ancestral strains of corn.
Novihum: Based in Germany, this company manufactures a more beneficial humus concentrate (dark, organic soil).
PhylloTech: Middleton-based company created a method of advanced protein and antibody farming in plants.
Rantizo: Iowa company created software platform for automated drone spraying.
Shade Haven: Viroqua-based company makes mobile shade structures for protecting livestock.
Skyx: An Israel tech company, Skyx is an agricultural-robotics company that creates autonomous drones for spraying farmland.
Vence: California company developed a virtual fencing and autonomous animal control technology.
Comments (0)
This post does not have any comments. Be the first to leave a comment below.
---
Post A Comment
You must be logged in before you can post a comment. Login now.
Featured Product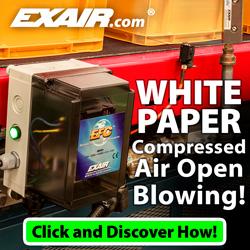 Compressed air is a limited resource that is generated in-house for the benefit of many operations within the manufacturing environment. Learn how to ensure all point of use applications are using your compressed air in the most effective and efficient way possible. Learn how much it costs to produce that compressed air and how Engineered Nozzles can help you use your air more effectively and efficiently.