Fluence Significantly Increases Yield and Secondary Metabolites in San Francisco Cannabis Vertical Farm
Fluence Bioengineering Inc. announced Eve Farms has substantially improved product quality and operations by transitioning from high-pressure sodium (HPS) lighting to SPYDRx PLUS LED horticulture lighting solutions. Eve Farms further increased crop yield, terpene and cannabinoid production, as well as operational efficiencies by growing in a two-tier vertical farm made possible only under broad-spectrum, high-intensity LED lighting.
"We view Fluence as a strategic partner which has enabled Eve Farms to surpass cultivation targets and reduce operational costs to help us maintain our competitive edge in the market," said Matt Cantelo, CEO and founder, Eve Farms. "With Fluence, our cultivation team has the latest in agtech to reliably produce award-winning cannabis."
Since transitioning to Fluence LED solutions, Eve Farms has increased cannabinoid and terpene production across multiple strains, resulting in enhanced plant quality and differentiated products. By installing LED solutions in vertical racks to minimize land use in the expensive San Francisco real estate market, Eve Farms has increased its plant canopy by 70 percent and doubled each harvest to better service and supply the entire San Francisco Bay Area. Additionally, Eve Farms has seen immediate results, producing strains which have already won awards from High Times. To see and hear more specifics on the gains Eve Farms is seeing in each of its strains, visit this Innovator Spotlight video.
Eve Farms increased production, plant quality and consistency by leveraging Fluence LED lighting solutions to:
Sustainably double yield – By deploying a vertical farm cultivation system, Eve Farms increased its yield per room from 100-125 pounds per harvest under HPS to 200-250 pounds per harvest under purpose-built horticulture LEDs, while only increasing power consumption by five percent.
Enhance secondary metabolite profiles – Compared to HPS-grown cannabis, cannabinoid and terpene production increased 11 percent on average under SPYDRx PLUS solutions. Eve Farms has also seen new cannabinoids emerge, which were completely absent under HPS lighting.
Achieve faster cycle time – Bench turns are faster as crops mature in eight weeks, instead of nine, which will result in 35 additional days of cultivation per year.
Provide increased uniformity – When compared to HPS, the LED lights are delivering more energy to the lower portion of the plant canopy which is resulting in higher yields for Eve Farms, with notable improvements to flower size and weight throughout the canopy.
"Fluence works closely with the cultivation team at Eve Farms to collaborate on solutions to consistently achieve their cultivation and business objectives," said Nick Klase, CEO and co-founder, Fluence Bioengineering. "We are proud to be working with Eve Farms to achieve considerably better results as efficiently as possible which are unattainable with legacy lighting systems."
About Fluence Bioengineering
Fluence Bioengineering Inc., a wholly-owned subsidiary of OSRAM, creates the most powerful and energy-efficient LED lighting solutions for commercial crop production and research applications. Fluence is the leading LED lighting supplier in the global cannabis market and is committed to solving the looming food crisis by enabling more efficient crop production with the world's top vertical farming and greenhouse produce growers. All Fluence lighting solutions are designed and built at the company's headquarters in Austin, Texas, U.S.A., with European sales and support based in Amsterdam, Netherlands. https://fluence.science
About Eve Farms
Flowers from Eve Farms are lovingly grown and nurtured at a state-of-the-art, fully licensed facility in San Francisco, California. Founded in 2017, Eve Farms implements the latest in agronomic technology, allowing its gardeners to give each and every plant the attention it needs to grow to its full potential. Eve Farms takes pride in cultivating with absolutely no chemical pesticides, so one can enjoy the purest cannabis mother nature can offer. At Eve Farms, each strain is painstakingly selected for cultivation to produce high-quality flowers which are believed to have therapeutic benefits and effects for the consumer.
Comments (0)
This post does not have any comments. Be the first to leave a comment below.
---
Post A Comment
You must be logged in before you can post a comment. Login now.
Featured Product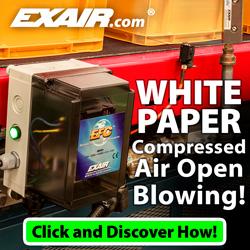 Compressed air is a limited resource that is generated in-house for the benefit of many operations within the manufacturing environment. Learn how to ensure all point of use applications are using your compressed air in the most effective and efficient way possible. Learn how much it costs to produce that compressed air and how Engineered Nozzles can help you use your air more effectively and efficiently.