Fluence Sheds Light on Top Scoring Cannabis Cultivator in Ohio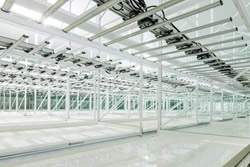 Buckeye Relief LLC Integrates Fluence Horticulture Lighting Solutions to Address Impending Demand for Medical-Grade Cannabis
Fluence Bioengineering Inc. today announced the deployment of Fluence horticulture lighting solutions in the Buckeye Relief indoor cannabis farm. The Ohio based cultivator is one of twelve provisional Level I state-licensed facilities preparing to rapidly address the need for medical-grade cannabis with an innovative vertical farming strategy.
"As Ohioans look to select high-quality medical cannabis to treat their ailments, we are proud to be one of the largest and best equipped cultivators to address Ohio's need," said Andrew K. Rayburn, CEO and co-founder, Buckeye Relief. "Fluence is enabling Buckeye Relief to ensure Ohio has a consistent supply of this life-changing medicine, regardless of season or weather conditions."
Buckeye Relief will be opening a 57,000-square-foot facility utilizing Fluence VYPRx PLUS, SPYDRx and RAZRx horticulture lighting solutions to maximize yield, improve morphology and enhance chemotype expression across all phases of the plant life cycle from propagation to flowering. The total grow area is 25,000 square feet, comprised of one 6,250 square foot vegetative room and three 6,250 square foot flower rooms. The provisional Level I license was awarded based on plans submitted pertaining to business, operations, quality assurance, security, financial experience and overall ability to execute. Fluence horticulture lighting solutions are a critical component of the plan by ensuring a photosynthetic photon flux density (PPFD) up to 900 micromoles-per-square-meter-per-second resulting in consistent, high-quality yields of medical-grade cannabis.
Fluence horticulture lighting solutions also enable Buckeye Relief to:
Deploy a multi-level vertical farm to maximize grow area - Fluence horticulture lighting solutions can be mounted close to the crop canopy and reconfigured at any time to add additional layers of grow area within the same building square-footage as patient demand requires. The density of infrastructure also benefits from decreased building and operational costs, ensuring environmental control systems are used to achieve full energy efficiency potential.
Easily expand future growing operations – Using a proprietary wiring solution from Fluence to daisy-chain the lighting solutions, Buckeye Relief reduced initial install time and can quickly add additional fixtures in the future. This flexible design will enable Buckeye Relief to increase production with little disruption to grow operations.
Tailor daily light integral (DLI) for each stage of growth – Customized PPFD lighting designs for the propagation, vegetative and flower rooms ensure each stage of growth receives the optimal DLI to induce the best photobiological response.
"As a native Ohioan, I'm especially proud to be working with Buckeye Relief to address the demand for medicinal cannabis in my home state," said Nick Klase, CEO and co-founder, Fluence Bioengineering. "I congratulate the team for earning the highest score in the licensing process and look forward to seeing our lighting solutions deliver an operational consistency matching the high-level of business acumen the Buckeye Relief team already exhibits."
About Fluence Bioengineering
Fluence Bioengineering Inc. creates the most powerful and energy-efficient LED lighting solutions for commercial crop production and research applications. Fluence is the leading LED lighting supplier in the global cannabis market and is committed to solving the looming food crisis by enabling more efficient crop production with the world's top vertical farms and greenhouse produce growers. All Fluence horticulture lighting solutions are designed and built at the company's headquarters in Austin, Texas, U.S.A., with European sales and support based in Amsterdam, Netherlands. https://fluence.science
Comments (0)
This post does not have any comments. Be the first to leave a comment below.
---
Post A Comment
You must be logged in before you can post a comment. Login now.
Featured Product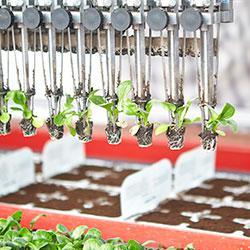 "Smart farming" is an important part of the answer to this existential question: Extremely high efficiency in food production through the targeted use of the latest technology, computer-supported and - where possible - fully automatic. Seeds are individually and precisely placed; fruits carefully picked by mechanical grippers; fertilizers and plant protection products applied in small doses and in a targeted manner. These operations require a large number of small electric motors that are both robust and powerful.