Agribotix Introduces New Plant Count Report Providing Advanced Analytics
Today, Agribotix, a leading agricultural drone and data-processing company, released a new plant count report available as a premium offering. Built using machine learning and big data techniques, the report allows a grower to obtain a quantitative measure of the number of plants across their whole field as well as a map of areas of average, above and below average plant count within a field. By rapidly identifying areas where emergence is below expectations, growers can use the results to take actions which will help maximize their yields.
The plant count report works with most crops. If the plant is visible in the image captured by the drone, then the Agribotix Plant Count Report will likely be able to count it. For corn, the ideal stage is V3 to V5. But it also works with crops like vegetables and trees.
Currently, most plant counts are done by manually counting a small section of a field and then extrapolating to the whole field. With the new Agribotix report, a grower rapidly gets an accurate plant count across the whole field. This enables a grower to make a data-driven decision based on the actual number of plants in the entire field.
The amount of technology behind these easy-to-use reports is impressive. With the latest machine learning techniques, the Agribotix service analyzes virtually every inch of the field looking for individual plants.
The new Plant Count report is charged on a per-report basis and is accessible to anyone who subscribes to the company's award-winning FarmLens drone analytics service. Starting today, the Plant Count report can be selected on the Agribotix website when the user is uploading new data from an agricultural drone flight. More information is available at www.agribotix.com/stand-count-report.
Agribotix delivers agricultural intelligence to increase yields and profits using drone-enabled technologies. All Agribotix solutions include FarmLens™, the leading cloud-based data analysis and reporting solution for agricultural drones. Outputs include Field Health reports for drone-enabled crop scouting, prescription maps for in-season fertilization, and specialized reporting. The FarmLens™ solution is available separately or in a bundled system including an agricultural drone. To find out how FarmLens serves as The Gateway to Precision Agriculture™, visit www.agribotix.com or call (720) 295-3625.
Comments (0)
This post does not have any comments. Be the first to leave a comment below.
---
Post A Comment
You must be logged in before you can post a comment. Login now.
Featured Product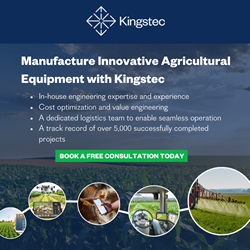 In the rapidly evolving agricultural landscape, leading AgriTech companies are increasingly leveraging the experience and expertise of strategic engineering and manufacturing partners to bring cutting-edge, cost-effective solutions to market. Kingstec is an all-in-one engineering, manufacturing, and logistics partner, with over 40 years of experience and 5,000 successfully completed projects. We can help you bring innovative, cost-optimized farm equipment, sensors, drones, components, and more to market quickly with in-house engineering and manufacturing expertise, a dedicated logistics team, and a network of world-class manufacturing and supply chain partners.