RotoGro Signs Perishable Food Investment and Technology Agreement
Roto-Gro World Wide (Canada) Inc., a wholly-owned subsidiary of Roto-Gro International Limited ("ASX:RGI", "RotoGro" or the "Company"), has entered into a binding letter of intent with organic perishable foods grower, Gibio Inc. (the "LOI"). The LOI provides for RotoGro to subscribe for up to 49% equity participation in Gibio and includes a 20-year exclusive, manufacturing, technology and service contract for all rotational garden systems required for Gibio's perishable food production facilities globally.
Gibio Inc. - Company Background: Gibio Inc. a company located and incorporated in St Apolinaire, Quebec, Canada in 2016 for the purpose of developing large scale perishable food growing facilities globally ("Gibio"). Gibio's mission is to develop environmentally responsible local farms which defy traditional growing seasons to enable sustainable, socially responsible and traceable organic produce all year round. Building, owning and operating perishable farms led by RotoGro's Rotational Hydroponic Garden Technology and Gibio's bespoke growing know-how ensures produce is grown with maximum efficiency, minimal water and without pesticides or herbicides. Gibio and Roto-Gro Inc have been working together over the past 12 months trialling, testing and customising the RotoGro Rotary Hydroponic Garden System with Gibio's growing know-how and bespoke substrate technology.
Market Peers in the Vertical Farming Perishable Foods Space: Small-scale indoor farms have demonstrated the benefits of compact vertical farming for many years. In response to increasing real estate prices, energy and transportation costs, the scarcity of fertile land, and the limitations of seasonal growing, there has been a concerted effort by the agricultural community to utilise urban spaces for the efficient growing of perishable foods. Research has shown indoor vertical farming systems have the capacity to produce up to 350 times the volume of produce compared with a conventional farm occupying the same footprint, while using significantly less water and providing consistent quality year-round. The hermetically-sealed, climatecontrolled indoor growing facilities provide shelter from the elements, weeds, insects and pests which eliminates the need for harmful herbicides and pesticides whilst providing safe, dependable and nutritious food. Two companies leading the charge for sustainable indoor vertical farming are New Jersey-based AeroFarms LLC ("Aerofarm") and Silicon Valley-based Plenty Unlimited Inc. ("Plenty"). AeroFarms has recently completed construction of its ninth indoor vertical farm; a state-of-the-art 69,000 square foot flagship production facility in Newark, New Jersey. AeroFarms' original investors, Goldman Sachs and Prudential Financial, have been joined recently by the Ikea Group and Meraas (the investment vehicle of Sheikh Mohammed bin Rashid). Plenty recently opened its first 50,000 square foot indoor vertical farming operation in California and is currently opening its second indoor vertical farming facility in the greater Seattle area, Washington. This second facility occupies 100,000 square feet of growing area and has the potential to cultivate enough produce to feed approximately 180,000 Americans annually. Plenty has been well-supported with an investor base that includes SoftBank Vision, DCM Ventures, Bezos Expeditions (Amazon's Jeff Bezos) and Innovation Endeavors (Google's Eric Schmidt).
Comments (0)
This post does not have any comments. Be the first to leave a comment below.
---
Post A Comment
You must be logged in before you can post a comment. Login now.
Featured Product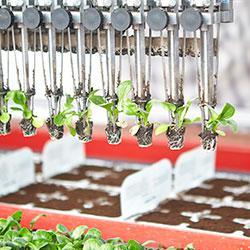 "Smart farming" is an important part of the answer to this existential question: Extremely high efficiency in food production through the targeted use of the latest technology, computer-supported and - where possible - fully automatic. Seeds are individually and precisely placed; fruits carefully picked by mechanical grippers; fertilizers and plant protection products applied in small doses and in a targeted manner. These operations require a large number of small electric motors that are both robust and powerful.