Autonomous Solutions, Inc. Provides Automation for FireFly Automatix High-performance Turf Mower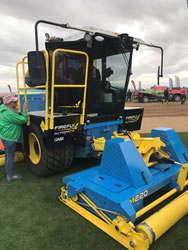 Autonomous Solutions, Inc. (ASI) has partnered with FireFly Automatix to disrupt the turf farming industry with its M220 Self-Propelled Turf Mower.
"FireFly is pioneering a dramatic shift in turf farming," said David Clyde, ASI Director of New Market Development. "Not only are their machines designed to be the most efficient in the market, but with the help of ASI's advanced driverless vehicle solutions applied to the new M220 mower, they are positioned to successfully deliver an entirely new level of value and service to their customers."
The sod equipment manufacturer announced its technology partnership with ASI at the latest Turfgrass Producers International Education Conference and Field Days in Tucson, Arizona. The event highlighted the M220 mower and included a live demonstration of the vehicle operating autonomously.
"While sod harvesting only happens once a year, it needs to be mowed weekly to keep it healthy," said FireFly CEO, Andrew Limpert. "We've expressly designed and built this mower from the engine to the decks for this specific and necessary task, with future versions offering even more autonomy."
As the autonomous capabilities of the M220 develop, turf farmers will have the ability to create maps of their fields, assign multiple mowers to separate fields and dispatch them to mow, unmanned, all with the click of a mouse or tap on the screen.
ASI's industry-leading command and control software, Mobius, instinctively creates the most efficient route for optimal area coverage of every field. The software platform communicates with and controls each machine, managing its speed, direction, turning radius, obstacle detection, braking, blade height and more.
"Mobius continues to expand its capabilities as the most advanced, interoperable vehicle automation software in the market," said Clyde. "We are excited to add industrial turf mowing to that growing list of capabilities."
About Autonomous Solutions, Inc.
Autonomous Solutions, Inc. is a world leader in vehicle automation. ASI's Mobius platform provides an OEM-agnostic, interoperable command and control software solution for autonomous vehicles. Mobius enables mine operations to integrate a variety of mining based vehicles under a comprehensive platform. ASI's robotic hardware and software systems allow users to safely manage their entire fleet of vehicles autonomously. We serve clients in the mining, agriculture, automotive, government, and manufacturing industries with remote control, teleoperation, and fully automated solutions, all from our headquarters and 100-acre proving ground in northern Utah.
ASI's vehicle automation products can be found in companies and government agencies throughout the world, including Anglo American, Rio Tinto, Ford Motor Company, Case New Holland, General Dynamics, Sharp and others.
About FireFly Automatix, Inc.
FireFly Automatix, Inc. is bringing key, advanced technologies to the agricultural industry. The company manufactures automated, self-propelled equipment for niche agricultural markets that is far more efficient than any offered by other equipment vendors in their targeted markets. Founded in 2010 and headquartered in North Salt Lake, Utah, the company was named Utah's fastest growing company in 2016 and 2017 by MountainWest Capital Network. FireFly equipment brings increased productivity, fuel savings (50-75 percent less fuel burned than competitors) and Internet of Things (IoT) connectivity to agriculture. The company has advanced rapidly and is now the predominant U.S. provider to many of the country's largest turf farms and is also serving a progressively growing international customer base, with its first non-U.S. dealership in Australia. For more information, visit fireflyequipment.com.
Comments (0)
This post does not have any comments. Be the first to leave a comment below.
---
Post A Comment
You must be logged in before you can post a comment. Login now.
Featured Product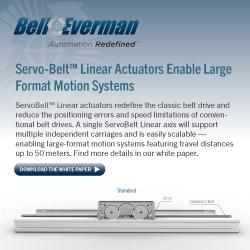 Manufacturing and packaging operations that still depend on manual material or parts handling operations can reap immediate benefits from a type of automation based on long-travel Cartesian robots with custom end-of-arm tooling (EOAT) and advanced sensing capabilities. These robots can support a variety of machines - performing otherwise manual tasks such as machine tending or transferring in-process parts - making long-travel Cartesian transfer robots a major upgrade to processes and operations. Download the White Paper from Bell-Everman