Getting creative to fix precision equipment glitches
Nat Williams, Illinois Farmer Today: Precision equipment has streamlined farming in recent years. But what happens when something goes awry while the operator is in the middle of fieldwork?
For the most part, ag retailers have risen to the challenge of providing service on malfunctioning parts that can't be fixed with a wrench or welder. Their toolboxes look much different, and often involve a cell phone.
Precision ag today has a presence in virtually every facet of farming, from spraying to planting to harvest. The ease of use has improved as farmers are becoming savvier about digital platforms. But as with any technology, they occasionally encounter problems.
Jumping from one system to another is a common one.
"One of the major issues and concerns facing growers is color-to-color compatibility," said Heather Hardy, precision ag coordinator for H&R Agri-Power. The Kentucky-based business operates a number of dealerships in southern Illinois and the mid-South.
As precision ag came on the scene, manufacturers developed their own software. That's fine if loyalty dominates a farmer's buying decisions. But equipment sheds often house a variety of brands.
"Case has proprietary software, Deere has proprietary software, Kinze has proprietary software — the list goes on and on," Hardy said. "That poses the challenge of meshing say, a Case planter and John Deere tractor."
The industry is well aware of the problem and is moving to deal with it, working through the International Organization for Standardization, referred to as ISO.
"Everyone within precision is working toward ISO compatibility and ISO compliance so that we break the barrier of that challenge," Hardy said. "Then there's the challenge of who's going to create the standard. We're working under the ISO 11783 standard, but it's not terribly well defined from our perspective. We have to transition and sell it to the customer." Full Article:
Comments (0)
This post does not have any comments. Be the first to leave a comment below.
---
Post A Comment
You must be logged in before you can post a comment. Login now.
Featured Product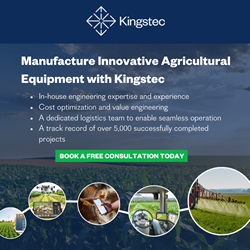 In the rapidly evolving agricultural landscape, leading AgriTech companies are increasingly leveraging the experience and expertise of strategic engineering and manufacturing partners to bring cutting-edge, cost-effective solutions to market. Kingstec is an all-in-one engineering, manufacturing, and logistics partner, with over 40 years of experience and 5,000 successfully completed projects. We can help you bring innovative, cost-optimized farm equipment, sensors, drones, components, and more to market quickly with in-house engineering and manufacturing expertise, a dedicated logistics team, and a network of world-class manufacturing and supply chain partners.