Rapid Change And Constant Disruption Demand A New Approach To Innovation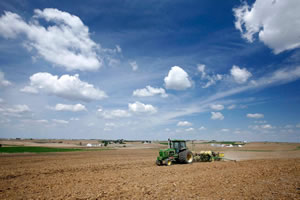 Roger Trapp for Forbes: Over the past couple of decades organizations of all kinds have come to realize that they no longer have all the answers and so have - to a greater or lesser extent - begun collaborating with outsiders in an attempt to come up with the ideas that will help them remain competitive. But the increasingly rapid pace of change and the susceptibility of all industries to disruption means that such efforts are having to be stepped up. In short, traditional in-house innovation efforts are generally too slow and lacking in agility to deliver the rapid responses to change that are required. The key to this challenge, says the management consultancy Arthur D Little, is "hyper-collaboration".
In an article in the latest edition of its PRISM journal, Michael Kolk, Rick Eagar, Charles Boulton and Carlos Mira write that hyper-collaboration is "based on the fundamental belief that it is innovation ecosystems, not individual companies, which will deliver the novel solutions the world is waiting for." Such ecosystems will not just be "candy stores full or opportunities" but "fiercely competitive arenas in which companies fight for the best partners, technologies and networks to create, build and defend added value". The authors accept that such a concept has been around for a while - the most obvious example is the cluster of industries, academics and funding providers in and around California's Silicon Valley. But they point out that, with globalization, innovation ecosystems are no longer specific to industries or regions. Indeed, they suggest that the most effective may bring together capabilities from the least expected quarters. By way of example, they point to the bank Wells Fargo developing new loan facilities for students with Amazon and the agricultural machinery maker John Deere working with the agrochemical company Monsanto to provide farmers with the data required for precision farming. No wonder that Kolk and his colleagues assert that a fundamental part of signing up for this type of collaboration means adopting a mindset that accepts that the answer an organization is seeking may well have already been worked out - by somebody working elsewhere. Full Article:
Comments (0)
This post does not have any comments. Be the first to leave a comment below.
---
Post A Comment
You must be logged in before you can post a comment. Login now.
Featured Product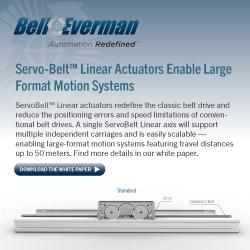 Manufacturing and packaging operations that still depend on manual material or parts handling operations can reap immediate benefits from a type of automation based on long-travel Cartesian robots with custom end-of-arm tooling (EOAT) and advanced sensing capabilities. These robots can support a variety of machines - performing otherwise manual tasks such as machine tending or transferring in-process parts - making long-travel Cartesian transfer robots a major upgrade to processes and operations. Download the White Paper from Bell-Everman