John Deere Introduces 4640 Universal Display for Tractors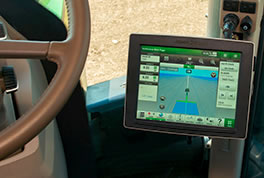 The new John Deere 4640 Universal Display raises the bar for performance, uptime and cost of operation as part of the latest John Deere Generation 4 Operating System. For customers, this translates into better data collection, increased application functionality, and greater choice for monitoring and managing many tractor-driven field operations.
The new 4640 Universal Display enables customers to use the most common and popular John Deere applications, including AutoTrac™, documentation, and Section Control, in a portable display that has the latest internal components, design and user interface.
"The new 4640 Universal Display provides a transportable, easy-to-operate solution for customers with the John Deere Generation 4 operating system," says John Mishler, production and precision ag marketing manager for John Deere. "Some enhancements built into the display include more on-screen help and diagnostic information to keep operators running and informed of their display capabilities; simplified Work Setup app with page-by-page navigation; and greater user customization of run pages."
When it comes to performance, the 4640 Universal Display provides improved documentation for high-speed planting and nutrient applications, coupled with the latest data syncing functionalities for increased on-board/off-board flexibility. Additional enhancements include the ability to more accurately map and operate Section Control to precisely apply multiple products simultaneously with individual coverage maps and application points.
The display is designed to import new customer and product information without the risk of overwriting existing client/farm/field and guidance line information. It also has an expanded suite of Precision Ag Core applications, including AutoTrac, Section Control and documentation, as well as wireless data transfer (WDT) with the "data sync" feature for automatic transmission of work documentation to the John Deere Operations Center.
The time it takes operators to set up and start up the display has been reduced and display navigation has been improved. This equates to more uptime for the user, as a quickly learnable display results in reduced training time, more time working, and fewer operator mistakes.
Cost of operation also is lower with the 4640 Display. Improved Gen 4 applications such as AutoTrac, Section Control, and documentation increase customer profitability by helping users work more efficiently, reduce overlap and skips, and maximize inputs and field operations. Combined with Gen 4 Section Control, operators can optimize field performance using distance and speed-based turning with the ability to dial in more quickly and accurately the desired settings.
In addition, a power button has been added to the back of the 4640 Display so operators can shut the display off or reboot without powering down the tractor. The display is compatible with the Gen 4 Extended Monitor, which increases the number of run pages visible to the operator, giving easier access to more operation information.
Mishler adds that precision ag software for the display is available as either one- or five-year subscription durations and in two levels, either AutoTrac only or as Precision Ag Core that includes not only AutoTrac but also documentation and Section Control. This gives customers the flexibility to match the right software subscription level and duration to their needs.
"John Deere is the only supplier to offer machine-based precision ag subscriptions that allow customers to select the software they want and the duration of the subscription," he explains. "This gives customers a lower cost of entry into these precision ag applications and the ability to try new applications without having to buy permanent software licenses."
The 4640 Universal Display is available to order now. It is compatible with John Deere 30-Series to the latest 6R, 7R, 8R and 9R Series Tractors, as well as AutoTrac Universal and AutoTrac Controller compatible competitive tractors. Software update 17-2 is required for functionality. Precision ag application compatibility for implements and controllers, and for general applications, is limited to the latest Gen 4 OS software available.
For more information on the new 4640 Universal Display, see your local John Deere dealer or visit JohnDeere.com/ag.
About Deere & Company

Deere & Company (NYSE: DE) is a world leader in providing advanced products and services and is committed to the success of customers whose work is linked to the land - those who cultivate, harvest, transform, enrich and build upon the land to meet the world's dramatically increasing need for food, fuel, shelter and infrastructure. Since 1837, John Deere has delivered innovative products of superior quality built on a tradition of integrity. For more information, visit John Deere at its worldwide website at JohnDeere.com.
Comments (0)
This post does not have any comments. Be the first to leave a comment below.
---
Post A Comment
You must be logged in before you can post a comment. Login now.
Featured Product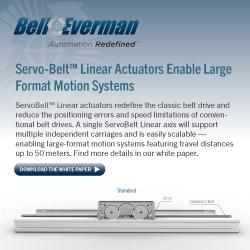 Manufacturing and packaging operations that still depend on manual material or parts handling operations can reap immediate benefits from a type of automation based on long-travel Cartesian robots with custom end-of-arm tooling (EOAT) and advanced sensing capabilities. These robots can support a variety of machines - performing otherwise manual tasks such as machine tending or transferring in-process parts - making long-travel Cartesian transfer robots a major upgrade to processes and operations. Download the White Paper from Bell-Everman