Australia - New network to boost farm tech capabilities
Gregor Heard for Queensland Country Life: A NEW communications network tailored specifically for the agriculture sector has been launched and its managers are confident it will be of massive use, in spite of the fact it will never carry a phone call or email.
Discovery Ag and National Narrowband Network Co (NNNCo) have launched a joint venture, Connected Country, designed to provide an Internet of Things (IoT) for rural areas and announced at last week's Australian Farm Institute's Harvesting the Benefits of Digital Agriculture conference in Melbourne.
IoT refers to the interconnection via the Internet of computing devices embedded in everyday objects, enabling them to send and receive data.
For agriculture, the Rural IoT Network will provide the backbone infrastructure for secure, standards based shared networks of low-cost wireless sensors that constantly report on essential farm metrics like soil moisture, rainfall, crop health, water levels and livestock data.
"This private infrastructure project is initially about building the enabling technology to make the IoT viable for Australian agriculture," said Discovery Ag chief executive Alicia Garden.
"No-one has been willing or able to deliver such a solution on this scale before and we see it as a major step in helping ensure regional communities are connected and able to improve the way they do business."
While nationwide coverage is the aim in the long-term, initially the network will begin in the NSW Central West, with 400,000ha in the Macquarie Valley, Hilltops and Lockhart regions earmarked for the initial roll-out and work already starting near Young. Full Article:
Comments (0)
This post does not have any comments. Be the first to leave a comment below.
---
Post A Comment
You must be logged in before you can post a comment. Login now.
Featured Product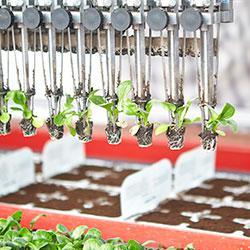 "Smart farming" is an important part of the answer to this existential question: Extremely high efficiency in food production through the targeted use of the latest technology, computer-supported and - where possible - fully automatic. Seeds are individually and precisely placed; fruits carefully picked by mechanical grippers; fertilizers and plant protection products applied in small doses and in a targeted manner. These operations require a large number of small electric motors that are both robust and powerful.