Announces Design Contract Valued at Over Three Hundred Thousand Dollars
Surna Cultivation Technologies LLC ("Surna"), a leader in controlled environment agriculture (CEA) systems engineering and technologies, and a subsidiary of CEA Industries Inc. (NASDAQ: CEAD), today announced that it has signed a contract valued at $335,400 to provide architectural and engineering design services to a cannabis cultivator located in the Southeastern United States.

Under the contract, Surna has been commissioned to provide design services for a 60,0000 sq. ft. cannabis cultivation facility and a 20,000 sq. ft. processing facility that are parts of a larger operation including greenhouse production and retail. Surna's services will include a full architectural design package and MEP (mechanical, electrical, and plumbing) engineering. Valued at over three hundred thousand dollars, the agreement marks the single largest design contract in the Company's history. Construction is expected to be completed in 2023.
"As a leading provider of cannabis cultivation facility design solutions, we are grateful for the opportunity to play a role in the development of one of the largest cannabis operations in the Southeastern region of the United States," said Jon Kozlowski, Vice President of Sales for Surna. "This operator has placed its trust in us to provide a design that will serve their energy efficiency and product quality needs, and we look forward to seeing this project come to life."
CEA Industries Inc. CEO Tony McDonald added "I am very proud of our team for winning this substantial contract in the midst of a difficult time in the CEA industry. This project demonstrates that quality projects continue to be developed to serve the long-term growth of the industry."
About Surna Cultivation Technologies
Surna Cultivation Technologies (www.surna.com), is an industry leader in CEA facility design and technologies. We provide full-service licensed architectural and mechanical, electrical, and plumbing (MEP) engineering services, carefully curated HVACD equipment, proprietary controls systems, air sanitization, lighting, and benching and racking products. Our team of project managers, licensed professional architects and engineers, technology and horticulture specialists and systems integrations experts help our customers by precisely designing for their unique applications. Through our partnership with a certified service contractor network, we provide installation and maintenance services to assist in a smooth build-out and optimal facility performance. We have been providing solutions to indoor growers for over 16 years and have served over 800 cultivators with over 200 of them being large, commercial projects.
Headquartered in Louisville, Colorado, we leverage our experience in the industry to bring value-added solutions to our customers that help improve their overall crop quality and yield, optimize energy and water efficiency, and satisfy evolving state and local codes, permitting and regulatory requirements.
Featured Product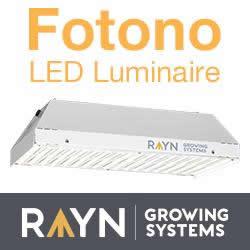 Fotono is a full spectrum LED horticultural luminaire designed to directly replace HPS lights in greenhouses. At 12 pounds, 20 inches long, and 5 inches high, Fotono's compact size makes installation simple while minimizing structural burden on greenhouses. This compact fixture packs energy-saving and yield-improving features, such as a high output, stepless dimming, advanced spectral capabilities, and more.