ClearAg Smart Content and Visualization Components Will Integrate With AgSpaces Contour Platform to Enrich Agronomic Decision Support
SANTA ANA, Calif.--(BUSINESS WIRE)--Iteris, Inc. (NASDAQ: ITI), the global leader in applied informatics for transportation and agriculture, and AgSpace Agriculture Ltd. (AgSpace), today announced the integration of ClearAg® data visualization components into AgSpaces Contour Platform. AgSpace customers can now leverage ClearAg agronomic content for western and central Europe, and Africa.

"AgSpace has specific expertise in the management and processing of radar data, and fusing our strength with Iteris comprehensive weather data gives farmers a new and improved view of their crops performance," said Vincent Gillingham, director at AgSpace. "The availability of ClearAg content in our Contour Platform enables us to better support the IPF and SoilQuest precision farming brands servicing 4,000 farms throughout the UK, Europe and Africa."
AgSpace provides cutting-edge web solutions for the modern farming market and, in addition to its Contour Platform, delivers agronomic services to growers, local and international agribusinesses, and research institutes.
As a result of connecting farmers around the world with leading agribusinesses and research institutes, AgSpace helps ag continue to develop the agronomy tools of the future so growers can maximize food production.
"We recognize the need for both localized and state-of-the-science agronomic and environmental content for producers all over the world," said Jim Chambers, senior vice president and general manager, Agriculture and Weather Analytics at Iteris. "We are excited to provide premium ClearAg content to AgSpace platform subscribers so they can better manage crop production operations. From fertilizer planning to spray planning and crop recording, ClearAgs smart content can help producers improve operations and maximize yield."
About Iteris, Inc.
Iteris is the global leader in applied informatics for transportation and agriculture, turning big data into big breakthrough solutions. We collect, aggregate and analyze data on traffic, roads, weather, water, soil and crops to generate precise informatics that lead to safer transportation and smarter farming. Municipalities, government agencies, crop science companies, farmers and agronomists around the world use our solutions to make roads safer and travel more efficient, as well as farmlands more sustainable, healthy and productive. Visit www.iteris.com for more information and join the conversation on Twitter, LinkedIn and Facebook.
Featured Product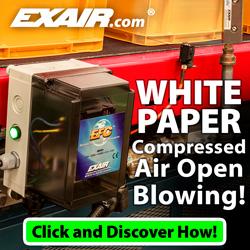 Why is compressed air safety a concern? How Cabinet Coolers Can End Costly Shutdowns A low cost, reliable way to cool and purge electronic control panels. EXAIR Cabinet Coolers incorporate a vortex tube to produce cold air from compressed air - with no moving parts. NEMA 12, 4, and 4X Cabinet Coolers that match the NEMA rating of the enclosure are available in many cooling capacities for large and small control panels. Cabinet Coolers convert an ordinary supply of compressed air into clean, cold 20ºF air. Learn more about Cabinet Coolers in EXAIR's white paper "How EXAIR Cabinet Coolers Can End Costly Shutdowns". http://www.exair.com/184/Cab_Coolers_MTOM.htm