New website and brand development strategy highlight technology's impact on cultivation industry
Surna Inc. ("Surna" or the "Company") (OTCQB: SRNA) announced the launch of a new website and brand strategy to reflect Surna's rising position as a go-to solutions provider and the increasing impact its technology is having on the cultivation industry.

Surna, Inc., has become a leader for indoor growth cultivation through its expertise and technology developments in climate control and biosecurity systems.
"Surna was founded by two dreamers in a garage who saw a way to dramatically decrease energy and water usage for indoor grows while economically optimizing efficiency and crop yield," said Jamie English, Director of Marketing for Surna. "We have rapidly advanced from a startup to a publicly-traded agtech company with a team of experts and leading industry partners, and we want the Surna brand to reflect our growth."
Surna's new user-friendly website makes it especially easy for engineers and contractors responsible for building indoor grows to quickly find relevant information on products, services and implementation strategies for optimizing heating, cooling and water strategies. The architecture of our website saves valuable time for these professionals, and our offerings allow them to design and recommend systems with confidence.
"Surna is aiming to bridge the information gap for engineers and contractors and facilitate partnering opportunities with them, especially in states where cannabis is newly legal. We believe Surna can provide sound technical advice on best practices and the products required to optimize grow efficiency and ultimately create an economical and successful indoor grow for their clients," said Troy Rippe, Sr. Technical Advisor - Systems Engineering & Product Development, who joined Surna in May after 12 years as a technical sales representative for Trane, a world leader in air conditioning systems, services and solutions.
Surna's new website also provides a more user-friendly experience for cultivators, consultants and cultivation investors so they can more easily find information specific to them.
About Surna
Surna, Inc. is a Boulder, Colorado-based manufacturer of a proprietary line of optimized lighting, environmental control and air sanitation systems for state-regulated cannabis cultivation facilities as well as traditional indoor agricultural facilities (http://www.surna.com ). We develop innovative technologies and products that monitor, control and or address the energy and resource intensive nature of indoor cannabis cultivation. Our goal is to provide intelligent solutions to improve the quality, the control and the overall yield and efficiency of controlled environment agriculture. Though our customers do, we neither produce nor sell cannabis.
Featured Product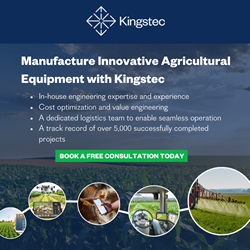 In the rapidly evolving agricultural landscape, leading AgriTech companies are increasingly leveraging the experience and expertise of strategic engineering and manufacturing partners to bring cutting-edge, cost-effective solutions to market. Kingstec is an all-in-one engineering, manufacturing, and logistics partner, with over 40 years of experience and 5,000 successfully completed projects. We can help you bring innovative, cost-optimized farm equipment, sensors, drones, components, and more to market quickly with in-house engineering and manufacturing expertise, a dedicated logistics team, and a network of world-class manufacturing and supply chain partners.