The acquisition aims to allow Plenty build field-scale indoor farms around the world.
Plenty, the leading field-scale vertical farming company reshaping agriculture to bring fresh and locally grown produce to people everywhere, announced the acquisition of Bright Agrotech, the leader in vertical farming production system technology, according to a press release. Bright's technology and industry leadership combined with Plenty's own technology will help Plenty realize its plans to build field-scale indoor farms around the world, bringing the highest quality produce and healthy diets to everyone's budget., according to the release.

"Plenty grows food for people, not trucks. By making us all one team and formalizing our deep and close relationship, with a shared passion for bringing people healthy food through local farming, we're positioned in a way no one else is today to meet the firehose of global demand for local, fresh, healthy food that fits in everyone's budget," said Matt Barnard, CEO and co-founder of Plenty. "Everyone wins — the small farmer, people everywhere and Plenty — as we all move forward delivering local food that's better for people and better for the planet."
Bright has partnered with small farmers for over seven years to start and grow indoor farms, providing high-tech growing systems and controls, workflow design, education and software. Bright will continue its work, expanding its base of hundreds of farmers around the world.
"We're excited to join Plenty on their mission to bring the same exceptional quality local produce to families and communities around the world," said Nate Storey, founder of Bright Agrotech. "The need for local produce and healthy food that fits in everyone's budget is not one that small farmers alone can satisfy, and I'm glad that with Plenty, we can all work toward bringing people everywhere the freshest, pesticide-free food."
Featured Product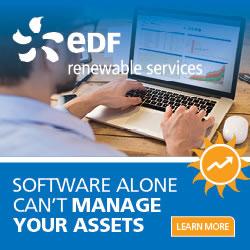 EDF Renewable Services offers the same innovative solutions that maximize the performance of our own 5.2 GW of installed projects. Because we're not an equipment manufacturer, our recommendations are transparent and data-driven. We cover the entire project lifecycle: from pre-commissioning support, through warranty and post warranty operation, to late stage and decommissioning.