The move from Charlottesville was driven by the company's growth and need for a larger talent pool - they had been courted by California and Arizona as an up and coming tech company in the indoor ag-tech space.
Richmond, VA (February 2021) Babylon Micro-Farms has chosen Richmond, Virginia as the site for their corporate headquarters, opening a new office and R & D space in historic Scott's Addition. The move from Charlottesville was driven by the company's growth and need for a larger talent pool - they had been courted by California and Arizona as an up and coming tech company in the indoor ag-tech space.

The company has developed disruptive technology - a cloud-based platform that operates vertical farms through a mobile phone app that controls all aspects of farming at the touch of a button. The indoor ag-tech industry is projected to grow globally from USD $121.26 billion in 2019 to USD $167.42 billion by 2025, a compound annual growth rate of 5.4% according to the latest report released by Market Data Forecast last week.
Babylon's CEO and Co-Founder, Alexander Olesen, commented on the move. "Richmond is the perfect launchpad for our next phase of growth. It has a dynamic business eco-system and gives Babylon the chance to build an even stronger foundation for the future with everything it has to offer."
Babylon began hiring locally in Richmond prior to the move, scaling up their operations in preparation for the anticipated increase in sales in 2021. Graham Smith, CTO and Co-Founder of Babylon, said "Our growth has been based on significant R & D we were able to accomplish because of support from The Center for Innovative Technology, the National Science Foundation and investors that understood early on the potential for this technology. Richmond offers a hub where innovation and industry intersect and having our headquarters here will fuel our expansion."
The company expects to triple its workforce in the next three years, adding jobs in every department, from assembly to engineering. For more information visit www.babylonmicrofarms.com or contact janet@babymicrofarms.com for interview requests.
ABOUT
BABYLON MICRO-FARMS
At the touch of a button, Babylon Micro-Farms delivers a simple, yet engaging indoor growing experience. Babylon helps senior living communities, hospitals, schools, and hospitality companies showcase their commitment to providing fresh, nutritious produce and sustainability to their residents, employees, and customers. They have designed a complete on-site farming service that makes growing simple for anyone, thanks to their plug-and-play Micro-Farms and Guided Growing App. Babylon offers the most affordable, efficient, and advanced vertical farming platform available, remotely managed through the cloud with unparalleled customer service. Since their humble beginnings as a social entrepreneur student project, Babylon have attracted investors from Silicon Valley, been awarded a grant from the National Science Foundation to support their research, patented a groundbreaking technology, and received recognition by Virginia's Governor Northam for their contribution as a technology innovator following their successful application for funding from the Center for Innovative Technology. Babylon have designed a software platform to reclaim the decentralized food system of the 21st Century - using modular vertical farms that enables anyone to grow local produce on-site, all year round, indoors. They launched their first products focusing on the health care and senior living markets where our vertical farms provide access to food-as-medicine quality food and a variety of therapeutic activities.
Featured Product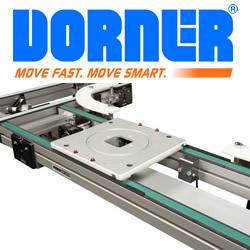 Dorner's 2200 Series Precision Move Pallet Systems are ideal for assembly automation. With features such as an innovative timing belt conveyor design and industry best pallet transfers, they get your product to the exact location, at the exact time and in the exact position it needs to be. They are now available with new options such as heavy load corner modules with 150 lb. capacity and 180 degree tight transfer corners for compact loops.