Kerlink and Saturas today announced that Kerlink will provide Saturas with LoRa-based hardware and software as it launches its technology commercially.
Kerlink Solutions to Power Rollout of World's First Automated Stem-Water Measuring System

Backed by €1.5 Million EC Grant, Saturas Will Package Its Ag-Tech Breakthrough on LoRa® Networks
PRESS RELEASE
Thorigné-Fouillard, France and Misgav, Israel - March 31, 2020, 6:00 p.m. CET - Kerlink (AKLK - FR0013156007), a specialist in solutions dedicated to the Internet of Things (IoT), and Saturas Ltd., the developer of a breakthrough stem-water measurement system for highly efficient farming, today announced that Kerlink will provide Saturas with LoRa-based hardware and software as it launches its technology commercially.
Kerlink is a leading global provider of solutions for designing, launching, and operating public and private LoRaWAN® IoT networks. It offers a comprehensive product portfolio of industrial-grade network equipment, best-of-breed network-core, operations, and management software, and value-added applications.
Saturas, an Israeli startup, has raised about $9 million, including a prestigious €1.5 million H2020 grant from the European Commission in 2019, to support its miniature, tree-embedded sensor system that continuously measures stem water potential (SWP) of trees and vines. SWP is scientifically recognized as the most reliable measurement of water stress and an important practical tool for irrigation management. Saturas is the first company to develop a system for measuring SWP automatically, replacing the cumbersome manual devices that fruit-tree and vineyard growers have used for decades. Using Kerlink stations, the company's tiny LoRaTM sensors transmit processed data to central, automated irrigation-control systems, tailoring irrigation to crops' real-time needs.
Kerlink will supply Saturas's deployments with hardware and software such as its solar-powered WirnetTM iStation, WanesyTM Management Center, a robust solution for managing private IoT networks, and WanesyTM Network-as-a-Service, a turnkey comprehensive offer combining key infrastructure, operations, security, and professional services.
"Precision agriculture, led by precision irrigation, is a vital and rapidly growing global business sector with an estimated annual growth rate of over 20 percent," said Anat Halgoa Solomon, Saturas co-founder & CEO. "Saturas is positioned to establish a strong presence in this market, and it is vital that we partner with the leading, most reliable companies in the supply chain. The quality of Kerlink's hardware and software solutions has been proven many times in diverse, challenging environments around the world, and will be a natural fit for our global commercial rollout."
"Smart farming, or ag-tech, is one of the Internet of Things' most important vertical markets but it needs the breakthrough innovations that companies like Saturas are bringing to fields and orchards to deliver on its promise," said Romain Weryk, Kerlink key account manager. "Kerlink's equipment and software, with their flexibility for supporting customized private networks, are the backbone of IoT networks across more than 120,000 installations in 69 countries."
About Kerlink
Kerlink Group is a leading global provider of connectivity solutions for designing, launching, and operating public & private Internet of Things networks. Its comprehensive product portfolio includes industrial-grade network equipment, best-of-breed network core, operations and management software, value-added applications and expert professional services, backed by strong R&D capabilities. Kerlink specializes in enabling future-proof intelligent IoT connectivity for key verticals such as fleet management, transportation & logistics, retail, asset tracking, and smart metering, as well as smart agriculture & environment, and smart cities, buildings, and factories. More than 120,000 Kerlink installations have been rolled out with more than 330 clients in 69 countries. Based in France, with subsidiaries in the US, Singapore, India, and Japan, Kerlink is a founding and board member of the LoRa Alliance™ and the uCIFI Alliance™. It is listed on Euronext Growth Paris under the symbol ALKLK.
For more information, visit www.kerlink.com or follow us on Twitter @kerlink_news.
About Saturas Ltd.
Saturas, founded in 2013, is an Israeli company that develops Advanced Decision Support Systems (ADSS) for precision irrigation based on its miniature Stem Water Potential (SWP) sensor. The Saturas Stem Water Potential (SWP) concept was developed from the field by Dr. Moshe Meron, a senior researcher at MIGAL Research Institute, and a leading member of the Saturas team. MIGAL supports about 10,000 farmers in north Israel, who produce approximately 20% of the national agriculture production, and is internationally recognized as a hub of agro-innovation. Visit http://saturas-ag.com.
Saturas contact:
Avi Shtein
VP of Marketing & Sales
+972-524728287
avi@saturas-ag.com
Press and market analysts contact:
Mahoney Lyle
Sarah-Lyle Dampoux
+33 6 74 93 23 47
sldampoux@mahoneylyle.com
Investors contact:
Actifin
Benjamin Lehari
+33 1 56 88 11 25
blehari@actifin.fr
Financial press contact:
Actifin
Isabelle Dray
+33 1 56 88 11 29
idray@actifin.fr
Featured Product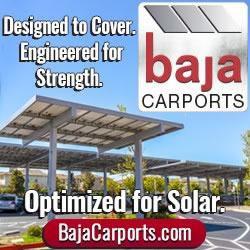 Baja Carports offers an extensive solar support system product line customized to customers' site specifications by in-house engineers, meeting their parking lot coverage, plus optimal PV production needs. Baja's Full Cantilever Tee is often paired with its Semi and Full Cantilever carports to meet live/loads up to 60psf and wind speeds to 160mph. All Baja products are pre-fabricated, bolted connections, pre-galvanized structural steel for fast on-site installation and project aesthetic requirements.