The prospects for 2023 are likely to call for the adoption of a strategy shift by indoor growers, one which will involve minimising costs by scaling down their business models to focus more on profitability.
Trends for the CEA Industry: What's in Store?
Article from | Light Science Technologies
As we put the unprecedented challenges of 2022 behind us, what lies in store for indoor farming in 2023? LST looks at four of the factors set to drive industry trends in the year ahead.
1. Reduced scale, more profitability
Rising energy costs and record inflation rates have placed a squeeze on growers' pockets, forcing a shift in approach to indoor farming as we head into the new year. While controlled environment agriculture's (CEA) prospects at the start of 2023 are perhaps slightly different to what they were 12 months ago, the long-term outlook and the overriding benefits of indoor farming – including vertical farming, glasshouses and polytunnels – remain strong. The CEA market is estimated to reach $172 billion in 2027, registering a compound annual growth rate (CAGR) of 18.7% until then.
The industry will need to weather the challenges of the recession and economic slowdown in the perceived short-term, while still focusing on the bigger picture of climate change, as we seek to establish a more sustainable way of farming and producing food to feed a growing population. While the year ahead will encounter further economic uncertainty, it is important that we don't lose sight of the urgent priorities of food security and cutting carbon emissions through food production. Indoor farming is a critical part of the future which we must implement now.
The prospects for 2023 are likely to call for the adoption of a strategy shift by indoor growers, one which will involve minimising costs by scaling down their business models to focus more on profitability.
2. The rise of the robots
Digital innovation is revolutionising agriculture, and technology's critical role in the sector will come more to the fore in 2023 to boost efficiency.
The far-reaching impact of manual labour shortage post-Brexit on the food supply chain could well force automation's hand to see an increase in its use. From sensors, artificial intelligence (AI) and big data to biotech and robotics, these technologies are already being used by progressive startups across the sector.
The industry is becoming more reliant on AI technologies to help yield healthier crops, control pests, monitor soil and growing conditions; for example, by utilising a feedback loop system, smart systems can control and regulate airflow, temperature and humidity, with the ability to dehumidify or rehumidify. This also improves the use of water and energy resources as well as maintaining and improving crop health and yield.  
AI can also potentially track crop growth closely to provide signature trends for specific crop varieties, resulting in numerous benefits for farmers and growers. With research and historical data, machine learning can map and fine-tune the growing conditions (which includes different parameters such as light level, carbon dioxide and nutrients, to name a few) throughout a crop life cycle. These will provide valuable data to automatically adjust the crop growing conditions to ensure optimal crop productivity at all times. Without "time lag" in crops adjusting to unfavourable environmental conditions, we can ensure maximum crop yield and most efficient use of resources. 
Advanced monitoring and data analysis is about doing more with less – to find ways to increase yields without relying on already strained resources such as land and water. An automated system eases the burden of manually performing tasks while building consistent, predictable cycles that maintain ideal growing conditions. Could this be the year for automation in CEA to really ignite?
3

. Food sustainability and traceability

A huge selling point for food outlets and supermarkets now is traceability and sustainability. Food brand and business reputation is as much about reduced carbon footprint and environmental impact as it is about great taste, nutrition and quality.

Indoor and vertical farming is a trend which will continue to grow among food retailers as they continue to seek efficient ways to offer consumers fresh produce. This is coupled with the rising plant-based food trend which is being driven by conscious consumerism. It is becoming ever clearer that plant-based alternatives are here to stay on menus as well as supermarket shelves, which will only serve to benefit the CEA industry.

Covid-19 has also led to a change of perspective regarding food transparency. Consumers are now even more conscious about where and how their food is grown, and how it is beneficial to their bodies and the planet. Transparency goes hand in hand with traceability which is gaining momentum; this is the ability of a food business to track food through the production process. Hospitality and food companies are responsible for the origin of the products they produce, distribute, and sell, and they are gaining a clearer understanding of this importance.

Food brands wanting to future-proof their supply chain are exploring new collaborations with vertical farms in response to consumers' growing need for sustainable, locally-sourced ingredients. The pandemic, Brexit and the Ukraine war have all laid bare the weakness in our supply food chain and the need to end our reliance on imported foods by increasing national food security. This is yet another reason why indoor farming offers the solution, as a more viable, sustainable farming method – it is the change we need to help overcome the ongoing food supply challenges.

All of this 'feeds' into why indoor farming's role in the future food system ticks the boxes of sustainability, traceability and transparency, not to mention taste, nutrition and quality. Surely it is only a matter of time before more food retailers, producers and growers embrace its potential. 2023 presents a huge opportunity for that.
4. More CEA investment
Indoor farming has the potential for 25-30% growth in the AgTech start-up segment by 2025, fuelling a hotbed of investment opportunity. Conversely, the key factor in making the fundamental shift to a more sustainable food system through AgTech in 2023 is more Government funding.
The Government launched its £22 billion Innovation Strategy in 2021 to make the UK the world's most innovative nation by 2035, as well as The Farming Transformation Fund Improving Farm Productivity Grant in early 2022.
Also in 2022, further Government investment included Defra's £25 million grant scheme for Agri-Tech businesses, offering grants ranging from £35,000 – £500,000, allowing farmers and growers to receive funding for use in robotics and technology.
Agri-Tech start-ups in 2022 also benefitted from an additional £16.5 million of funding from Defra towards R&D as part of its £270 million Farming Innovation Programme. In placing a greater focus on sustainability, the programme aims to increase productivity and resilience whilst minimising the environmental impact of agriculture and horticulture, through the application of agricultural research and science. And ahead of its launch in January, a further £12.5 million has recently been announced, which will fund projects focusing on cutting-edge agriculture and horticulture innovation to boost productivity, reduce labour demands, and create more sustainable farming practices.
However, it's vital that more investment is pumped into the industry, both to support growers and to help facilitate the advancement of AgTech. This is hugely important as 2023's spending comes under even more scrutiny as the UK navigates its way through turbulent times.
2023 promises to be a year of further technological advancement and innovation in the CEA industry, which can only be a positive step towards a better food system.
The content & opinions in this article are the author's and do not necessarily represent the views of AgriTechTomorrow
---
Comments (0)
This post does not have any comments. Be the first to leave a comment below.
---
Post A Comment
You must be logged in before you can post a comment. Login now.
Featured Product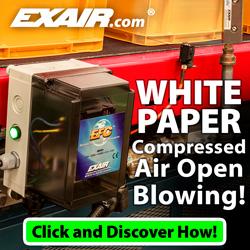 Compressed air is a limited resource that is generated in-house for the benefit of many operations within the manufacturing environment. Learn how to ensure all point of use applications are using your compressed air in the most effective and efficient way possible. Learn how much it costs to produce that compressed air and how Engineered Nozzles can help you use your air more effectively and efficiently.