Planning, equipment maintenance, and market research are all vital aspects to increasing your odds of a worthwhile harvest. Let's take a look at tactics you can use to begin preparing for the 2023 commercial agriculture growing season.
Preparing for the 2023 Commercial Agriculture Growing Season
Grady Moore | FarmSense
The Early Bird Gets the…Best Yield?
Last month, we discussed several trends that we expect to take place within the commercial agriculture industry during the coming year. This month, we're shifting gears and exploring some of the best practices that farmers can implement during the off-season in order to better prepare for the upcoming growing and harvest season. As most farmers would agree, half of the battle leading up to a successful year of farming occurs during the off-season. Planning, equipment maintenance, and market research are all vital aspects to increasing your odds of a worthwhile harvest. Let's take a look at tactics you can use to begin preparing for the 2023 commercial agriculture growing season.
How to Prepare for an Upcoming Growing and Harvest Season
Commercial agricultural operations come in all varieties. From small, boutique farms that may only span a few acres to those which engulf large swaths of land, sprawling as far as the eye can see. Regardless of your farm's size, a few things stand true for all farmers, one being proper planning as a key to success. Sure, nobody can plan months ahead for all of the variables that farmers face, like poor weather conditions or market fluctuations, but having a game plan in place for other areas can reduce the burden and stress of decision-making during peak seasonal growth.
According to the LSU AgCenter, both new and seasoned farmers should begin preparing for the growing season by addressing the following topics:
Confidence in market demand for your crops
Ensuring you have adequate land
Ensuring you have enough labor
Attaining proper certifications
Establishing valid insurance
Managing equipment needs and maintenance
Source: LSU AgCenter
For professional farmers, these topics may appear elementary, however it is important to understand that things like market demand and certifications can fluctuate a great deal from year to year. Furthermore, determining new equipment purchase needs can take a good deal of time from the initial consideration to the research phase and ultimately the acquisition stage. If you find yourself quipping that this doesn't apply to you because you've already got the necessary equipment, we implore you to consider components that were worn or broken during the prior season. Equally important in terms of equipment maintenance is the annual — or more frequent in certain scenarios — calibration of application based machinery like pesticide sprayers or irrigation booms.
Much to the surprise of non-farmers and to the chagrin of those working in the industry, there can be a shocking amount of paperwork involved with farming — after all, it is a business like any other. Ensuring that you've acquired the required licenses, certifications, and operational aspects like insurance and financial needs, is all best conducted during the off-season planning phase as well. In most cases, this will result in a less stressful growing and harvest season as there will almost certainly be other time-sensitive issues to deal with during this time.
So how are established farmers preparing for the growing season? As you might expect, commercial farmers — for the most part — adhere to similar checklists like the one we outlined above when preparing for the 2023 commercial agriculture growing season. Sure, they've probably worked out a lot of the roadblocks and hurdles that can occur along the way, but that is largely based on experience throughout the years. Let's dig a bit deeper into this prep checklist to uncover some areas that are easily overlooked.
Overlooked Areas When Preparing for the Commercial Agriculture Growing Season
Farming isn't easy — and few people are trying to argue otherwise. With seemingly endless checklists, farmers must maintain a keen sense of organization and problem-solving skills. Forgetting just a single to-do item can often result in headaches for even the most seasoned farmer. Here are a few pre-season prep areas that can be easily overlooked during the chaos of getting your ducks crops in a row.
Equipment Prep and Maintenance – This area is vital in terms of pre-season preparation. We're not talking about simply making sure all of your equipment will start or power up, but instead, the other maintenance items that a farmer commits to when they purchase any piece of equipment. There's no better time than the off-season to order and replace broken or worn parts. The last thing that you want is for a specialized tool to break down in the middle of your growing or harvest season. With supply chain issues causing delays in the ability to source replacement parts, a piece of broken equipment could be detrimental during peak season. It is also recommended that equipment be calibrated during this maintenance period as uncalibrated tools can significantly impact the effectiveness of their use.
Maintaining and Repairing Crop Storage Areas – Neglecting off-season repairs and maintenance to storage facilities can prove to be a costly oversight for commercial farmers. Checking containers, bins, and silos for pest damage, cracks, loose fittings, and cleanliness is a highly recommended task. It is estimated that each year, pests damage roughly $100 billion worth crops globally. By the point that you're storing your harvest, it may feel as though the hard part is behind you, but this is only the case if your storage containers and facilities are in top shape. Even if you aren't concerned with pests, a simple crack in a container could lead to a full loss due to mold and mildew growth from water seepage.
Preparing Your Soil – Just because previous seasons have been successful, it is easy to assume that your soil is in great shape for the 2023 commercial agriculture growing season. However, just like other components of a farm, soil can require maintenance as well. Routine tilling, lack of biodiversity, and amendment runoff can all lead to a degradation of soil quality. Furthermore, the previous season's crops relied on nutrients from your soil that may need to be supplemented during the following season. Having your soil tested by a local agricultural extension office is often an inexpensive and worthwhile use of pre-season prep time for commercial farmers. Poor soil health can significantly impact crop yield and by proxy, profitability.
The Takeaway
If you're a commercial farmer, we don't need to tell you — off-season prep is just as important to success as growing season management. Ultimately, the art of organization and planning is the name of the game during the off-season. Preventative measures like streamlining equipment maintenance or automating pest monitoring methods can lead to more restful nights and increased profitability once the growing season is underway. If you aren't sure how to optimize your pre-season prep, we recommend reaching out to your local ag-extension office as they can be an excellent resource for both new and seasoned farmers.
About Grady Moore
Grady Moore is a writer and business consultant for the ag-tech, cannabis, and hemp industries. He holds a Master of Science in medical cannabis science and therapeutics from the University of Maryland. When he isn't working, you can likely find him playing with his golden retriever named Doobie, taking time-lapse photography, or practicing cello. To keep up with Grady, follow him on LinkedIn.
References:
https://techcrunch.com/2022/01/07/farmsense-agtech-machine-learning-crops/?guccounter=1&guce_referrer=aHR0cHM6Ly93d3cuZ29vZ2xlLmNvbS8&guce_referrer_sig=AQAAANqnaYAeU_kp_zDjvLNFN5Ele2k6jcpYrMeTXyHEycEpiPyAjMQNnMJ7wuZVqBOdAut8-r7ngVeElaNOAK8sfYNjxHCd8N72mkzM14ML419k8S6uMiTZ6v899noYcGaMJNNd9Vrzjtti2gYhdh9mrLI1xuQId0HJE0apQCkeHYNO
The content & opinions in this article are the author's and do not necessarily represent the views of AgriTechTomorrow
---
Comments (0)
This post does not have any comments. Be the first to leave a comment below.
---
Post A Comment
You must be logged in before you can post a comment. Login now.
Featured Product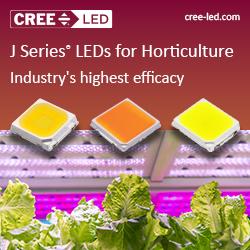 Horticulture and other forms of agricultural lighting require application-tuned ratios of spectral content, high efficacy and long lifetimes. Since these systems are designed to maximize yields for plants and animals, they require different metrics than lighting products designed around the human visual system. Cree LED delivers a wide range of spectral options and products optimized for these applications with leading efficiency and reliability.