When it comes to certified organic systems, pest monitoring and management is paramount to a successful operation. Unlike traditional farms that have access to a bevy of specialized pesticides that can typically be utilized as needed, organic farmers aren't so fortunate.
How AI Driven Pest Monitoring Can Benefit Organic Farmers
Grady Moore | FarmSense
Farming in Expert Mode
Organic farming, as defined by the US Environmental Protection Agency [EPA], requires farmers to grow and process crops using no synthetic fertilizers or pesticides (source). As if farming weren't difficult enough as it is, organic farmers are presented with even more of a challenge due to the limitations of tools at their disposal, especially when it comes to pest management. With the worldwide organic farming market projected to consist of over 141 million hectares by the end of 2027, most would agree that the art of organic farming is here to stay and those with a vested interest in the industry should be considering best practices and operation optimizations sooner than later. That's why we decided to explore how AI driven pest monitoring can benefit organic farmers.
Pest Management for Organic Farmers
When it comes to certified organic systems, pest monitoring and management is paramount to a successful operation. Unlike traditional farms that have access to a bevy of specialized pesticides that can typically be utilized as needed, organic farmers aren't so fortunate. For organic farmers, this means that pest monitoring and prevention can prove to be the keys to seasonal sustainability and profitability.
According to the USDA, maintaining a healthy soil ecology, supporting biodiversity through crop rotations, providing a habitat for beneficial species, and reducing pest habitats are all measures that can aid in the prevention of problematic pests. This harkens back to our multi-part series surrounding regenerative agriculture [RA] which identifies the following as best RA practices:
Enhance and Improve Soil Health
Optimize Resource Management
Alleviate Climate Change
Improve Water Quality and Availability
How Can Organic Farmers Stay a Step Ahead of Pests?
Farming organically or not, when it comes to pest monitoring, you probably find yourself thinking something along the lines of, "Sure…I would love to be able to stay a step ahead of pests and monitor my crops each day, but the average size of a farm in the US is 445 acres — it simply isn't feasible to constantly monitor the entire operation as we are barely able to make our rounds to check sticky traps."
We get it — pest monitoring and management is something that farmers have been dealing with for as long as humans have been farming — around 12,000 years. Over the generations, the introduction of pest control techniques has advanced, but unfortunately for organic farmers, much of the modern focus on these techniques revolves around pesticides.
When it comes to pest monitoring methods over the past few decades, farmers have resorted to using sticky or manual traps. Much to the chagrin of commercial agricultural operators, sticky traps often prove to be unreliable and the lag between the time of an insect's arrival and the time it is counted and classified means as a farmer, you're only getting a partial picture of what's happening in your fields and even then, it is often too late to take appropriate action. For organic farmers, this unreliability and lag can prove to be exceptionally detrimental to an operation.
A Real-Time Pest Monitoring Solution
Every so often, a technological development comes along, poised to revolutionize an industry. Just as you may have once had a college professor quip that "you can't use a calculator because you won't always have a calculator in your pocket in real life" — you may have also had other farmers swear by sticky traps because "there's no way to monitor for pests in real-time". Well, just as you most likely have a cell phone with a calculator function in your pocket, farmers can now access real-time pest pressure and classification data from their fields.
Ag-tech startup, FarmSense, has developed a revolutionary device that allows autonomous, real-time insect monitoring and identification of your fields, thanks to artificial intelligence and machine learning. This game-changing device, dubbed the FlightSensor, allows farmers to monitor and identify pests — as well as climatological metrics — in real-time from a user-friendly mobile app or computer dashboard. This type of virtual visibility into insect presence grants cultivators the capability of determining when and where pests are pressuring their crops — in real-time.
How FarmSense's FlightSensor is a Vital Tool for Organic Farmers
Remember how we stated that organic farming is sort of like farming on expert mode? That's because unlike traditional farming — which allows for attempts to keep pests at bay by routinely lambasting crops with expensive and potentially harmful preventative pesticides — organic farmers must forgo this luxury to maintain their organic certification(s).
For this reason, real-time knowledge of pest pressure is essential for farmers who fall under the purview of organic certification entities. Regardless of if you consider yourself an organic farmer or not, being privy to potential pest problems the moment they begin will put your operation in a better position to reduce crop loss and operating expenses as well as better maintain a sustainable farm for generations to come.
For more information on FarmSense's much anticipated FlightSensor or to demo the system in your own fields, reach out to the FarmSense team.
References:
https://www.epa.gov/agriculture/organic-farming
https://www.globenewswire.com/news-release/2021/03/11/2191494/0/en/Global-Organic-Farming-Market-is-estimated-to-account-for-141-59-Million-Hectares-by-end-of-2027-Says-Coherent-Market-Insights-CMI.html
https://www.ams.usda.gov/sites/default/files/media/Organic%20Pest%20Management_FINAL.pdf
https://www.statista.com/statistics/196106/average-size-of-farms-in-the-us-since-2000/#:~:text=The%20average%20size%20of%20farms,from%20418%20acres%20in%202007.
https://www.prnewswire.com/news-releases/farmsense-launches-flightsensor-a-real-time-pest-monitoring-system-for-commercial-farmers-to-efficiently-manage-pests-and-optimize-crop-yield-301567000.html
Grady Moore is a writer and business consultant for the ag-tech, cannabis, and hemp industries. He holds a Master of Science in medical cannabis science and therapeutics from the University of Maryland. When he isn't working, you can likely find him playing with his golden retriever named Doobie, taking time-lapse photography, or practicing cello. To keep up with Grady, follow him on LinkedIn.
The content & opinions in this article are the author's and do not necessarily represent the views of AgriTechTomorrow
---
Comments (0)
This post does not have any comments. Be the first to leave a comment below.
---
Post A Comment
You must be logged in before you can post a comment. Login now.
Featured Product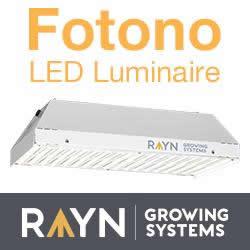 Fotono is a full spectrum LED horticultural luminaire designed to directly replace HPS lights in greenhouses. At 12 pounds, 20 inches long, and 5 inches high, Fotono's compact size makes installation simple while minimizing structural burden on greenhouses. This compact fixture packs energy-saving and yield-improving features, such as a high output, stepless dimming, advanced spectral capabilities, and more.