By transitioning to more environmentally sustainable practices, cultivators can reduce waste, address climate change, and improve cannabis sustainability.
The Intersection of Data Science and Cannabis: Creating a Sustainable Future
Grady Moore | Business Consultant for the Cannabis and Hemp Industry
Baseball has been around for about 150 years with little change to pitching techniques. The cello made its debut in the 16th century and yet students are still taught the same bow hold as Boccherini. The concept of sewing with a needle dates back as far as 60,000 years, and today the general idea remains unphased. So, why is it that cannabis cultivation, a practice ten-thousand years old, is just now undergoing what may prove to be its largest change yet?
Legal cannabis sales topped $28 billion in 2021 and are projected to grow to nearly $200 billion by 2028. Few industries have the pleasure of experiencing this type of growth, but anyone directly or indirectly involved in the cannabis and hemp market will tell you that this type of rapid expansion doesn't come without some growing pains.
A New Problem for an Old Plant
Regulatory hurdles, research restrictions, and limited banking options have plagued the cannabis space for years and although forward progression is happening relatively quickly, a new concern has recently become the central topic of discussion for many in the industry — sustainability.
As states continue to loosen their regulatory grip and allow cannabis trade, environmentalists, farmers, and researchers have brought to light the concern of commercial cannabis' impact on the environment.
For example, the city of Denver, Colorado reported that almost 4% of the city's total electricity usage in 2018 was dedicated to cannabis production. A study from Colorado State University, published in the journal Nature Sustainability, estimated indoor cannabis growing operations now account for 1.3 percent of the state's total greenhouse gas emissions. That same study also cited that one serving of THC has a much higher greenhouse gas footprint than one serving of beer, wine, or cigarettes.
"Indoor cannabis cultivation requires a jaw-dropping amount of energy. It's an antiquated remnant from prohibition that is neither financially nor environmentally sustainable," says Amy Zents, Director of Cultivation for Progressive Plant Research (PPR), an Oregon-based cultivation and research and development (R&D) company that focuses on cannabis breeding with the goal of improving crop quality, uniformity, and disease resistance.
PPR, alongside its dedicated breeding partner Phylos, operates in an 80,000+ sq. ft. greenhouse cultivation facility where they work to identify the precise climates needed to maximize cannabis plant health as well as tune environmental control systems and adjust infrastructure to optimize efficiency.
Working Toward a More Sustainable Future
This type of data collection and measurement is a critical first step in identifying and implementing energy-efficient practices that will reduce greenhouse gas emissions associated with power generation and in turn optimize energy efficiency. By identifying sources of energy that do not contribute directly to plant growth, Phylos and PPR are hoping to improve sustainability in ways that can be adopted across the industry.
"Through the use of energy-efficient equipment, integrated controls, and system automation, along with strategic energy management and data analysis, we have reduced our total energy use by over 50%. Greenhouse cannabis grow facilities and Controlled Environment Agriculture (CEA) practices utilizing these technologies are key components of building a more sustainable and energy-efficient model for cannabis cultivation," explains Shawn Cogan, Facilities Director for PPR.
In partnership with Energy Trust of Oregon's Strategic Energy Management Program (ETO), PPR is pioneering new and innovative avenues to not only provide a high-quality product for farmers and consumers but one that significantly reduces the environmental impact of commercial cannabis cultivation.
"Without good data and rigorous genetic development, cannabis companies are vulnerable to building unnecessary infrastructure to meet production targets, which is a huge opportunity loss for sustainability," explains Jarrett Hines-Kay, Vice President of Operations at The Blossom Farm and a veteran executive in the cannabis industry that has worked with companies such as Tilt Holdings, Cresco Labs and Parallel. "The fact is that cannabis consumers demand variety, but it is extremely difficult to have a portfolio of strains that are all commercially optimized. Hence, I have seen large-scale commercial cultivations that could increase their yields by 50-100% through strain selection alone, but strain selection is not easy."
Through genetic marker discovery and data science, Phylos has produced varieties of cannabis seed genetics that are not only adapted for outdoor growth, but that produces exceptional uniformity, yield, and consistently high cannabinoid content in comparison to clonal production methods that commercial cannabis growers are accustomed to.
"It can take years of R&D to develop a strain that meets commercial thresholds for yield, potency, aromatics, health, structure, processing efficiency, etc. and most cannabis cultivations are focused on production, not R&D. Consequently, unnecessary infrastructure is built to increase the yields of poor performing plants and this infrastructure, especially if it is an indoor cultivation, comes at an unsustainable environmental cost," says Hines-Kay.
By merging the world of data analytics with cannabis, growers now have the opportunity to reduce not only their operating cost but their environmental footprint as well.
"Traditionally in the cannabis and hemp space not a lot of scientific rigor has been applied from a breeding perspective. The vast majority of the products available to growers are non-uniform, heterogeneous, and results in difficulty growing the crop, taking care of it, maximizing yield, and harvesting it uniformly and timely," explains John McFerson, PhD, Vice President of Breeding at Phylos.
By eliminating the need for growing techniques like light deprivation, growers can bypass the use of energy-hungry indoor grow facilities, which can require up to 55% more energy use than growing in a greenhouse or outdoors. This level of energy reduction is the first of many steps that the cannabis industry needs to implement in order to remain sustainable in years to come.
Tackling a Severe Waste Problem
Of course, heavy energy usage is far from being the only sustainability issue lurking around the corner for cannabis and hemp farmers. Considering the potential environmental impact from the nearly one billion pounds of pesticides used annually in the U.S., some watchdogs have begun highlighting the potential environmental impact that a rapidly growing cannabis industry could have in terms of pesticide input.
Fortunately, this too is an area that is benefitting from technological advancements in the fields of data and crop science. In the case of Phylos, leveraging genotype, chemotype, and phenotype data for plant selection has enabled their researchers to rapidly improve key agronomic traits, including a lowered risk of pests and pathogens. This translates to a reduction of inputs like pesticides and herbicides.
Reducing ESG Impact to Drive Sustainability
The staggering energy requirements for cannabis grown indoors coupled with the rapid expansion of the industry has resulted in some turning a blind eye, some professing a call to action, and some taking action.
In an effort to effectively address environmental challenges, the National Cannabis Industry Association (NCIA) suggests that industry leaders and government regulators take note and create workable standards, with supporting resources, that can be adopted from the onset to position the cannabis industry as a leader in environmental sustainability.
As a result, organizations like the Cannabis Sustainability Working Group and the Sustainability Cannabis Coalition, are rising to the challenge by providing education, research and partnering with cannabis business owners, consultants and contractors, government, sustainability, and policy experts to advance programs, set best practices guidelines, and policy.
Emerging technology companies like Sustain.Life, are helping organizations adopt more sustainable business practices through its easy-to-use software as a service (SaaS) platform that allows measuring, tracking, and offsetting of carbon emissions, as well as reports and tools, like its sustainability policies builder, to manage environmental impact.
In order to make the industry truly cleaner, a collaborative industry-wide effort is required. By implementing ideology that includes sustainability practices, such as energy efficiency, waste reduction, and emerging technologies, cannabis and hemp companies are positioning themselves to not only offset the environmental footprint created by cannabis cultivation, manufacturing, and distribution but lead the charge to ensure a greener future, in every sense of the word.
References:
The content & opinions in this article are the author's and do not necessarily represent the views of AgriTechTomorrow
---
Comments (0)
This post does not have any comments. Be the first to leave a comment below.
---
Post A Comment
You must be logged in before you can post a comment. Login now.
Featured Product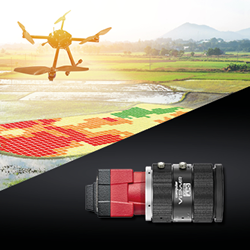 Allied Vision's compact and light weight Alvium SWIR (short wave infrared) cameras are the ideal choice to build cost-effective OEM systems used in embedded and machine vision applications. The cameras support a spectral range from 400 nm to 1700 nm at high quantum efficiencies. This allows to capture images in both the visible and SWIR spectra with a single camera and enables users to reduce overall system costs! Equipped with Sony's IMX990 and IMX991 SenSWIR InGaAs sensors, Alvium SWIR cameras deliver high image quality and frame rates. This makes them well suited for drones or handheld devices used in various industries such as, agriculture, mining, solar cell inspection or medical.