Technology breakthroughs and innovative design have resulted in a new way to monitor and control the future of food production. Ensora Systems powers its monitoring and communications with any light – from LED light to sunlight.
Control Grow Conditions Like a Millionaire Without Spending a Fortune
Article from | Ensora Systems
On a recent episode of the cooking competition show Chopped, Kimbal Musk, Elon's restauranteur brother, was a celebrity judge. He gave a big shout out to the advantages of indoor growing by hyping the quality of his Basil. Musk claimed his Brooklyn, New York growers replicate the exact condition of Genoa, Italy in June of 1997, supposedly the best year ever for Basil quality. While other judges seemed to snicker, people in the know understood the possibilities.
You can imagine the potential investment needed to hardwire a sense-and-control environment to, in Musk's words, get the "humidity and oxygen levels, carbon dioxide levels to, you know, within half a percent" of 1997 Genoa. If he decides to change out his crop or make other adjustments, Musk certainly has the money to relocate and rewire – an advantage most typical growers do not share.
Or maybe he went with wireless instead and has a team to continually monitor his sensors for battery conditions and accuracy. Again, another expense and resource drain that would challenge the typical grower. And with historical accuracy issues, many wireless sensors have left growers worried about getting it right.

Precise, Accurate, Reconfigurable Monitoring and Control for a Lot Less
Now every grower can have that "within half a percent" accurate environmental monitoring and control, with Ensora Systems. Ensora's engineers and grower consultants have created a wireless sensor technology to monitor and control conditions without running wire and conduit and without relying on high-maintenance, battery-powered sensors.
Spot-on Sensors Powered by Light. Any Light.
Technology breakthroughs and innovative design have resulted in a new way to monitor and control the future of food production. Ensora Systems powers its monitoring and communications with any light – from LED light to sunlight. This powerful flexibility creates a grow-control environment that's always up, always communicating and never needs maintenance. Growers simply place Ensora sensors and forget them. Since there are no wires, they can fine-tune sensor placement for optimal data acquisition in each unique layout. Simply pick them up and place them somewhere else – from a few feet to compensate for a prevailing draft, to across a facility to start a new crop. With no batteries to change, growers save on maintenance cost without needing to worry about "forgotten" sensors that fall off the grid when their batteries die.

Overcome Wireless Sensor Accuracy Challenges
Some wireless sensors' performance has soured the grow community on reliability and accuracy. Unfortunately, the concerns are valid – wireless sensors have historically lost or corrupted data during transmission. Ensora's robust communications technology handles even long-range and thru wall transmissions without dropping or corrupting data. Growers get the real-time, real-accurate data they need to automate and precisely control their environmental systems around the clock.
A Higher Degree of Temperature Accuracy
Grow sensors have trouble measuring one of the most important conditions for optimal results: temperature. Direct sunlight skews measurements and reports conditions are hotter than they actually are. Ensora's unique, multi-level-sensing-control in its Humidity and Temperature+ Snap-on Sensor gets the temperature right no matter what – even in direct sunlight. So growers and automated control systems can make better decisions.
No Wires. No Worries. No Bad Grow Days.
Ensora is bringing the promise of precise, accurate and reliable indoor grow control to locations around the world. All growers need are the lights they're already using combined with Ensora's sensors and communications. Ensora is changing indoor agriculture by thinking outside the box.
The content & opinions in this article are the author's and do not necessarily represent the views of AgriTechTomorrow
---
Comments (0)
This post does not have any comments. Be the first to leave a comment below.
---
Post A Comment
You must be logged in before you can post a comment. Login now.
Featured Product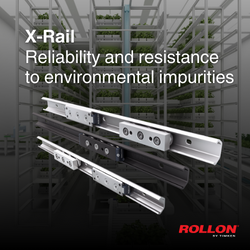 Rollon's X-Rail linear rails are a reliable solution in environments susceptible to impurities. Equipped with rolling elements with shaped and flat raceways, they are available in several versions: galvanized, nitrided or stainless-steel sheet metal. The latter version ensures total corrosion resistance, which is critical for hostile environments such as those found in vertical farming. Particularly innovative is the T + U configuration of the X-Rail linear rails, which can compensate for the parallelism errors of mounting surfaces. This simplifies installation and reduces costs.