Higher yields can be achieved by artificially increasing the CO2 concentration in the greenhouse, especially for vegetables. This offers greenhouse operators an enormous competitive advantage compared to outdoor cultivation.
"Growth Turbo" CO2 - How Does CO2 Fertilisation Work in the Greenhouse?
Johannes Fraundorfer | E+E Elektronik
Raising and cultivating ornamental and edible plants in greenhouses enables nurseries and farms to produce their products independently of the season and with consistent quality. The primary goal in greenhouse cultivation is to provide ideal growing conditions by optimally regulating climatic conditions, and increasing productivity as a result. In addition to the right humidity and temperature, plants need carbon dioxide to flourish. Higher yields can be achieved by artificially increasing the CO2 concentration in the greenhouse, especially for vegetables. This offers greenhouse operators an enormous competitive advantage compared to outdoor cultivation.
Achieving Higher Yields with CO2 Fertilisation
Carbon Dioxide Promotes Plant Growth
Plants use photosynthesis to produce glucose, which they need to grow. The "basic ingredients" for this biochemical process are light, water and carbon dioxide.
If plants cannot access enough CO2, they produce less glucose and grow more slowly. Conversely, more CO2 has a positive effect on plant growth. A high CO2 concentration makes plants grow faster, promotes root formation, and ensures earlier flowering and higher yields.
Therefore, in greenhouses the CO2 content is artificially increased by what is known as CO2 fertilisation (or CO2 fumigation). This can significantly increase the productivity and quality of the cultivated plants. Especially in the low-light season, CO2 fertilisation is useful because it also enhances the effect of artificial light and thus counteracts the natural lack of light.
Types of CO2 Fertilisation
In practice, two basic technical solutions are used for CO2 fertilisation:
CO2 generators (CO2 cannons) which combust natural gas or liquid gas to boost the CO2 concentration. The heat generated during combustion is also used to heat the greenhouse at the same time.
Carbon dioxide systems that introduce pure gas (technical carbon dioxide) from gas cylinder bundles or gas tanks into the greenhouse via a piping system. The approaches to controlling the gas supply can be anything from manual to fully automated (taking into account the prevailing CO2 concentration, lighting conditions and ventilation).

How much CO2 is needed depends on the greenhouse volume, its tightness and the natural or regulated air exchange. The level of CO2 concentration varies depending on the plant species. As a rule, the values are in the range of 600 to 1200 ppm. The basic rule is: the higher the mass growth of a plant, the higher the CO2 concentration. Vegetables therefore benefit more from CO2 fertilisation than ornamental plants, for example.
Monitoring the CO2 Concentration in the Greenhouse
When using CO2 fertilisation, the CO2 level in the greenhouse needs to be continuously measured and monitored for several reasons:
Too much CO2 has a negative impact on plant growth. If the CO2 concentration is too high, the plants grow more slowly and do not develop as well.
Generating and supplying CO2 costs money. Monitoring the CO2 content makes it possible to use CO2 fertilisation efficiently and therefore in the most cost-effective way possible.
In high concentrations, CO2 can be harmful to human health and lead to dizziness, headaches, nausea and even unconsciousness. The legally defined maximum workplace concentration (MAK values) of 5000 ppm (= 0.5 % CO2) must therefore not be exceeded. This is another reason why responsible greenhouse operators must keep an eye on the CO2 concentration.

CO2 Measurement with CO2 Sensors
CO2 sensors are the means of choice for measuring the CO2 content in the air. However, the CO2 sensors must be able to cope with the environmental conditions prevailing in the greenhouse.
High humidity levels, or even condensation, in combination with impurities and chemical exposure to fertilisers, pesticides, herbicides or disinfectants (e.g., hydrogen peroxide) are particularly challenging for the sensors. Condensation-related deposits on the sensing element can impair measurement accuracy and lead to corrosion.
In order for CO2 sensors to work reliably and stably in the long-term under these difficult conditions, they need to be carefully tested with a view to their technical suitability.

What Greenhouse Operators Need to Pay Attention to When Purchasing CO2 Sensors:
Do the sensors have a sufficiently wide CO2 measuring range?
How good is the measurement accuracy and long-term stability of the sensors?
What measurement principle is the CO2 measurement based on?
Are the sensors suitable for use in conditions with high relative humidity?
Are the sensors resistant to dirt and chemical contamination?
How quickly do the sensors react to a change in CO2 content (response time)?
Do the sensors have an appropriately high housing protection class (IP65 / NEMA4)?
What maintenance and calibration options do the sensors offer?
Can the sensors be integrated into the greenhouse control system (e.g., via Modbus RTU interface)?
EE872 – Modular 4-in-1 Probe for CO2, Humidity, Temperature and Pressure
The EE872 sensing probe by E+E Elektronik meets all the requirements for use in greenhouses.
The CO2 measuring principle (NDIR dual wavelength principle) is particularly resistant to contamination and automatically compensates for ageing effects.
Active temperature and pressure compensation ensures high CO2 measurement accuracy.
Thanks to innovative rapidX technology, the sensing module can be replaced in a few seconds.
Humidity and Temperature Also Need to Be Monitored
Besides an adequate supply of CO2, plants need the right humidity and temperature to flourish. This is what makes it so important to also monitor these climate parameters precisely and reliably with suitable humidity and temperature sensors. This is the only way to ensure that greenhouse cultures will develop optimally and generate the desired economic success. When choosing sensors, greenhouse operators need to focus on quality and seek expert advice before making a purchase decision.
The content & opinions in this article are the author's and do not necessarily represent the views of AgriTechTomorrow
---
Comments (0)
This post does not have any comments. Be the first to leave a comment below.
---
Post A Comment
You must be logged in before you can post a comment. Login now.
Featured Product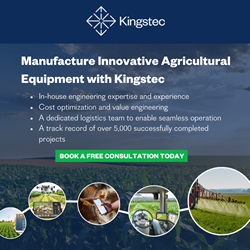 In the rapidly evolving agricultural landscape, leading AgriTech companies are increasingly leveraging the experience and expertise of strategic engineering and manufacturing partners to bring cutting-edge, cost-effective solutions to market. Kingstec is an all-in-one engineering, manufacturing, and logistics partner, with over 40 years of experience and 5,000 successfully completed projects. We can help you bring innovative, cost-optimized farm equipment, sensors, drones, components, and more to market quickly with in-house engineering and manufacturing expertise, a dedicated logistics team, and a network of world-class manufacturing and supply chain partners.