Venture capitalists invested more than $18 billion in food technology startups during the 2020 pandemic year.
Trends in FoodTech Investing
David Feldman, Early stage investor. Associate | Touchdown VC
Expectations regarding venture capital diverged from results in 2020, as PitchBook highlighted last July. At the onset of the pandemic in March of 2020, many anticipated that funding activity would slow down amidst the uncertainty of lockdowns, social distancing, and strains on the overall economy. Yet 2020 proved to be a record year for venture in the U.S., with $156B invested in startups and $74B raised by VC funds. Also, contrary to what experts might expect at the start of an apparent downturn, corporate VCs (CVCs) nearly matched their 2018 high, investing $68B.
"FoodTech" startups received a record amount of venture capital in 2020, with $18.9B invested in companies in the category, a nearly 10% increase over the 2019 total. According to PitchBook, FoodTech refers to companies developing technology intended to improve consumer experiences in food selection, purchasing, and consumption. Drivers of this funding and overall trends in the FoodTech market included:
Including data from PitchBook and NVCA's quarterly Venture Monitor report, this analysis shares highlights from the U.S. VC industry as a whole, as well as observations specific to the FoodTech startup market, based on Touchdown's work with eighteen94 capital, Kellogg's corporate venture capital fund.
FoodTech & VC Funding Highlights
2020 was a record year for VC activity in the U.S., with $156B invested. However, the total deal count decreased from 2019, indicating that VCs concentrated funding in larger deals with fewer companies.
The FoodTech sector mirrored the overall market, with $18.9B invested in 886 companies, a 9% increase from the number of deals in 2019. In particular, deal value to plant-based meat alternatives grew 20% in 2020, reflecting a consumer preference for more sustainable and healthy substitutes. However, FoodTech funding saw a greater percentage increase in funding value over the past 4 years than the U.S. market as a whole, suggesting that sector specific factors created excitement among investors.
Here is the FoodTech deal count compared to the overall U.S. market:
There is no doubt that the coronavirus pandemic fundamentally changed consumption patterns among consumers, but it also had a profound impact on the food manufacturing industry as a whole. COVID-19 infections within the industry led to shutdowns and supply disruptions, leading to shortages and increased prices paid by the public. These factors led to an increased focus on maintaining food supply chains and have accelerated a shift to automation and related technological advancements. As a result, artificial intelligence technologies, food safety and traceability platforms, food delivery, and cloud retail companies (retail companies leveraging the data analytic capabilities delivered by cloud computing) attracted record levels of venture investment.
Food alternatives, particularly alternative proteins as noted, benefited from the meat packing industry's woes and shifting consumer sentiment. When the coronavirus first emerged in the U.S., sales of vegan meat substitutes rose to triple-digit growth rates. These alternative protein solutions — such as plant-based meat and dairy products — give consumers a sense of comfort in knowing where their food comes from and that it is environmentally friendly.
The pandemic also shed light on human "gut microbiome" and its impact on overall health and wellness. Consumers are seeking more foods with active health benefits like boosting immunity. While research on how the gut microbiome affects overall health is relatively new, over $1 billion has been invested in U.S. gut microbiome startups over the past five years, with over $3.4 billion invested globally over the same period, per PitchBook.
CVC Highlights
In 2020, corporate funds deployed 48% by dollar value and participated in 26% of the deals in the United States. As shown in the chart below, the $68B invested by corporations was nearly $10 billion more than 2019, which suggests CVCs remained in the market despite economic uncertainty, as Touchdown co-founder Scott Lenet forecasted in this post from 2019.
CVCs are an important source of capital for FoodTech startups, particularly those that would benefit from strategic or commercial partnerships with large corporations. For R&D intensive startups, the expertise and scientific resources of big corporations can meaningfully accelerate commercialization. The following CVCs are some of the most active FoodTech investors:
Notable FoodTech Deals & Exits
Food Innovation In the News
About David Feldman
David Feldman is an Associate at Touchdown Ventures, a Registered Investment Adviser that provides "Venture Capital as a Service" to help corporations launch and manage their investment programs.
This article includes information from third party sources believed to be reliable; however, we make no representations as to its accuracy or completeness. References to strategies are for illustrative purposes only and should not be relied upon as a recommendation to engage in any particular strategy or to invest in any particular security. Opinions expressed herein are based on current market conditions and may change without notice and we reserve the right to change any part of these materials without notice and assume no obligation to provide an update. Recipients are advised not to infer or assume that any securities, strategies, companies, sectors or markets described will be profitable or that losses will not occur. Any description or information regarding investment process or strategies is provided for illustrative purposes only, may not be fully indicative of any present or future investments and may be changed at the discretion of the manager. Past performance is no guarantee of future results.
The content & opinions in this article are the author's and do not necessarily represent the views of AgriTechTomorrow
---
Comments (0)
This post does not have any comments. Be the first to leave a comment below.
---
Post A Comment
You must be logged in before you can post a comment. Login now.
Featured Product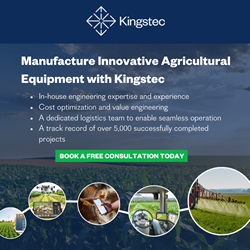 In the rapidly evolving agricultural landscape, leading AgriTech companies are increasingly leveraging the experience and expertise of strategic engineering and manufacturing partners to bring cutting-edge, cost-effective solutions to market. Kingstec is an all-in-one engineering, manufacturing, and logistics partner, with over 40 years of experience and 5,000 successfully completed projects. We can help you bring innovative, cost-optimized farm equipment, sensors, drones, components, and more to market quickly with in-house engineering and manufacturing expertise, a dedicated logistics team, and a network of world-class manufacturing and supply chain partners.