New York City (NYC) has seen a significant boom in companies pioneering hydroponics, aeroponics, and aquaponics. According to PitchBook Data, venture capitalists invested $1.42 billion in agriculture-related startups in NY from 2012-2020.
New York City, The Epicenter for Controlled Environment Agriculture (CEA)
Q&A with Jenn Smith, Program Director | Grow-NY
Tell us about yourself and Grow-NY.
I'm Jenn Smith, the director of Cornell University's Grow-NY program. Grow-NY exists to enhance the emerging agrifood innovation cluster in the Grow-NY region – Central New York, Finger Lakes, and Southern Tier.
This year, we received more than 330 applications from 32 countries. And, we just had the opportunity to announce the top 20 finalists moving on to the final round. These entrepreneurs will be paired with a dedicated industry mentor, spend significant time networking in and getting to know the region, and will ultimately pitch in our live to expert judges in front of an audience at our Grow-NY Food and Ag Summit this November. Empire State Development is funding the competition through its Upstate Revitalization Initiative, and Cornell University's Center for Regional Economic Advancement is administering it.
What are Controlled Environment Agriculture (CEA) methods?
Cornell University recently released a report titled, "Call for Innovation: New York's Agrifood System" where we share findings based on intervews with dozens of farmers, manufacturers, retailers, researchers, and other key stakeholders. The intention of these interviews was to use the insights and data gleaned as a way to guide inventors and investors toward some of the more urgent technology needs within New York's vast farming and food processing industries. Controlled Environment Agriculture, or CEA, is one of those categories that really rose the top in many of the conversations we were having.
CEA features soilless systems such as hydroponics, aeroponics, and aquaponics. While CEA is not new by any means, it's growing in popularity as it provides farmers and producers a great way to supersede climate factors, taking control of the temperature, humidity, airflow, and light within an indoor setting to create the most optimal growing environments, year-round.

What is typically grown using CEA?
A cornucopia of fruits and vegetables can be grown. By far, leafy greens are the most popular crop, mostly because of their high-water needs. That said, many of the NYC farmers we spoke with focus on growing lettuces, arugula, herbs, tomatoes, cucumbers, and microgreens year-round.
What are the advantages of CEA methods?
From talking with industry stakeholders for the Agrifood report, we've learned that is CEA is touted as a way to facilitate optimal growing conditions indoors. Since it's indoors, there's reduced risks including reduce pest issues, diseases and of course, the elimination of harsh weather. It provides farmers the opportunity to grow certain vegetables year-round with essentially minimal disruption and some of CEA farmers we spoke with, felt this method produced higher yields.
Cornell completed a study in 2019 study where CEA farms in NYC did indeed experience significantly higher yields for lettuces, anywhere from 150 to 900 tons per acre compared to 18 tons per acre with traditional, outdoor, soil-based farming of greens so the potential is definitely there.
We also found that many farmers valued the added predictability factor of CEA. Farmers using CEA often note that they gain a greater level of control over the care regiment, labor practices, chemical use, and even nutrient demands and waste. Some even feel that CEA enabled improved food safety practices in the supply chain so you can see why –at the very least—that it's a practice that keeps bubbling up in industry conversations.
What are the barriers to adopting CEA methods?
Despite increasing enthusiasm for indoor farming, just like any other practice, the space is not without its critics. There's still a lot of education on the methodology that needs to happen—and data to be collected.
In our discussions with NY farmers, we did find that some conventional farmers questioned CEA's applications outside of an urban setting especially when it comes to the higher startup costs and high energy demands—and they make some valid points. The qualitative data collected suggests that the high capital costs could be prohibiting statewide adoption, especially in rural areas. Farmers in western and central NY pointed to the high startup costs of indoor farming, whether soil-based or soilless, as an insurmountable barrier to establishing or growing existing indoor farming operations for the average farmer — at least, for those not backed by deep reserves of capital. In fact, many of the farmers who were interviewed had existing greenhouses or high tunnels on their properties but ran them as traditional, soil-based operations to grow seedlings before transferring them to outdoor plots.
Increasing access to information and training on CEA methods within the ag communities might potentially transform it into a more mainstream practice for certain vegetables. For now, just having ongoing conversations about all the diverse growing methods and possibilities is a great start. At Grow-NY's Food and Ag Summit, we host a series of panel discussions with industry leaders (growers, producers, stakeholders) to address the latest trends in agrifood, the challenges farmers are facing, as well as the opportunities that are opening up within the industry. We're seeing a constant evolution in ag practices and we're fortunate that organizations and entrepreneurs are willing to push the envelope to do more. Maybe that's how the ag industry continues to stay resilient.

Why do you feel New York is the epicenter for CEA at this time?
CEA seems to make the most sense in regions with favorable climates where less supplemental heat and light is needed. With that in mind, NYC—and New York State itself—seems to be ideal for CEA farming. Since it is considered a viable solution to growing more food with less space, fewer inputs, and fewer environmental impacts, it also makes the idea of farming in an urban setting a true reality. And there's this innate draw and attraction about being an urban farmer.
New York City (NYC) has seen a significant boom in companies pioneering hydroponics, aeroponics, and aquaponics. According to PitchBook Data, venture capitalists invested $1.42 billion in agriculture-related startups in NY from 2012-2020. Of that, at least $400 million went to controlled-environment agriculture startups with headquarters in New York City or the surrounding metropolitan area so more investors are taking CEA farming businesses very seriously.
What's the appetite from investors in CEA?
Over the past decade, investors have channeled hundreds of millions of dollars to companies championing CEA in urban settings, companies like Bowery Farming, backed by Google Ventures (now called GV), and Square Roots, founded by Kimbal Musk (brother of Elon Musk). A recent report from PitchBook shows that 2020 was again a banner year for CEA investment, reaching $929 million invested across 41 deals in the U.S., double the deal value of 2019. That's huge and entrepreneurs are taking notice.
At Grow-NY, our global pitch competition has seen so many innovative and diverse business ideas coming to the table that are designed to improve farming practices—and in many cases, the supply chain. CEA is one of those methods that we've seen incorporated in a few different pitches so it's gaining some traction.
In fact, in 2020's competition our Hull, GA finalist Candidus, came to the Summit with a cutting-edge indoor lighting system that measures the amount of sunlight in a location and provides the appropriate amount of supplemental light for optimal crop growth. Their pitch was focused on how with the right lighting technology could help indoor growers create consistent crop production, experience energy savings, and even maximize a plant's light use. Investors and the audience were definitely intrigued by these benefits.
There's a lot of room for this space—and the technology used in this space—to grow and improve in the years to come. I have a good feeling it'll be a buzzworthy topic during the panel discussions at Summit once again.
The content & opinions in this article are the author's and do not necessarily represent the views of AgriTechTomorrow
---
Comments (0)
This post does not have any comments. Be the first to leave a comment below.
---
Post A Comment
You must be logged in before you can post a comment. Login now.
Featured Product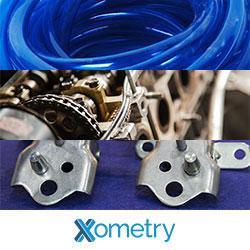 Xometry is your source for custom parts. Now, in addition to getting instant quotes on 3D Printing, CNC Machining, Sheet Metal, and Injection Molding, customers can create and send RFQs for die casting, stamping, and extrusion work to our nationwide network of pre-vetted manufacturers with just a 2D drawing. You will receive and be able to review responses from qualified shops within 7 days on an advanced web-based RFQ management platform. To learn more go directly to our site to issue and RFQ today. Stop wasting time managing RFQs through email and by phone, and start issuing RFQs at scale and in the cloud.