Right now, the focus is to take vertical farming to the next level by developing smart robots which can increase precision and productivity, while minimizing environmental impact and risk.
Vertical Farming and the Future of Automation in Agriculture
John Young, APAC Country Manager | EU Automation
Vertical farming is by no means a new idea. However, recent supply chain disruptions coupled with the falling price of produce, is opening new doors for a farming method previously deemed unviable by many. Here, John Young, APAC country manager at automation parts supplier EU Automation, highlights the renewed interest in vertical farming among a new generation of farmers, and explores the advantages it offers in tackling some of the biggest challenges facing the sector.
Turn the clock back approximately 1000 years, and less than four per cent of the world's habitable land was used for farming — that is the equivalent of four million square kilometres. Today, farmland takes up more than half of the world's habitable land, which equates to a landmass larger than South America.
Our World in Data reports the alarming facts associated with industrialized livestock farming, involving climate change, extinction of species, widespread destruction of habitat, and 80 per cent of cropland grown to feed livestock. With the population of the Asia Pacific region expected to reach 5 billion by 2050, the responsibility to supply food to an ever-growing population is becoming difficult.
A new generation of farmers are rising to the sustainability challenge. This agricultural revolution presents the transition from traditional farming to futuristic high-tech artificial intelligence (AI) and robotics. Whether it's weed-killing robots, harvesting and picking robots, or autonomous tractors, the farming landscape is evolving. In this age of robotic farming, producers believe incorporating automation and data will enable farmers to produce more, while damaging the environment less.
One major process change that is currently on the rise is the shift to vertical farming. Currently, 16.55 million square feet (sq ft) of indoor farms operate across the globe. However, the State of Indoor Farming report suggests this figure will increase to 22 million sq ft by 2022. The demand is high, and the AI journey is only getting started.
Why are farmers suddenly interested in vertical farming?
Vertical farming is the practice of producing food in vertically stacked layers. The climate-controlled indoor farms contain rows of plants situated next to each other, growing vertically, and hanging from the ceiling. Robotics help manoeuvre the products around, and AI can monitor the different parameters that are required for the crops to grow, such as the levels of water, temperature, and light.
Indoor agriculture is at an exciting point in its development. Key technologies used in farming systems today range from perception technologies which use cameras and sensors to detect and monitor various factors of the lifecycle. AI processes the data from sensors and provides solutions, while automated and autonomous mechatronics that use robotics and automated machines collect products when ready to dispatch to the market and recover the crops from ailments during the growing cycle.
Right now, the focus is to take vertical farming to the next level by developing smart robots which can increase precision and productivity, while minimizing environmental impact and risk. Agriculture, one of humankind's oldest inventions, is merging with the latest technology, and farmers will soon be looking to pair with a reliable automation parts supplier to make the step up to vertical farming.
Vertical farming offers a unique set of advantages. Farmers understand there are many urgent and practical reasons to grow upwards rather than outwards. This farming method has huge potential for sustainability and food security, while protecting the environment, economy, and ecosystems.
In addition, the inclusion of AI and robotics ensures high-quality growth of products all year round, while preserving water, nutrients, and land consumption by 95 per cent. The controlled process of indoor farming with the help of AI and robotics also protects crops against pest invasions, and ensures they are well insulated — this is an aspect field farming cannot guarantee since it requires amenable weather conditions and labour.
Vertical farms can operate anywhere with no geographical constraints and are not subject to the limitations presented in outdoor farming, such as extreme conditions. This not only protects the crops, but also provides a safer working environment for labourers. What's more, labour costs can be significantly reduced due to the automated indoor growing systems; thus, there is no longer a need for manual labour all year long.
In addition, energy consumption can be drastically reduced in vertical farming by implementing LED lighting to mimic the sun as a light source. A minor change like this can limit heat waste while increasing energy efficiency and cutting energy costs. Not only can LED lighting be used as an alternative, but renewable energy generated from wind turbines can be paired with vertical farming to ensure 100 per cent of its energy is produced from renewable sources. It is a win-win situation.
How will it boost the economy?
This sector is expecting a huge boom in investment and interest and manufacturers, suppliers and retailers are therefore preparing for this shift through early adoption. In the past, vertical farming was viewed as theoretical, but now the vertical farming market in the APAC region is expected to grow at a compound annual growth rate (CAGR) of 29 percent, rising from its current value of $0.78 billion to $2.77 billion by 2026. This is largely due to the advancement in technology such as sensors and smart energy systems that have improved the efficiency of growing products.
Although vertical farms will not replace traditional ways of farming, they hold great potential to revamp the future of agriculture in the APAC region by pushing towards a sustainable, environmentally conscious, tech savvy, economically rational, and health-sensitive world.
The content & opinions in this article are the author's and do not necessarily represent the views of AgriTechTomorrow
---
Comments (0)
This post does not have any comments. Be the first to leave a comment below.
---
Post A Comment
You must be logged in before you can post a comment. Login now.
Featured Product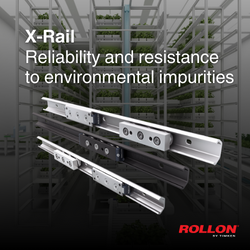 Rollon's X-Rail linear rails are a reliable solution in environments susceptible to impurities. Equipped with rolling elements with shaped and flat raceways, they are available in several versions: galvanized, nitrided or stainless-steel sheet metal. The latter version ensures total corrosion resistance, which is critical for hostile environments such as those found in vertical farming. Particularly innovative is the T + U configuration of the X-Rail linear rails, which can compensate for the parallelism errors of mounting surfaces. This simplifies installation and reduces costs.